2017 Snapshot: Wyoming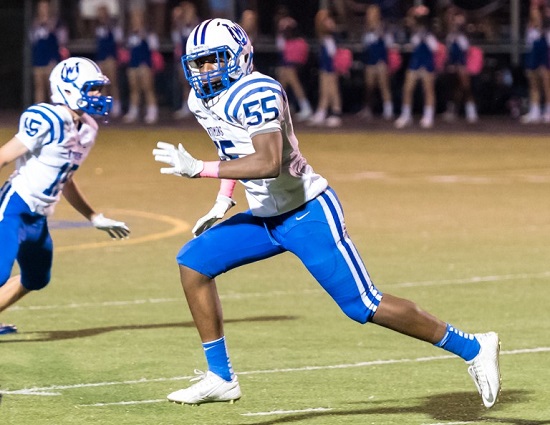 Wyoming LB Hasan Black (photo by Justin Sheldon/TriStateFootball.com)
Wyoming has so many thing going for it heading into the 2017 campaign. The Cowboys are coming off their first undefeated regular season since '09 and a regional runner-up finish. They return seven starters from a defense that allowed less than 10 points per game and had five shutouts.
Then, there is the Alter factor. The Knights who have knocked Wyoming out of the playoffs three times in the last four years are moving up to Division III. That leaves the Cowboys as one of the favorites to win the Division IV, Region 16 title. The stars are aligning nicely for the blue and white.

In Wyoming's last 20 wins dating back to the beginning of '15 they have given up seven points or less on 13 occasions including seven shutouts. "The strength of this team is the defense. We return a large number of players on this side of the ball and on special teams as well as," head coach Aaron Hancock states.
"The challenge for us will be replacing a great group of skilled athletes, lost to graduation, on the offensive side of the ball. However, we are very excited about the group of athletes that will be competing for these roles this season," says Hancock who has guided the Cowboys to a 30-6 record over the past three campaigns.
"I like our ability and desire to compete. We were very young last year in some positions. Now return some players that love to play the game. There will be a lot of competition for positions. I am excited to see us continue to improve as a program. The numbers in our program have seen an increase. I attribute that to the positive work ethic our players display within our community, on and off the field," laments Hancock.
Standards are high for Wyoming. Hancock humbly respects that and those who came before him. It shows through him and has rubbed off on the players and how they carry themselves. It's how champions act and it will lead to the Cowboys extended success this fall.
Division IV, Region 16
2016 RECORD: 12-1, 7-0 CHL
COACH: Aaron Hancock (45-12 at Wyoming, five years; 45-12 overall)
TOP RETURNEES
Connor O'Brien, Sr, OL/LS – A vital cog on offense and as the Cowboys long snapper on special teams. The 6-foot-5, 255 pound O'Brien was an Honorable Mention All-CHL selection as a junior.
Miles Smith – Sr. DB – A dependable asset in the secondary. Smith can keep the play in front of him as well as come up with the takeaway. He was named Second Team All-CHL as a junior.
Sergio Listo – Sr. K/P – A big time weapon on special teams. Listo had more than 20 touchbacks on kickoffs, connected on 62-66 of his extra points and all three of his field goal attempts on his way to being named Second Team All-CHL as a junior.
James Smith – Jr. DL – Once league play began Smith played really well in big games as a sophomore. The 6-foot-4, 215 pound rising star was in on 73 total tackles (46 solo), with two-and-a-half sacks and a fumble recovery. That effort earned him Second Team All-CHL acclaim.
Pierson Rogers, Jr, RB/LB – One of the best all-around football players in the Class of '19 in Region 16 and perhaps all of Division IV. A two-way starter, Rogers was named Second Team All-CHL at linebacker as a sophomore. He finished the year with 671 yards from scrimmage (552 rushing, 119 receiving), 77 total tackles (48 solo), six-and-a-half sacks, had a pick six and scored eight touchdowns (five rushing, two receiving). A dominating force on defense, Rogers heads into his junior year with 162 total tackles (100 solo), eight-and-a half sacks and a pair of pick sixes in a Cowboys uniform.
Eli Cupp, Jr, OL/DL – Cupp's performance as a sophomore brought smiles to the coaching staff's eyes. The two-way starter was a Second Team All-CHL pick as an offensive lineman as a sophomore.
Cam O'Gara, So, TE/LB – The varsity level did not bother O'Gara as a freshman as he was named Second Team All-CHL. He tallied 105 total tackles (71 solo) in his rookie year.
Joey Edmonds, Jr, WR/DB – The consummate team player, Edmonds is a two-time Honorable Mention All-CHL honoree. A two-year, two-way starter, Edmonds heads into his junior with 983 yards passing, 14 touchdowns tosses, 17 receptions, 201 receiving yards, two touchdown catches and 26 total tackles in his career.
Hasan Black, Jr, LB – Black comes from great football genes. This fall, don't be surprised if he takes his game to a higher level like his older siblings did before him. Black was an Honorable Mention All-CHL pick a year ago.
NEWCOMERS
Jared Fox, Sr, RB/DB – All signs point to a breakout senior campaign for Fox.
Moe Mitchell, Jr, WR/DB – Look for Mitchell's role on offense to increase. He had 20 total tackles and an interception as a sophomore.
Perry McMichen, Jr, WR/DB – McMichen should be a factor on both sides of the ball. In limited action as a sophomore. He had three receptions and 14 total tackles.
Evan Prater, So, QB – The sky is the limit for the 6-foot-5, 180 pound Prater. He made his varsity debut as a freshman. Prater threw for 64 yards on 6-7 passing and ran for 67 yards with three touchdowns in seven games.
PLAYOFF HISTORY
(22 appearances, 17-21 overall) – 2016, 2015, 2014, 2013, 2010, 2009 (Regional Champions), 2007, 2006, 2005, 2003, 2002, 2001, 2000, 1999, 1998 (Regional Champions), 1997, 1996, 1994, 1992, 1988, 1977 (State Champions), 1975 (State Runner-up)
2017 SCHEDULE
A pair of non-conference affairs highlight the early portion of the schedule. In Week 2, the rivalry with Taft continues. last season, Wyoming beat the Senators, 10-7 on a late field goal by Listo. In Week 3, CHCA replaces McNicholas. The Eagles are a favorite to win Division V, Region 20. October will be a tough month. A pair of away games at Reading and Mariemont are sandwiched between home tilts versus Madeira and Indian Hill.  Level I Harbin Points are going to be hard to come by with seven foes in lower divisions. Three losses versus this slate would be very bad news but don't expect that to happen.
DEFENSE WINS CHAMPIONS
One of the big reasons for the Cowboys success last fall was the play of the defensive unit. Wyoming recorded five shutouts, held six more foes to 13 points or less and gave up just 8.9 points per contest.
AN OFFENSIVE EXPLOSION
Wyoming averaged 41.1 points per game in '16. Five times in their last nine tilts the Cowboys scored 50 points or more.
RETURNING THE FAVOR
In '15, Wyoming lost to Indian Hill, the latter knocked the Cowboys out of the playoffs. Wyoming got sweet revenge last fall, beating the Braves twice and knocking them out of the playoffs. The Cowboys are 7-3 versus Indian Hill in their last 10 meetings.
7 UP
Last fall marked 25th time in the last 26 seasons that Wyoming has won at least seven games. The won six contests in '11.
SIX DECADES OF A STEADY RIDE
Stability has been a key factor in Wyoming's constant success. The Cowboys have had just four head coaches in the last 60 years and just three losing seasons during that span. The program has thrived going 490-127-12 for an .801 winning % in that time frame.