Elder ends skid behind Bittner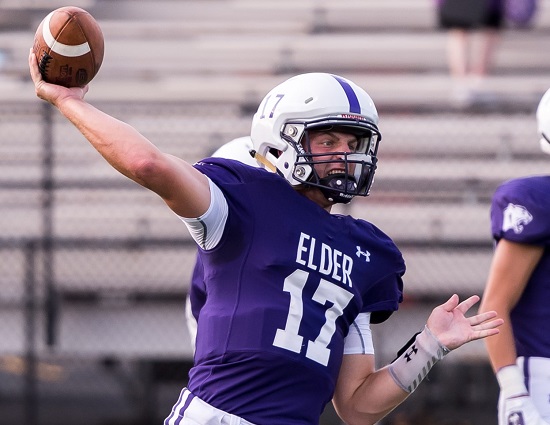 Elder RB/QB Michael Bittner (photo by Justin Sheldon/ TriStateFootball.com)
CINCINNATI, ohio – A focused and determined Elder squad scored 21 unanswered points in the game's first 15 minutes and never looked back in routing rival Moeller, 42-14. The win ended the Panthers three game losing streak, their longest since dropping the last eight contests of the 2011 season. The loss was the third straight and fourth in the last five outings for Big Moe.
Junior quarterback Michael Bittner set the tone, racking up 300 yards of total offense (219 passing, 81 rushing) and accounting for five touchdowns (three passing, two rushing) for the victors. Bittner set personal bests in passing yards and touchdown tosses. He came onto the contest with just one touchdown pass in a Panthers uniform.
Classmate Kyle Trischler had a career best 163 yards receiving and 12 receptions (tied a career high). It was the eight straight game with at least six receptions for Trischler and the fourth time in his last five starts with more than 100 receiving yards.
Down by three scores Moeller found some life scoring twice to pull within seven with 1:09 left before halftime. Elder responded as Bittner guided a last minute drive before intermission. That led to the Panthers closing out the game with another run of 21 unanswered points.
VIDEO HIGHLIGHTS: Moeller TD, McKenzie to Bates
Elder had not had a runner gain more than 37 yards the previous three weeks. They had three in this affair as Jack Mazza (115), Luke Massminster (53) and Bittner (81) accounted for all 249 of the teams yards rushing.
Moeller 0-14-0-0-14
Elder 14-14-7-7-42
E: Bittner 4 run (Harmeyer kick)
E: Trischler 39 pass from Bittner (Harmeyer kick)
E: Bittner 4 run (Harmeyer kick)
M: Watkins 2 run (Thibodeaux kick)
M: Bates 4 pass from McKenzie(Thibodeaux kick)
E: Perry 19 pass from Bittner (Harmeyer kick)
E: Mazza 3 pass from Bittner (Harmeyer kick)
E: Mazza 3 run (Harmeyer kick)
RECORDS: Moeller (3-4, 0-3); Elder (4-3, 1-1)
UP NEXT: Moeller at St. Ignatius (6-0); Elder at Winton Woods (7-0)