Milford finally bests Kings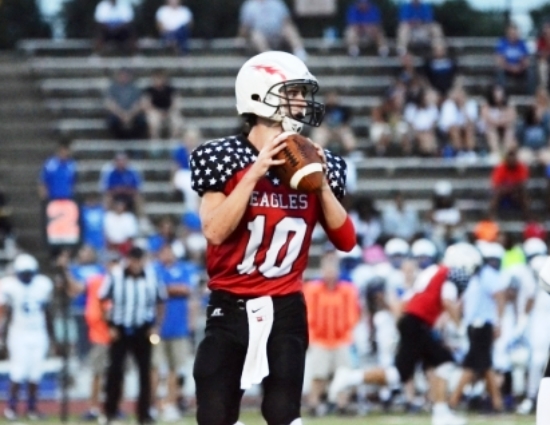 Milford QB Blake King (photo courtesy of Milford HS)
Blake King scored back-to-back rushing touchdowns in the fourth quarter to lead Milford to a 42-28 win over Kings on Friday.
The Eagles had never beaten the Knights since the teams joined the ECC in 2012.
King threw for 280 yards and two TDs and rushed for 89 yards and three scores.
The score was tied at 21 when King punched in the go-ahead from 12 yards out early in the fourth quarter, putting Milford ahead for good.
He added a 1-yard TD with 2:59 remaining.
Kings cut the lead to seven, 35-28 just 28 seconds later on a 41-yard pass from Ashton Koller to Hunter Jessee, but the Eagles sealed it on a Bailey Knox 10-yard scoring run in the final minute.
Milford, which is tied with Anderson at 4-0 atop the ECC standings, will host Withrow next week while Kings – now 2-5 and 1-3 – is home vs. Walnut Hills.