2019 Snapshot: Monroe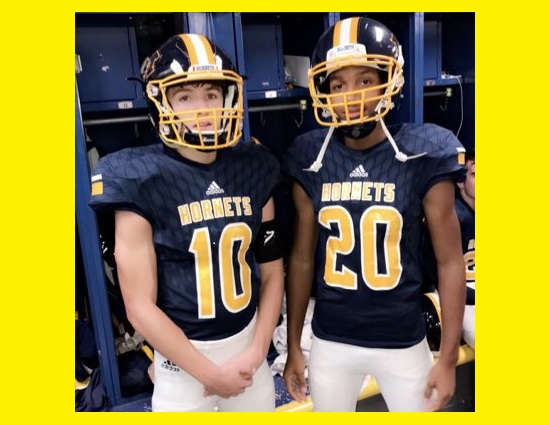 Monroe Hornets Collin Deaton (10) and TeJean Rice (20)
A fresh start is what Monroe needs in 2019. Having won just three total games over the past two seasons the Hornets look to new head coach Bob Mullins to change the mojo. Mullins inherits a program that can only go one way and that is up. Monroe fans are clamoring for the teams first winning campaign since 2015.
The offense will run the triple option and highlight their talented athletes at the skill position. Sometimes it takes a while for a team to master the triple option. Once the Hornets get it down it will allow them the opportunity to control the clock.
Defensively Monroe will stuff the line in a 5-2 scheme. The Hornets have do a better job of stopping the big plays. They gave up far too many of them in 2018.
Special teams will have to play better as well. Monroe allowed three kickoffs returns and one punt return for touchdowns last season. They also missed six of 10 field goal attempts. Add in two interception returns for scores by opponents and that accounts for six unconventional scores.
Attention to detail will eliminate the mental mistakes. If that happens, Monroe will be far more competitive this fall.
Division III, Region 12
2018 RECORD: 2-8, 2-4 SWBL Southwestern
COACH: Bob Mullins (0-0 at Monroe, first year; 0-0 overall)
HONOR ROLL
Tyler Tracey, Sr, RB/SS – Was an Honorable Mention All-SWBL Southwestern selection as a junior after leading the Hornets with 724 yards rushing and 1,052 all-purpose yards. Tracey accounted for 60.6% of Monroe's yards on the ground and found the end zone twice.
OTHER RETURNEES
TeJean Rice, Sr, RB – An explosive player who had team highs of 26 receptions, 424 receiving yards and four touchdown catches a year ago. Rice also returned a kickoff for a touchdown. He will move to running back this season.
Nick Snell, Sr, DB – One of the leaders of the defense, Snell forced two fumbles, recovered a fumble and had an interception last fall.
Bobby Borneman, Sr, TE/LB – Will be utilized more as a blocker but should be a red zone threat in the triple option offense. Borneman caught nine balls for 76 yards as a junior.
Corey Parker, Sr, OL/DL – An anchor on both sides of the line. Parker has all-league potential.
Collin Deaton, Jr, QB/DB – The versatile Deaton will wee some time under center and in the defensive backfield. He had two interceptions as a sophomore including an 80-yard pick six against Eaton.
NEWCOMERS
Junior FB/LB CJ Miles is healthy and should slide right into a starting role. Miles will contribute on both sides of the ball. A pair of sophomores QB/RB/DB Alex Pitsch and OL/DL Zack Hagedorn are expected to make an immediate impact for the Hornets.
PLAYOFF HISTORY
(nine appearances, 11-9) – 2014, 2009, 2007 (Regional Champion), 2006, 2005 (Regional Champion), 1994, 1993, 1986, 1983 (Regional Champion)
2019 SCHEDULE
Fri – 08/30/19 – at Edgewood – 7:00 PM
Fri – 09/06/19 – at Ross – 7:00 PM
Fri – 09/13/19 – NEW RICHMOND – 7:00 PM
Fri – 09/20/19 – FRANKLIN – 7:00 PM
Fri – 09/27/19 – VALLEY VIEW – 7:00 PM
Fri – 10/04/19 – at Eaton – 7:00 PM
Fri – 10/11/19 – at Brookville – 7:00 PM
Fri – 10/18/19 – OAKWOOD – 7:00 PM
Fri – 10/25/19 – MADISON SENIOR – 7:00 PM
Fri – 11/01/19 – at Bellbrook – 7:00 PM
POINTING IT OUT
Monroe scored 89 points in its two wins last season. They scored just 61 in their eight losses. The Hornets average margin of defeat was 25.4 points in those eight losses.
NON-CONFERENCE WOES
Monroe hasn't beaten a team outside the SWBL since knocking off Edgewood, 42-20 in the 2014 season opener.