2019 Snapshot: Piqua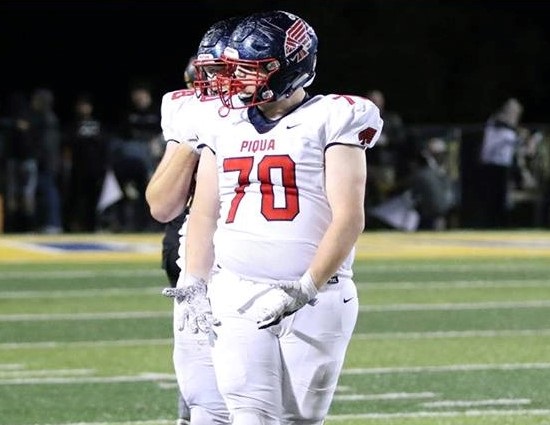 Piqua OL Riley Hill (photo courtesy of ScoutingOhio.com)
A "milestones and more" season looms on the horizon for Piqua. Indians head coach, Bill Nees is just five wins away from 200 for his career and all have come at the school. He will become just the 31st coach in Ohio history (according to OHSAA records) to achieve that feat at the only school he/they ever coached at.
Piqua and nine other former Greater Western Ohio Conference schools have departed the league and resurrected, the once proud, Miami Valley League. The Indians will play in the MVL Miami Division with Troy, Tippecanoe, Greenville and Butler. The MVL Valley Division will consist of Fairborn, Sidney, Stebbins, West Carrollton and Xenia.
Things look promising for Piqua as they return three First Team and three Second Team All-GWOC American North performers from a year ago. This group affords Nees wonderful versatility on both sides of the ball. As the season progresses, keep an eye on how the Indians finish off games. Piqua has the makings of a team that could get stronger as the season wear on.
The Indians move back up to Division II, Region 8 this season. Division III, Region 12 was extremely difficult for Piqua the past three campaigns. A year ago, Piqua lost to three teams in their region that made the playoffs (Chaminade Julienne, Trotwood-Madison and Butler). Over the past three regular seasons, the Indians were a combined 1-7 against their peers that made the playoffs in Region 12.
Those are the telling numbers that Piqua needs to turnaround if they want to be playing in Week 11 and beyond. Cracking the Region 8 postseason field will not be easy. That region saw four 7-3 squads fail to make the playoffs in 2018. It's going to probably take eight victories to get a Region 8 berth. The Indians will have to be focused, there is little margin for error. For Piqua though, the potential to be that special team is very much in reach.
Division III, Region 12
2018 RECORD: 6-4, 3-2 GWOC American North
COACH:  Bill Nees (195-99, 26 years at Piqua, 195-99 overall)
TOP RETURNEES
C'Ronald Coleman, Jr, RB/LB – What a special varsity debut for Coleman. He was named First Team All-GWOC American North after running for 348 yards with one touchdown, getting in on 34 total tackles, registering a sack, recovering a fumble and snaring an interception.
MaKeegan Kuhn, Sr, RB/LB – The true leader of the defense, Kuhn has 94 career tackles. On offense, he ran for 297 yards and five touchdowns in 2018. He was a First Team All-GWOC American North selection as a junior.
Jerrell Lewis, Jr, FB/DL – A real beast to handle at fullback and brick wall at linebacker. The 6-foot-1, 244-pound Lewis earned First Team All-GWOC American North honors as a sophomore. He ran for 177 yards, found the end zone three times, had 34 total tackles and recovered three fumbles.
Matt Blankenship, Sr, RB/LB – Led the Indians with 64 total tackles (55 solo) in 2018. Blankenship was named Second Team All-GWOC American North for his work.
Lance Reaves-Hicks, Jr, DL – At 6-foot-3 and 263-pounds, Reaves-Hicks caused a ton of havoc on the d-line. In his first year as a starter Reaves Hicks was named Second Team All-GWOC American North.
Riley Hill, Sr, OL – The anchor of the offensive line is back for his third season as a starter. The 6-foot-3, 317-pound Hill was a Second Team All-GWOC American North selection as a junior.
NEWCOMERS
A pair of juniors S Blane Ouhl and S Garrett Schrubb will bolster the secondary. Ouhl tallied 19 total tackles and had three takeaways (two FRs, one INT) in a limited role, a year ago.
PLAYOFF HISTORY
(11 appearances, 19-10) – 2015, 2007, 2006 (State Champion), 2001, 2000 (State Runner-Up), 1999, 1994 (Regional Champion), 1993 (Regional Champion), 1992 (Regional Champion), 1991, 1990 (Regional Champion)
2019 SCHEDULE
Fri – 08/30/19 – CHAMINADE JULIENNE – 7:00 PM
Fri – 09/06/19 – at Lima Senior – 7:00 PM
Fri – 09/13/19 – at Stebbins – 7:00 PM
Fri – 09/20/19 – SIDNEY – 7:00 PM
Fri – 09/27/19 – BUTLER – 7:00 PM
Fri – 10/04/19 – at West Carrollton – 7:00 PM
Fri – 10/11/19 – XENIA – 7:00 PM
Fri – 10/18/19 – GREENVILLE – 7:00 PM
Fri – 10/25/19 – at Tippecanoe – 7:00 PM
Fri – 11/01/19 – at Troy – 7:00 PM
CLOSE CALLS
Four of Piqua's last five games in 2018 were decided by two points or less. The Indians beat Sidney by two points and Tippecanoe by one point. They lost by two points to Butler and Troy by one point.
TOOT-A-LOO TROTWOOD MADISON
Gone from the 2019 schedule is Trotwood-Madison. Since 2008, Piqua went just 1-10 against their former GWOC rivals.
WINNER, WINNER BUT NO CHICKEN DINNER
Since its last playoff appearance in 2015, Piqua has not had a losing season. The Indians have gone 7-3, 6-4 and 6-4 in those three campaigns. They finished ninth in the Region 12 computer rankings in 2016 and 2018.