Hamilton runs through West Clermont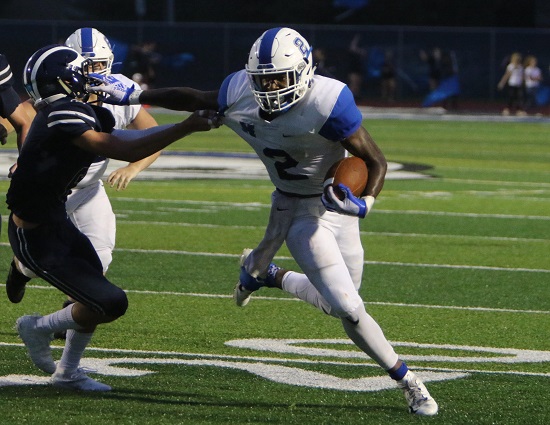 CINCINNATI, Ohio – Running back Kaleb Johnson ran for 53 yards on the first two plays from scrimmage and #18 Hamilton never looked back as they rolled past West Clermont in the 2019 opener.
It was the first win for head coach Nate Mahon at his alma mater. Mahon was hired this past offseason after the Big Blue won just one game a year ago. This Friday night, they let it be known they are not going to be pushovers this fall.
Johnson finished the night with a career high 148 yards on 14 carries and a touchdown. It was the second 100-yard rushing game for the sophomore at the varsity level. Hamilton finished the night with 338 yards of total offense of which 241 were on the ground. Junior Keyshawn Stephens had 71 yards and a score rushing for the victors.
Classmate Quincy Simms made his first start at quarterback since Week 5 a year ago. He finished the night going 8-13 for 97 yards through the air, 35 on the ground and a touchdown passing.
The Hamilton defense was just as impressive as the offense. The Big Blue held the Wolves to just 66 yards of offense on the night. West Clermont could only convert 2-13 third and fourth downs tries.
Luke Mattia and Jayden Marshall led the way with seven tackles each. Cameron Richardson came up with a big second half interception. It was the first time that Hamilton gave up less than 10 points in a contest since October 27, 2017 against Lakota West.
As big as this win was, Mahon knows his team must tidy up some things. The Big Blue was penalized 12 times for 117 yards and had a pair of turnovers.
Hamilton will continue its quest for its first winning season since 2010 at home next week as Anderson invades Virgil Schwarm Stadium. The Redskins handed the Big Blue a heartbreaking 36-31 a year ago, scoring the game-winning touchdown with just 1:15 left on the clock.
SCORING BY QUARTERS
Hamilton 14-7-0-0-21
West Clermont 0-0-0-7-7
SCORING PLAYS
H: Stephens 1 run (Rios kick)
H: Bowling 7 pass from Simms-Marshall (Rios kick)
H: Johnson 4 run (Rios kick)
W: Turner Jr. 1 run (Walker kick)
RECORDS: Hamilton (1-0); West Clermont (0-1)
UP NEXT: Hamilton hosts Anderson (1-0); West Clermont hosts Winton Woods (1-0)
+++
Check out these great photos from TSF Senior Photographer Dan Beineke: