Cincinnati Round-Up: Colerain defeats Wayne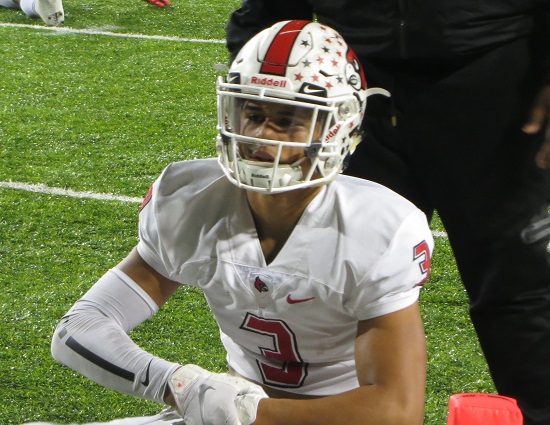 In a game with two coaches making their respective debuts, neither team disappointed. The Cardinals defeated Wayne by a score of 28-19. Both teams made noise on offense early, with Wayne jumping out first on a 10-yard bootleg by QB Cam Fancer.
Colerain quickly responded with a 28-yard TD from Hamzah Abdul-Waheed. The defenses started to take control of the rest of the first half. Colerain got a 15-yard TD pass from Freddie Johnson to Deshawn Pace, and the score was 14-7 at halftime.
After a Wayne turnover, Colerain capitalized with another TD to make it 21-7 in the middle of the third quarter. Wayne continued to fight back every time they fell behind, With Fancer accounting for his second touchdown of the day, this time through the air.
It was 21-13 going into the fourth, it was crunch time for both teams. Both defenses held strong all the way until Wayne scored on a quick 1-yard pass with 3:49 left to go in the game. Wayne attempted a two-point conversation for the tie, but failed. The Cards tacked on a late TD and walked away victorious. Colerain plays archrival St. Xavier next week.
PRINCETON 28, MILFORD 7
This contest ended with a lopsided final score, but the game was everything but for both teams. This game was a defensive matchup for the entirety of the first half. A 7-0 game at halftime, with the only touchdown coming from Ohio State commit Darrion Henry on a 3-yard run.
The game stayed that way all the way until the fourth quarter. Hunter Johnson connected with Bryson Chambers for a touchdown to make it a 14-7 game midway through the fourth quarter. Then we saw the Vikings break the game open. Dorian Durham came in at QB and quickly led the offense to a score.
The Princeton defense continued to stifle the Milford offense, while adding two more insurance TDs, The Vikings win by a final score of 28-7.
#10 LASALLE 31, #13 LAKOTA WEST 7
The Lancers had no plans of making Tom Bolden's debut with the Firebirds a joyous one. La Salle came out firing offensively and defensively. They shut out Lakota west and took a 17-0 going into the first half.
Not much changed in the second half as Lasalle was prepared for the triple option that Bolden has mastered. The Lancers added a multiple touchdowns to put the icing on the cake with a final score of 31-7. The 1-0 Lancers take on another GMC opponent in Mason next week. In terms of Lakota West struggling, there's no reason to panic after week one. A new system and many new faces on the coaching staff, expect Lakota West to start winning games consistently sooner rather than later.
TURPIN 35, #12 LAKOTA EAST 21
Here was a contest that was an offensive show. Over 50 combined points, both of these teams took turn trading scores. Turpin took control of the game early, but East consistently scored when they needed to.
After tying the game at 21 in the third quarter, Turpin took control, and one young man had the game of his life. Running Back Reece Evans scored four of the teams five touchdowns, outscoring Lakota East by himself. After scoring for the third time, the Thunderhawks couldn't keep pace. Adding an insurance Touchdown in the fourth, Turpin walks away with a 35-21 win.
#5 WINTON WOOD 36, TROTWOOD-MADISON 7
Winton Woods had this game in hand quickly, and never looked back. Scoring offensively and defensively with a pick-6 in the first quarter, Trotwood wasn't ready for the monster that came at them.
By halftime the score was 29-0 after the Warriors converted a 4th down into seven points. Coming out of the half Winton Woods added another touchdown to make it 36-0. Hezekiah Hudson Davis scored on a short run to put a crooked number on the scoreboard for Trotwood. All in all, this was an opening game statement from Andre Parker's Warriors. They might be the team to beat in division two.