Preview: NewCath at Roger Bacon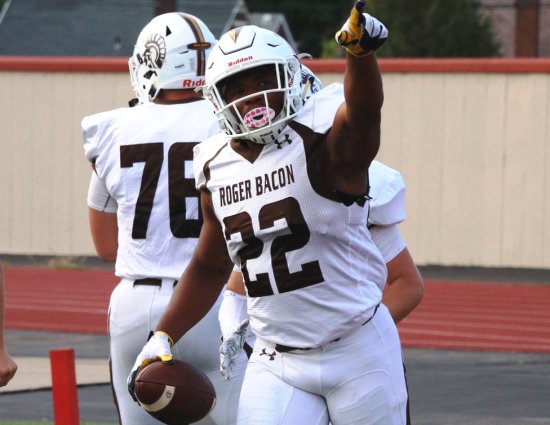 It's out to Roger Bacon for this Friday's Blitz 5 Tour stop. The Spartans are rededicating good 'ole Bron Bacevich Stadium with upgrades throughout the complex. They will usher it with a former member of the Greater Catholic League foe from way back in the day, Newport Central Catholic.
Roger Bacon won its first game Saturday at Dayton Dunbar. The contest was called late in the second quarter after a Dunbar player head-butted a referee with a helmet on. 
Newport Central Catholic fell in a close one to Cooper last Friday. The Thoroughbreds have the advantage of already playing eight quarters this season.
Lack of on-field playing time may make the Spartans a bit sluggish at first, but expect them to put that all behind relatively quickly in front of their home crowd. Meanwhile, NewCath seeks a confidence building road victory. This affair promises to be a dogfight to the very end.
NEWCATH THOROUGHBREDS (1-1) at ROGER BACON SPARTANS (1-0)
Kickoff: 7:00 p.m.
Bron Bacevich Stadium
Follow on Twitter @TSFootball
PLAYERS TO WATCH: Newport Central Catholic senior QB Paul Kremer may be the most underrated signal-caller in Northern Kentucky. Kremer has thrown for 2,626 yards with 32 passing and five rushing touchdowns at the varsity level. Classmate WR/DB Caleb Jefferson leads the team with seven receptions for 160 yards (22.8/catch) and a pair of scores.
A trio Thoroughbred of juniors RB/DL Jahmir Ackerson, WR/DB Malaki Herndon and RB/DB Joey Runyon have taken their game to a new level in the early going. Runyon leads the T'Breds with 145 yards rushing, is averaging 9.6 yards per carry and has a touchdown. He is coming off a career high 113 yards rushing last week. Ackerson is right behind Runyon with 61 yards on the ground. Herndon has two interceptions to lead the team.
It all starts in the backfield for Roger Bacon with junior RB Corey Kiner. As a sophomore, he was named OPSWA Division IV Second Team All-Ohio and was also GCL Central Co-Offensive Player of the Year. Kiner is rewriting the Spartans' record books he came into this season with 2,966 yards rushing, 44 total touchdowns (41 rush, two rec, one KR) and 3,861 all-purpose yards heading into his junior campaign.  The two-time First Team All-Southwest District selection has offers that include Arkansas, Cincinnati, Minnesota, Missouri, Ohio State, Tennessee, Vanderbilt and Wisconsin. Paving the way for him up front is 6-foot-3, 280-pound senior Ol/DL Nolan Tebbe. He was an OPSWA Division IV First Team All-Ohio selection a year ago. Classmate QB Tyler Bullock, two-time Second Team All-GCL Central performer, will call the shots under center. Bullock came into the season with 2,414 yards passing while accounting for 22 touchdowns (16 pass, six rush) in a Spartans' uniform.
The Roger Bacon defense is led by a very experienced and well decorated group of seniors. Those Class of 2020 members include OL/DL James Thompson Jr. He was slowed by injuries in 2018, but made quite the impression this past offseason. The 6-foot-5, 230-pound Thompson Jr. picked up offers from Akron, Ball State, Iowa State, Navy and Wisconsin. He has 80 total tackles, five-and-a-half sacks at the varsity level. In the secondary, classmates DB Ronnell Lackey, WR/DB Ryan Blautand, TE/S Jake Mumper are all back as starters. Lackey was named OPSWA Division IV Honorable Mention All-Ohio after getting in on 50 total tackles with a fumble recovery and an interception as a junior. Blaut is a two-time Second Team All-GCL Central selection and has 67 total tackles and three takeaways in his career. Mumper was a Second Team All-GCL Central selection in 2018.
PROGRAM TRENDS: Since winning the Kentucky Class 2A state title in 2015 Newport Central Catholic is a combined 19-20 with this senior class. The Thoroughbreds have won five state titles and been runner-up nine times. From 2005 to 2015 NewCath played in the state championship nine times (11 years).
Roger Bacon is looking for its sixth playoff appearance. The Spartans haven't made the postseason since 2010 when they went 8-4. In the eight seasons following they have never won more than four games in a year.
NEWPORT CENTRAL CATHOLIC'S KEYS TO VICTORY: The Thoroughbreds are less athletic and will be much smaller in the trenches. It is imperative that they play smart and execute their game plan concisely. That mean playing error free football. If that happens it could be a turning point for how well the rest of the season goes.
ROGER BACON'S KEYS TO VICTORY: Kiner is a star and NewCath will be focused on stopping him. This isn't about Kiner though, he will get his yards. The supporting cast must step up and make the plays when their numbers are called. They are all capable of making that happen. This will be the difference between a good and a great season for the Spartans each and every week.
Prediction: ROGER BACON 28, NEWPORT CENTRAL CATHOLIC 13
*Image from @RogerBaconFB