Dayton Round-Up: Badin blasts Alter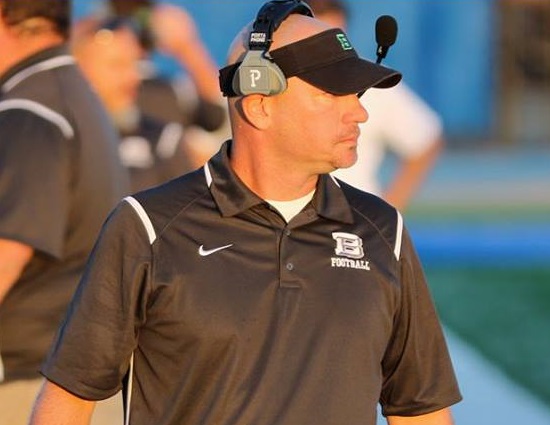 Badin head coach Nick Yordy (photo courtesy of (ScoutingOhio.com)
For the first time in two decades, Badin (4-2, 1-0) beat Alter (4-2, 0-1), 42-7, ending a 22-game losing streak to the Knights that dated all the way back to 1999. After starting the season 0-2 with heartbreaking losses by one point in overtime to Ross and by seven points to Talawanda, the Rams have regrouped to win four in a row.
Quarterback Zach Switzer threw for three touchdowns and a caught another. The senior finished the night with 226 yards passing and the 12-yard scoring reception. Classmate Josh Hegemann caught four passes for 99 yards with two touchdowns receiving and one passing.
Two second half interceptions by Badin blew this game wide open. Linebacker Evan Schlensker snared the first one returning it all the way to the Alter 3-yard line. That set up a Rams touchdown from Switzer to Hegemann that made the score 28-0. In the fourth quarter, Jayden Carter returned an errant Knights pass and went a short seven yards to the end zone making the score 35-7.
Alter running back Branden McDonald led all runners with 126 yards on the ground. He also had a rushing touchdown. Badin gets another tough test next Friday at Chaminade Julienne (5-1, 1-0).
SPRINGBORO 27, NORTHMONT 221
Springboro (6-0, 2-0) built a 24-0 lead over Northmont (2-4, 0-2) midway through the third quarter in route to the schools seventh straight victory dating back to the last season. The Panthers are 6-0 for the first time since 2012 when they finished the regular season undefeated. Senior quarterback Landon Palmer went 12-17 for 144 yards and two touchdowns passing to pace the victors.
Springboro had to ward off a late comeback attempt by the Thunderhawks. Northmont senior quarterback Keaton Kesling hit junior Marcus Allen on a pair of fourth quarter touchdowns passes. Allen finished the game with six receptions for 142 yards and those two scores.
The next three games for the Panthers are at home but it isn't going to be an easy finish. Springboro's final four opponents are a combined 17-7 with three of them currently riding winning streaks of four games or more.
CENTERVILLE 27, WAYNE 21
A 24-yard touchdown toss from Chase Harrison to Cameron Smith with 30 seconds left in regulation gave Centerville (4-2, 2-0) a 27-21 win over Wayne (1-5, 0-1). It was the fourth consecutive victory for Centerville, who won just two contests a year ago. Wayne's five losses are to teams that are a combined 26-4 on the season.
Harrison threw for 196 yards and three touchdowns. It was the fourth straight week with at least three scoring tosses for the sophomore. Classmate Smith had seven receptions for 67 yards. Elks senior running back Bryce McMahon ran for 110 yards with a trip to the end zone for the victors. It was McMahon's fourth straight game of 100 yards or more on the ground.
Sophomore quarterback Cam Fancher paced Wayne with 263 yards of total offense (174 pass, 89 rush) while accounting for three touchdowns (one pass, two rush).
WEST CARROLLTON 39, PIQUA  34
There is a rising star at West Carrollton (1-5, 1-2) and a renewed zest for football. Pirates sophomore quarterback Kamaury Cleveland amassed 465 yards of total offense (307 pass, 158 rush) and and accounted for five touchdowns (two pass, three rush) leading West Carrollton to its first win of the season as they outlasted Piqua (3-3, 3-1), 39-34.
All three of Cleveland's touchdown runs were during a 14-minute span in the first half. It was the second straight game that he has thrown for 300-plus yards and ran for more than 100-plus yards. Senior receiver Austin Jones hauled in 12 receptions for 179 yards and two touchdowns. Cleveland's classmate Cedric Anthony had eight catches for 114 yards. Jones I also on fire with 22 of his 27 receptions, 419 of his 550 receiving yards and all four of his touchdowns coming in the last two games.
This was a devastating loss for the Indians in their quest for a playoff berth. Piqua can still redeem themselves and pick up valuable computer points as they still have Xenia (5-1), Greenville (4-2) and Troy (5-1) still on the schedule.
Here are some other scores from Dayton area teams in action on Friday night:
GWOC
Springfield 61, Beavercreek 0 – Third win for Springfield of 35-plus points.
Fairmont 14, Miamisburg 7
Trotwood-Madison 28, Lebanon 23 – Division III Trotwood-Madison takes down a Division I opponent for a fourth straight week.

GCLC
Chaminade Julienne 56, Carroll 27
Fenwick 13, McNicholas 7
MVL
Troy 42, Stebbins 7
Greenville 21, Tippecanoe 7 – Greenville's only two losses to teams that are 5-1, Chaminade Julienne and Troy.
West Carrollton 39, Piqua 34
Sidney 24, Fairborn 17
Xenia 21, Butler 0 – Fifth straight win for the Bucs after dropping the opener to Beavercreek, 21-20.
DPL
Dunbar 28, Teays Valley 20
Columbus East 42, Meadowdale 0
Belmont, Thurgood Marshall
SWBL
Franklin 38, Preble Shawnee 36
Bellbrook 30, Valley View 19
Waynesville 35, Milton-Union 21 – Waynesville 8-2 dating back to the beginning of last October.
Brookville 35, Oakwood 14
Northridge 46, Carlisle 0
Eaton 27, Monroe 21