Cincinnati Best Bets: Week 12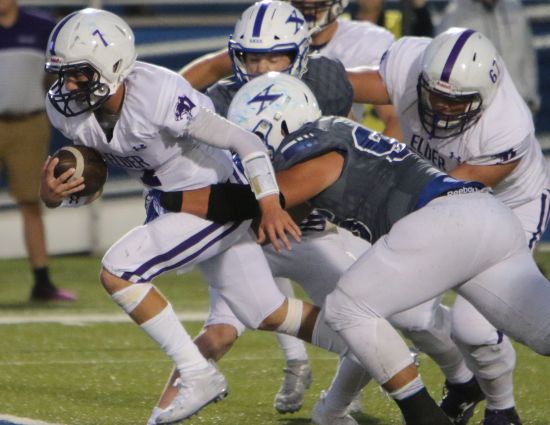 The opening week of the postseason has come and gone, and our teams have been cut in half. The biggest takeaway from last week was the blowouts that we had all over the Tri-State area. Seemingly every time you looked at a different game, the winning team had a large lead. In Week 12, we are expecting some much tighter contests. We take a quick peek at a plethora of rematches that headline this week's edition of the Cincinnati Best Bets.
No. 1. St. Xavier (9-2) vs. No. 4 Elder (9-2)
Ohio DI – Region 4 / Friday – 7:00 at Mason
The GCL South rivals played in Week 5 of the regular season, a matchup that Elder won 31-28. That was the 100th meeting between these juggernauts, with the Panthers now leading the series 53-42-6. The main reason Elder came out with the win was the running ability of GCL South Co-Offensive Player of the Year Matthew Luebbe. He carried the ball 21 times for 236 yards and three touchdowns. The Bombers statistically were better in a lot of categories. They had more total yards, more time of possession, and an excellent fourth-down conversion rate. The battle in the trenches was an absolute mismatch in favor of the Panthers. If Luebbe even comes close to the rushing performance he had in the first meeting, the result will be the same. The Bombers have to keep him in the pocket and make him throw the ball. Bomber signal caller Matthew Rueve has to make better decisions as well. He had two bad interceptions in the first matchup. The one offense in the Tri-State area you absolutely cannot give extra possessions to is Elder. St. Xavier running back Kellen Newman had the best game of his career last week against Mason, rushing for 172 yards and two scores. If they can get him going in back-to-back weeks, St. Xavier has a good shot at revenge. The trenches and turnovers were the key to victory in the first matchup and it will stay that way for the second one as well.
No. 2 Fairfield (10-1) vs. No. 3 Colerain (10-1)
Ohio DI – Region 4 / Friday – 7:00 at Princeton High School
Colerain defeated Fairfield just two weeks ago in the regular season finale, to secure its 20th GMC title in a row. It was the biggest conference game in over a decade, and it lived up to the billing, with the Cards winning 16-10 in an overtime thriller. It's easy to say that Jutahn McClain had a bad game, and that's why Fairfield came up short, but that simply isn't the case. Last year, McClain had 255 rushing yards and four touchdowns against Colerain, and they still lost 55-27. The biggest factor in the Indians loss was their three turnovers. Deshawn Pace has been showing why he is one of the best players in the Tri-State area as of late. He is taking on a heavy dose of offensive responsibilities, while still being the team's primary cornerback. Sawiaha Ellis has to make better decisions with the football, as he threw two costly interceptions in game one. Also, they need other playmakers to step up. McClain did not play last week and even if he plays here, he likely will not be 100 percent. Jayden Mays has been an absolute stud, but there has to more contributions from others if they want to get by the stifling Cardinal defense. The philosophies for both these teams will say the same. Run the ball, dominate time of possession, and capitalize on turnovers. Expect a thriller for the second time in three weeks between these excellent football teams.
No. 2 St. Francis DeSales (9-2) vs. No. 3 Harrison (10-1)
Ohio DII – Region 8 / Friday – 7:00 at Miami Trace High School
The Wildcats are the only team from the SWOC left standing. They are coming off an impressive 24-18 win against a very good Canal Winchester team. Single guys like Connor Kinnett and Levi Tidwell may get a lot of attention, and rightfully so, but this Wildcat team has been carried by defense. After 11 games, this team has yet to allow more than 20 points in a game. When the offense isn't at its peak, this defense can carry the load, which is why Harrison is undoubtedly a state title contender. DeSales has been incredibly impressive themselves. Coming off a dominating 27-13 win against Turpin, this team is playing its best football of the season. Their offense has scored 30 or more in five of their nine total wins, although the defense has been shaky throughout the season. They have allowed outputs of 45, 31, 28, 22, and 21. Harrison has to be dynamic on offense this week. Kinnett is coming off a rough game, going 16/35, with 264 passing yards, three touchdown and two interceptions. Harrison should quickly try and get Cam Hering involved early. If he sets the tone running the ball, this offense becomes difficult to stop. This is another tough test for the Wildcats, we will see if they can keep the train rolling.
+++
Here are the rest of the playoff games on tap for Cincinnati teams this weekend:
FRIDAY
(all games 7PM kickoff)
Division II – Region 8
1 LaSalle (9-2) vs. 5 Walnut Ridge (11-0) – COMPLETE PREVIEW – at Bellbrook High School
Division III – Region 12
4 Badin (8-3) vs. 8 Alter (7-4) – at Monroe High School
SATURDAY
(all games 7PM kickoff)
Division IV – Region 16
1 Wyoming (11-0) vs. 5 Indian Hill (9-2) – at Princeton High School
6 Roger Bacon (10-1) vs. 7 Valley View (9-2) – at Lakota West High School
Division V – Region 20
1 Taft (10-1) vs. 4 West Liberty-Salem (10-1) – at Miamisburg High School
Be sure to follow @TSFootball for updates all week long & catch Blitz 5 Friday nights at 11PM on WLWT-TV Channel 5 for the best high school football playoff coverage in the city!