Dayton Best Bets: Week 11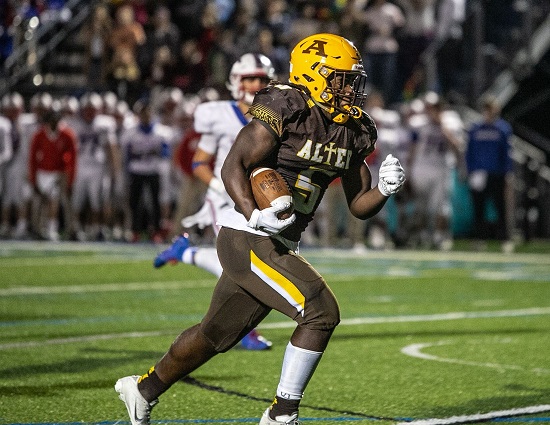 Alter RB Branden McDonald (Dan Bieneke/TriStateFootball.com)
There is championship playoff pedigree and then there is newcomer Xenia featured in this week's Dayton Best Bets. Of the four games we look at in round one of the playoffs, Alter is making its 19th consecutive playoff appearance (25th overall) and  the 18th straight for Clinton- Massie (19th overall). It's the 20th berth for Valley View and 16th trip for Chaminade Julienne. Those four teams have combined for 128 postseason wins and eight state titles. As for Xenia, they are hoping this is just the infancy of greatness and consistency like that. The Buccaneers and their fans are going to cherish this moment for as long as they can. The long wait to playing in November has finally arrived.
No. 5 Springboro (9-1) at No. 4 Dublin Jerome (8-2)
Ohio DI – Region 2 / Friday – 7:00

A long road trip can let Springboro lose focus on the task at hand. The back half of the Panthers schedule has prepared them for this moment. Since October began, they beat playoff teams, Northmont and Trotwood-Madison while suffering their only loss to #1 seed Springfield. The Springboro defense has been very opportunistic. The Panthers have 21 sacks which have helped lead to 23 takeaways (12 FRs, 11 INTs). Jake Kowalski has a team high eight-and-a-half sacks. Dublin Jerome has looked great most of the season, but there have been a couple of rotten eggs laid along the path to the playoffs. The Celtics have only played one team with a winning record since September ended. They will go as far as the arm and legs of quarterback Ryan Miller takes them. Stop him and Springboro will be in a great position to bring a victory home.
No. 5 Columbus Walnut Ridge at No. 4 Xenia (9-1)
Ohio DII – Region 8 / Friday – 7:00
Welcome to the post season, Xenia. The Buccaneers inaugural playoff tilt could not have come against a tougher foe. Walnut Ridge is a defensive juggernaut. The Scots are allowing just 5.4 points per game. They have not given up more than 14 points in a game and seven points or less, eight times. Seniors Marshawn Mankins, Kaveon Ross and Antonio Tucker have combined for more than half of the team's 31.0 sacks. The Walnut Ridge offense capitalizes on a lot of short field situations because of the defense's prowess. Quarterback Howard Thornton has thrown for 24 touchdowns. Javarus leach and Antonio Felts have combined to find the end zone 20 times. It's smash-mouth football for Xenia. The Bucs have run the ball 453 times and thrown it just 23 times on the year. Andrew Pollender (1,017 yards), Kevin Johnson (1,001) and Brett Russell (632) lead the squad in rushing. The trio has combined for 35 of the teams 40 offensive touchdowns. Defensively, Xenia has four shutouts in its last seven contests. The Bucs have given up just 32 total points in that span.

No. 8 Alter (6-4) at No. 1 Chaminade Julienne (8-2)
Ohio DIII – Region 12 / Friday – 7:00

For the second time in three years Alter and Chaminade Julienne face each other in the regular finale and then in the first round of the playoffs. Chaminade is hoping for the same results as 2017 when they lost in Week 10 and avenged that loss to the Knights seven days later in the postseason. The Knights were on the playoff bubble having lost three in a row to start October. They are a dangerous #8 seed. Alter has plenty of veteran returnees from last year's state runner-up squad (RB Branden McDonald, LB Mason Henry, DB Aidan Plate, WR/DB CJ Hicks Jr. and DE Matthew Schimpf) who won't be in awe of anything they face from here on out. Chaminade Julienne lost the battle in the trenches last week and got burnt by the Knights on two long pass plays. The Eagles must pay more attention to detail and heart.
No. 7 Valley View (8-2) at No. 2 Clinton-Massie (9-1)
Ohio DIV – Region 16 / Saturday – 7:00
This is a very overlooked Clinton-Massie team that rolled through its SBAAC American rivals, hand Bishop Hartley it only loss and is just a one point defeat at the hands of Division II, Avon Lake (9-1, whose only loss was by one point to 10-0, Avon). The Falcons are led by senior running back, Brendan Lamb who has run for 1,606 yards and 35 touchdowns. Perhaps even more scary than that, Clinton-Massie still averages another 206 yards per game rushing on top of Lamb's numbers. Five players – Cade Cradlebaugh, Lucas Lynch, Liam Musgrove, Dylan Branham and Troy Coulter have combined for 41 of Valley View's 46 touchdowns. Six of the Spartans eight wins are by 22 points or more.
+++
Here are the rest of the playoff games on tap for Dayton teams this weekend:
FRIDAY
(all games 7PM kickoff)
Division I – Region 2
8 Marysville (6-4) at 1 Springfield (9-1)
7 Northmont (6-4) at 2 Toledo Whitmer (9-1)
5 Springboro (9-1) at 4 Dublin Jerome (8-2)
Division II – Region 7
6 Lewis Center Olentangy (5-5) at 3 Troy (8-2)
Division II – Region 8
5 Columbus Walnut Ridge (10-0) at 4 Xenia (9-1)
Division III – Region 12
8 Alter (6-4) at 1 Chaminade Julienne (8-2)
7 Trotwood-Madison (7-3) at 2 Wapakoneta (9-1)
6 St. Mary's Memorial (8-2) at 3 Franklin (9-1)
SATURDAY
(all games 7PM kickoff)
Division IV – Region 16
8 Milton-Union (8-2) at 1 Wyoming (10-0)
7 Valley View (8-2) at 2 Clinton-Massie (9-1)
6 Roger Bacon (9-1) at 3 Waynesville (9-1)
Division VI – Region 24
8 Dayton Christian (8-2) at 1 Chillicothe Southeastern (10-0)