2020 Snapshot: Simon Kenton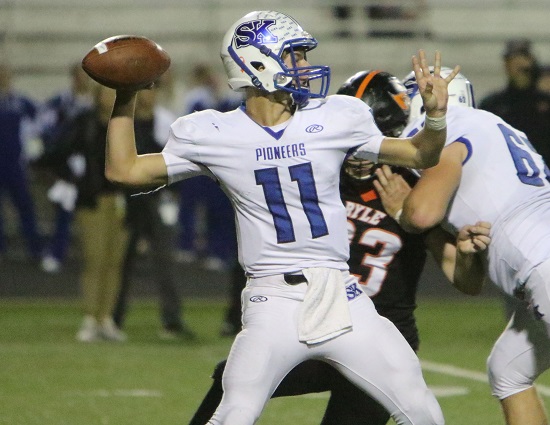 Simon Kenton QB Chase Crone (photo by Dan Bieneke/TriStateFootball.com)
Think about how far the Simon Kenton program has come when people say that 8-5 was a down year. The Pioneers recorded their eighth consecutive winning season last fall, but their first with less than 10 victories since 2013.
Simon Kenton battled injuries to key players including their top running back. They started a freshman at quarterback, overcame all of that, and still made the Class 6A Regional finals for the eighth straight year. That is still a triumphant campaign in the Pioneers and many other's minds.
The success that Simon Kenton has built and maintained for over a decade now is very impressive. Only one losing campaign in the past 12 years for the Pioneers. Simon Kenton has nine seasons of 10 wins or more, in that span (117-40 overall). The other two winning seasons were nine and eight victories. The most impressive part of this run by the Pioneers, is the programs 12 Class 6A regional finals (elite eight) appearances in the last 13 years.
What that also means is, many players must wait until their senior seasons before they get the chance to see the field on a regular basis. This Simon Kenton team will be no different. The "newbies" will have to answer the "Friday night lights" call. Expect these Pioneers to rise to the occasion like those that came before them. This squad will be a force again in Northern Kentucky.
Class 6A, District 6
2019 RECORD: 8-5, 3-0 Class 6A, District 6
COACH:  Jeff Marksberry (153-87 at Simon Kenton, 20 years; 153-87 overall)
TOP RETURNEES
Chase Crone, So, QB – The keys to the Cadillac are in the ignition. The Simon Kenton offense should be highly entertaining the next three years with Crone under center. Crone threw for 1,740 yards, had 14 touchdown passes, ran for 689 yards and six rushing scores as a freshman. He was named the Class 6A, District 6 Player of the Year for his efforts.
Caleb Livers, Sr, WR – Look for numbers to soar in year two with Crone. Livers hauled in 23 balls for 403 yards and three touchdowns receiving a year ago.
Trey Little, Sr, WR – Will be a top option in the passing attack. Little had 30 receptions for 300 yards and four touchdown catches last season.
Ian Hughes, Sr, OL – Will be the leader of an offensive line that paved the Pioneers way for 4,819 yards of total offense in 2019.
Nate Walker, Sr, LB – One of the best kept secrets in the Tri-State. Walker burst onto the scene last fall with 87 total tackles including 11.5 tackles for losses.
Brennon Miller, Sr, DB – Will be counted on to guide a young secondary through growing pains.
Jake Huff, Sr, DL – A real grinder for the Simon Kenton defense. Huff tallied 30 total tackles, had five sacks and recovered a fumble as a junior.
Nick Seger, Sr, K – Was a huge weapon for the Pioneers in 2019. Seger connected on 36/37 extra points and 7/9 field goal attempts for 57 points.
NEWCOMERS
A pair of players, senior DL Dakota Brookbank and sophomore RB Jayden Lawson are expected to contribute immediately for the Pioneers. Lawson could have a breakout season. He may be the perfect backfield compliment for Crone's arm.
2020 SCHEDULE
Fri – 08/21/20 – at Lafayette – 6:30 PM
Fri – 08/28/20 – at Anderson (OH) – 7:30 PM
Fri – 09/04/20 – OAK HILLS (OH) – 7:30 PM
Fri – 09/11/20 – at Highlands – 7:00 PM
Fri – 09/18/20 – EDGEWOOD (OH) – 7:30 PM
Fri – 09/25/20 – JOHNSON CENTRAL – 7:30 PM
Fri – 10/02/20 – BYE
Fri – 10/08/20 – at Dixie Heights – 7:00 PM
Fri – 10/16/20 – at Campbell County – 7:00 PM
Fri – 10/23/20 – RYLE – 7:00 PM
Fri – 10/30/20 – ROSS (OH) – 7:30 PM
LIGHTING UP THE SCOREBOARD
Simon Kenton has averaged 466.4 points a season over the past seven years (35.5 points per game, 92 games). They have scored 50 points or more 21 times in their last 92 contests. On 24 more occasions, the Pioneers have scored 40 or more points, during that same period.
GLITCH IN THE SCOREBOARD
Last season was the first time that Simon Kenton has failed to score more than 400 points (353) since 2012.