2020 Snapshot: Sycamore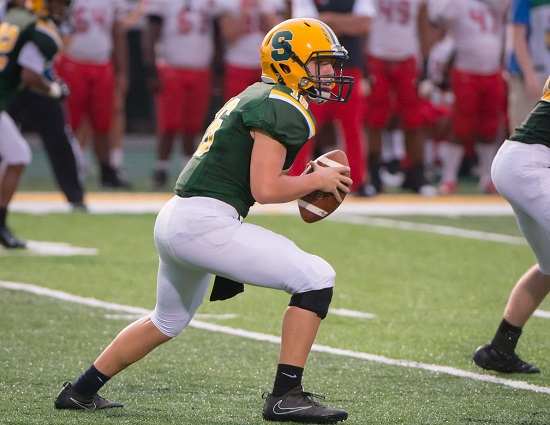 Sycamore QB Andrew Fehr (photo by Mitchell Cooke/MACfoto.com)
Three seven-point losses in GMC play kept Sycamore out of the playoffs in 2019. As tough as last season was head coach Scott Dattilo and his returning cast will be all the better for going through it.
Five of Sycamore's 10 games in 2019 were decided by seven points or less. The Aviators went 2-3 in those affairs. Considering Dattilo had a first-year starter at quarterback and eight sophomores in the starting lineup, he still managed to get max effort out of his youngsters.
This season is loaded with promise. Sycamore now has an experienced core that understands the rigors of the GMC schedule. The Aviators will not beat themselves, this fall.
Six of the Aviators final seven GMC games are against teams that made the playoffs last season. This presents Sycamore with the fantastic opportunity to grab computer points for a postseason berth and the shot at avenging its three seven-point losses (Mason, Lakota West, Hamilton) from a year ago.
Like always, Sycamore will cause havoc in the conference standings. Finishing those close games off, is the key to success. The Aviators postseason chances also hinge on staying healthy. This is not a deep squad but the top-tier players are good enough to hold their own with everyone they face.
Division I, Region 4
2019 RECORD: 5-5, 3-5 GMC
COACH: Scott Dattilo (96-54 at Sycamore, 14 years; 113-68 overall, 17 years)
HONOR ROLL
Andrew Fehr, Sr, QB – Earned OPSWA Division I Honorable Mention All-Southwest District and First Team All-GMC honors after leading the league in passing during the regular season in 2019. Fehr threw for 1,573 yards and eight touchdowns. He also had 126 yards and two scores rushing. Fehr's 1,573 yards passing and 137 completions were Sycamore single season records.
Qai Williams, Sr, DL – Named First Team All-GMC after recording 41 total tackles, six sacks and two fumble recoveries as a junior. Williams has 86 total tackles, eight sacks and three fumble recoveries in his career.
Jacob Tueimeh, Jr, SS – An outstanding varsity debut for Tueimeh who tallied 54 total tackles and three interceptions including a pick six against Oak Hills. He was named Second Team All-GMC for his effort.
OTHER RETURNEES
Gordy Anaple, Sr, WR/DB – The Aviators top returning receiver. Anaple had 23 receptions for 196 yards in 2019.
Jovani Mujanayi, Sr, LB – A returning starter at linebacker. Mujanayi has 49 total tackles and two sacks in his career.
Justin Williams, Jr, FS – A strong varsity debut saw Williams get in on 41 total tackles with an interception.
Rasheed Harris, Jr, CB – Became a starter late last season. Harris will be a key component of the secondary.
Evan Massey, Jr, DE – Look for a breakout campaign from Massey, who could be a real menace as an end rusher.
Trey Bell, Jr, OL – They general on the o-line. The 6-foot-4 and 280-pound, Bell, will play at the next level. What level depends on the work that Bell puts in.
Jourden Hale-Frater, Jr, OL – The 6-foot-4 and 310-pound Frater is a college prospect. It will not be long before the offers start coming in.
Matt Decker, Jr, OL – Another returning starter on the o-line. Decker will be a force in resurrecting the Aviators ground game.
William Ingle, Jr, RB – Will become the focal point of the Aviators rushing attack. Ingle ran for 239 yards with a team high five rushing touchdowns as a sophomore.
NEWCOMERS
Seniors DE Tom Kwon, WR Alec Van Hoose along with juniors WR/DB Cannon Ray and ATH Cody Charles should make their presence felt on Friday night's. Ray and Van Hoose will play a large role in the passing game. Ray's versatility is a big plus for a team that lacks depth.
PLAYOFF HISTORY
(seven appearances, 4-7) – 2017, 2016, 2012, 2011, 2007, 2006, 1996
2020 SCHEDULE
Fri – 08/28/20 –@Loveland – 7:00 PM
Fri – 09/04/20 – KINGS – 7:00 PM
Fri – 09/11/20 – LAKOTA EAST – 7:00 PM
Fri – 09/18/20 – at Princeton – 7:00 PM
Fri – 09/25/20 – LAKOTA WEST – 7:00 PM
Fri – 10/02/20 – at Mason – 7:00 PM
Fri – 10/09/20 – COLERAIN – 7:00 PM
Fri – 10/16/20 – at Middletown – 7:00 PM
Fri – 10/23/20 – at Fairfield – 7:00 PM
Fri – 10/30/20 – HAMILTON – 7:00 PM
RUNNING ON EMPTY
The Aviators ran for just 1,123 yards last season. It was the fewest by a Sycamore team in the Dattilo-era. From 2011 to 2017, the Aviators ran for more than 2,000 yards, including six years of 2,300+ yards. Sycamore has combined to run for just 2,335 yards the past two campaigns.

COACHING MLESTONE
Dattilo passed Sycamore Stadium field namesake, Bud Acus, to become the winningest coach in program history. His record at Sycamore now sits at 96-54 (.640%) in 14 years at Sycamore. Acus went 93-38-10 (.660%) from 1953-69.