Player Spotlight: Tay Calloway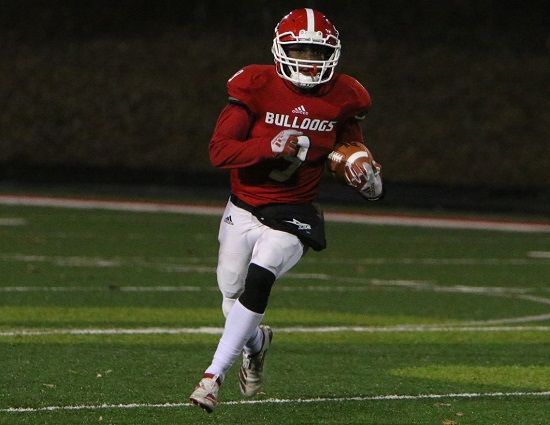 Holmes ATH Tay Calloway (photo by Dan Bieneke/TriStateFootball.com)
Outside of Class 4A, District 7 and the teams that fill out the Holmes schedule very few people know about Bulldogs stud, Tayquan "Tay" Calloway. His performance last fall as a junior took him from being a very good high school football player to a great one.
In 2019, Calloway helped lead Holmes to the Class 4A, District 7 regular season title and an 8-4 record. It was the Bulldogs first winning season in seven years and most wins since 2010.
Calloway, who excels in all phases of the game ran for 1,268 yards, caught 15 passes for 205 yards, recovered a fumble, had five interceptions for 128 yards and found the end zone 20 times (15 rush, one rec., one KR, one PR, two IRs). He was named Second Team All-NKY (ATH), Third Team All-TriState Football (ATH) and a finalist for TSF Northern Kentucky Defensive Player of the Year for his efforts.
"Take Tay's athleticism along with his desire to compete and his ability to take coaching; you have a very special talent. From a player standpoint Tay's athleticism is the first thing that jumps out at you. Many coaches say players are a threat to score any time they touch the ball, Tay, literally is that guy. I have never seen a player do what he did against Owen County. He had touchdowns rushing, receiving, on a kickoff return and on an interception return. "Tay is a joy to be around and coach! His personality is extremely easy going until it is time to turn it on."" Holmes head coach Ben Nevels quips on his star pupil.
Calloway has an offer from Morehead State with many others inquiring about his talents. He looks to have a big summer on the camp circuit.
"He is so explosive and has another gear when he gets in the open field. College coaches have asked how fast Tay is, referring to his 40 (yard dash) time. My response is always the same. He's fast enough not to get caught by anyone on the other team," Nevels goes on.
Nevels recounts Calloway's beginnings as a varsity player at Holmes. "When I think of him personality-wise, I am always reminded of his freshman year. He dinged his wrist up and had to sit out of a couple practices. Up to this point Tay was extremely quiet around us. This was Tay's first year without his brother. Tez (Quantez Calloway) was not able to play their freshman year. I was looking for something to keep Tay interested and just trying to really get him to open up."
"I tossed him the kicking tee and asked if he could kick. He giggled, like he always does and walked off. Fifteen minutes later I heard a loud conversation from the opposite end of the field. I was thinking what in the world is going on? Tay was on the other end of the field, kicking field goals off the kicking tee. He was narrating the game situations aloud and counting down the clock as he would attempt to kick the game winning field goal. If he missed the kick, there was a flag on the other team. Tay hasn't stopped talking at practice since that day."
Calloway has backed up the talk. He heads into his senior season with 1,268 rushing yards, 40 receptions, 752 receiving yards, eight interceptions, recovered two fumbles and has 31 touchdowns (22 rush, five rec., one KR, one PR, two IR). Something tells us that that Calloway's last words at Holmes are going to resonate for years to come.