2020 Snapshot: Troy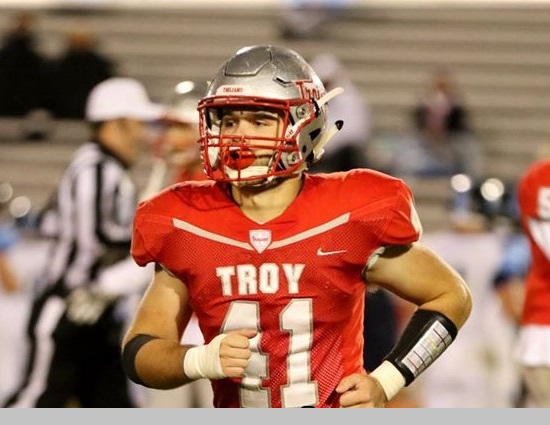 Troy LB Evan Jones (photo courtesy of ScoutingOhio.com)
There have been some great runs at Troy but nothing like the one it is on now. The program is aiming to get back to the playoffs for an unprecedented (in program history) fifth straight year. With a cast that has played a ton of football together, this squad has a chance to do some damage in the postseason.
The Trojans are returning most of a unit that finished second in the MVL, in total defense, a year ago. The offense was tops in the conference in 2019. There are big shoes to fill, as Troy looks to fill voids at quarterback and running back. Whomever land those spots will enjoy the holes that a ginormous and veteran offensive line will provide all season long.
As good as this program has been, the Trojans have had trouble getting past the second round of the playoffs. This Troy team, with its size up front has a built-in advantage when the weather turns cold and nasty. The clock should be a friend and not an enemy come November.
The Trojans are built for a deep postseason run. The longer Troy stays alive, the more difficult they will be to beat.
Division II, Region 7
2019 RECORD: 8-3, 4-0 MVL Miami; 7-1 MVL
COACH: Dan Gress (8-3 at Troy, one year; 8-3 overall, one year)
HONOR ROLL
Dawson Hildebrand, Sr, OL – The cornerstone of the Troy o-line. Hildebrand helped the team churn out 333.9 yards of total offense a game on his way to Honorable Mention All-MVL accolades as a junior. He also had 31 total tackles and three sacks on defense. Hildebrand has offers from Iowa State, Bowling Green and Akron
Evan Jones, Jr, LB – Had no problem adjusting to the speed of the varsity game with 92 total tackles, two forced fumbles and two fumble recoveries as a sophomore. Jones was named Honorable Mention All-MVL for his play.
Ethan Freed, Sr, OL – One of the three 300+ pound starting offensive linemen returning for the Trojans. Freed was named Honorable Mention All-MVL in 2019.
Jacob Moorman, Sr, OL – The 6-foot-1, 320-pound Moorman aspires to be even better than his OPSWA Division II Honorable Mention All-Ohio performance in 2019.
OTHER RETURNEES
Nick Barr, Sr, WR – A solid possession receiver. Barr had 23 receptions for 275 yards and touchdowns as a junior.
Zack Ray, Sr, OL – Another returning starter, Ray blocked for a backfield that averaged 232.9 yards per game rushing in 2019.
Adam DeCerbo, Sr, DL – In two years as a starter, Decerbo has 81 total tackles and two-and-a-half sacks.
Lucas Henderson, Sr, DB – Will be looked upon for leadership in the secondary. Henderson was in on 52 total tackles with a forced fumble and a fumble recovery as a junior.
Austin Johnson, Sr, RB/LB – In his first season as a starter, Johnson recorded 70 total tackles, had a sack and a fumble recovery, last fall.
JJ McCoy, Jr, LB – Has all-conference talented. McCoy tallied 59 total tackles in his first year as a starter.
NEWCOMERS
Look for junior QB/DB Josh Mayfield and senior DB Colton Block to make an impact in the starting lineup. Mayfield gets a shot under center. He had 15 receptions for 201 yards, three touchdown catches, 24 total tackles, a fumble recovery, and an interception as a sophomore.
PLAYOFF HISTORY
(15 appearances, 7-15) – 2019, 2018, 2017, 2016, 2011, 2010, 2004, 2000, 1997, 1996, 1995, 1992, 1989, 1986, 1985 (Regional Champions)
2020 SCHEDULE
Fri – 08/28/20 – CHAMINADE JULIENNE– 7:00 PM
Fri – 09/04/20 –XENIA – 7:00 PM
Fri – 09/11/20 at Stebbins – 7:00 PM
Fri – 09/18/20 – FAIRBORN – 7:00 PM
Fri – 09/25/20 –at Sidney – 7:00 PM
Fri – 10/02/20 – TIPPECANOE – 7:00 PM
Fri – 10/09/20 –at West Carrollton – 7:00 PM
Fri – 10/16/20 – GREENVILLE – 7:00 PM
Fri – 10/23/20 – at Butler – 7:00 PM
Fri – 10/30/20 – at Piqua – 7:00 PM