Cincinnati Round-Up: Princeton stuns Colerain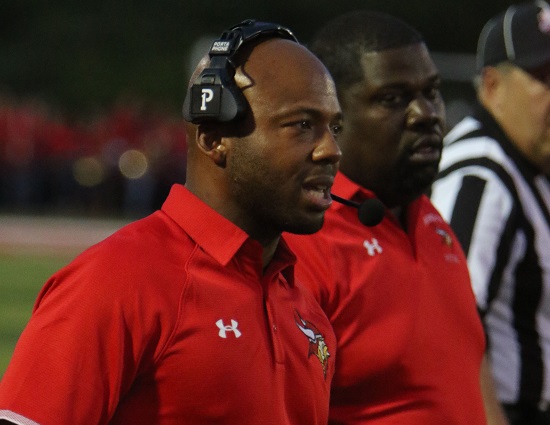 It was night filled with upsets across the Cincinnati area as the regular season has already reached its halfway point. The cream is definitely starting to rise to the top, but with everybody qualifying for the postseason this year every team is still in the game.
NO. 8 PRINCETON 41, NO. 6 COLERAIN 37
The Vikings last beat the Cardinals in 1997. After winning 83 straight GMC contests, Colerain has now dropped two of their last three.
The Cardinals started off slow, but appeared to have control of things as they took a 17-7 lead into the locker room. However, Princeton wouldn't go away. By the end of the third quarter the margin had been cut to 23-20. The two teams combined for 35 fourth-quarter points in a thrilling finish.
Following a 60-yard TD run by Freddie Johnson, Xavier Kendall picked up a fumble on a failed Princeton punt attempt and took it in for a score to give Colerain their largest lead of the night as they led 37-20 with 9:20 left. From there it was all Vikings.
Mekhi Lynn threw for a 21-yard TD pass to Rodney Harris Jr to get the comeback started. Less than three minutes later as DeAngelo Foster connected with Lamont Jackson on a 63-yard pass to cut it seven. 
The game-winner shortly after Lynn hti Jackson on a 43-yard pass on third down to give Princeton the ball at Colerain's 1-yard line. Lynn scored from four yards out two plays later with just 12 seconds left on the clock to seal the deal.
Lynn finished with 266 yards and three touchdowns through the air. Lamont Jackson had a huge night, catching seven balls for 198 yards and two TD's.
NO. 22 LA SALLE 35, NO. 15 LAKOTA EAST 13
The Lancers proved to be too much to handle for the Thunderhawks as they rebounded nicely from last week's tough loss to St. Xavier. La Salle's defense dominated most of the night as they forced three turnovers and came up with the big plays when they needed to.
Zach Branam had a quiet night through air, throwing the ball just 12 times and finishing with only 116 passing yards. He did score twice and finish with 99 yards on 11 carries. Gi'Bran Payne scored twice himself and finished with 58 yards on 11 attempts. 
T.J. Kathman threw for a pair of touchdowns and rushed for 106 yards and 18 rushes in the loss.
NO. 14 HAMILTON 28, NO. 11 FAIRFIELD 25
Keyshawn Stephens carried the Big Blue to a big win over a tough Indians' defense. The junior carried the ball 25 for 165 yards and two touchdowns. The two teams combined for 518 rushing on the evening.Quincy Simms Marshall connected with Breon Ishmail for a pair of scores in the win.
Talon Fisher rushed for 131 yards and threw for another 68 yards in the loss. Teammate Malik Tate contributed 131 yards on 18 carries and Kavi Bivins scored three rushing touchdowns for Fairfield.
Here are some other scores from other Cincinnati teams ranked inside our Blitz 5 Top 25:
No. 1 St. Xavier 38, No. 3 Elder 24 (COMPLETE RECAP)
No. 4. Lakota West 33, No. 12 Sycamore 0
No. 5 Winton Woods 28, West Clermont 13
No. 9 Mason 27, Oak Hills 12
No. 17 Turpin 44, Little Miami 8
Chaminade-Julienne at No. 18 Badin (Saturday)
No. 20 Kings 34, No. 25 Middletown 13
No. 21 Anderson 38, Lebanon 20
No. 23 Wyoming 21, Madeira 3
*Stay updated on high school football updates by following @TSFootball on Twitter.