NKY Round-Up: Simon Kenton starts strong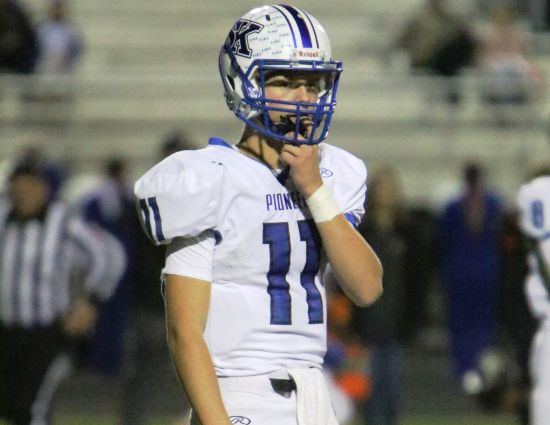 Teams in the Bluegrass State finally got to kick off their season after having things pushed back due to COVID-19 and fans across the area were chomping at the bit to see their boys hit the field. There were some big performances right out of the gate.
NO. 16 SIMON KENTON 27, NO. 19 HIGHLANDS 14
Simon Kenton dominated things early and held on late to hold off Highlands as the Pioneers kicked off their season with a key road win.
The game's first TD came on a 59-yard scamper by Jayden Lawson to give Simon Kenton a 10-0 lead with 3:20 left in the first quarter.
Highlands answered midway through the second quarter as Jake Fahlbusch found Mason South for a 6-yard TD pass on a 4th-and-goal situation. After a second field goal by Nick Seger the Pioneers led 13-7 at the half.
Chase Crone connected with Trey Little on a 87-yard TD pass midway through the third quarter as the Pioneers looked to pull away. 
The Bluebirds kept fighting though as Charlie Noon started the second half under center and led Highlands on a 64-yard scoring drive to cut the lead to six with 3:36 to play in the third quarter.
Crone answered though and guided Simon Kenton right back down the field before Lawson scored for a second time on a 5-yard rushing touchdown with 1:44 to play in the quarter.
The Bluebirds would threaten late, but the Pioneers' defense didn't budge as Simon Kenton held on for the victory.
NO. 7 COVINGTON CATHOLIC 21, DIXIE HEIGHTS 14
CovCath jumped out to a 21-0 halftime lead before Dixie Heights made things interesting late in a battle of Dixie Highway rivals.'
Quarterback Caleb Jacob didn't have his most efficient night throwing the football as he completed just 10 of his 21 passes for 104 yards and a TD. He did add another 20 yards and a score on six carries.
Dixie got some decent play from signal caller Logan Sanders, who finished with 181 yards and a touchdown passing as he aired out early and often as the home team fell behind early.
HOLY CROSS 55, BELLEVUE 6
The Indians got a big night from quarterback Hayden Spencer. He rushed for two scores and 31 yards and threw for another 101 yards and a pair of scores through the air.
Holy Cross held the Tigers to just 91 yards of total offense and just four first downs in the game. Bellevue converted just one of ten third-down attempts in the loss.
Here are some other scores from Northern Kentucky teams in action:
Newport 26, Bishop Brossart 14
Ryle 39, Boone County 8
Campbell County 21, Cooper 8
Beechwood 20, Corbin 14
Louisville Holy Cross 19, Holmes 6
Carroll County 48, Ludlow 28
Dayton 39, Pendleton County 8
Mason County 34, Grant County 18
Walton-Verona at NewCath (Saturday at 7PM)
*Stay updated on high school football updates by following @TSFootball on Twitter.