Dayton Best Bets: Week 2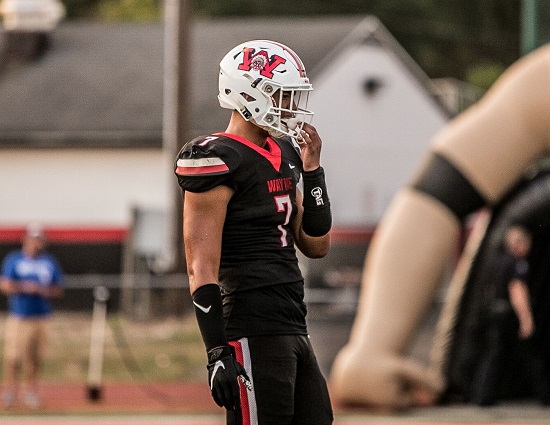 Wayne TE Elijah Brown (photo by Shelby Frieszell/TriStateFootball.com)
One game down and for the most part things went status quo. Most of the favorites around the area took care of business. Still, there was some sloppy play that needs to be cleaned up. The 10 MVL teams combined for 30 turnovers. Five teams had at least four miscues. The GWOC came out aggressive with three of its eight squads being penalized at least 10 times. Scoring was hard to come by in the SWBL. Seven of the 14 conference members scored 12 points or less. There was plenty for coaching staffs to focus on this week in practice.
Here are the Best Bets for Week 2.
Springfield at Centerville
This is a matchup between two squads that won nail-biters to open the 2020 campaign. Their victories were cluttered with some not so great play. Springfield was penalized 13 times for 120 yards and turned the ball over twice against Wayne.
Centerville allowed Fairmont to convert 7-12 third and fourth down attempts to keep drives alive. On the other side of the coin, the Elks were just 2-9 on third and fourth down conversions. This affair will come down to winning the battles in the trenches. A place where Springfield has a big edge.
Miamisburg at Wayne
Life won't be as easy for Miamisburg on Friday night as it was in the opener. The Vikings aired it out in a 37-8 win over Beavercreek. Five different receivers had receptions of 24 yards or longer.
Wayne is also strong catching the ball with RJ Mukes and Elijah Brown pacing the team. The Warriors would like to get their running game going. They only gained 83 yards on 26 carries in a seven-point loss to Springfield. Throw in 10 penalties for 92 yards and you can pinpoint how Wayne let that contest get away.
Franklin at Bellbrook
Two teams that are coming off Week 1 shutouts. Franklin has won six of the last eight games in this series. The previous three tilts have been decided by seven points or less. Franklin looks to slow Bellbrook down with a stingy defense that has blanked three of its last five opponents dating back to last season.
Bellbrook was clicking on all cylinders versus Waynesville. The Golden Eagles offense racked up 479 yards. Quarterback Alex Westbrock was 9-12 for 181 yards and four touchdowns passing. Running back Seth Borodny amassed 227 yards from scrimmage (146 rush, 81 rec) with three touchdowns receptions.
Carroll at Chaminade Julienne
A young Carroll backfield had Week 1 jitters committing three turnovers in a 26-6 loss to Talawanda. The seniors need to step up and show their leadership if the Patriots are going to hang with Chaminade Julienne.
The Eagles have owned this series the past four seasons, going 4-0, averaging 47.5 points per game with a 22.0 point margin of victory. Chaminade needs to cleanup some sloppy play if they want to continue that kind of dominance. The Eagles were penalized 12 times for 95 yards in their win over Harrison last Friday.
Sidney at Stebbins
Stebbins is looking to go 2-0 for the first time in the 21st century. The Indians came from 11 points down in the third quarter to beat West Carrollton, 28-25 in their opener. Marvelous Rutledge ran for 156 yards on 16 totes with a pair of touchdowns.
Sidney got six turnovers and posted 56 first half points in blanking Greenville. Running back EJ Davis had four rushing touchdowns in the second quarter. That stanza the Yellow Jackets scored 42 points in a span of 10:20. We will find out whether Sidney of Stebbins is for real on Friday night.
Other top games for Dayton area teams
Fairmont at Northmont
Butler at Piqua
Xenia at Troy
Badin at Alter