Cincinnati Round-Up: Anderson survives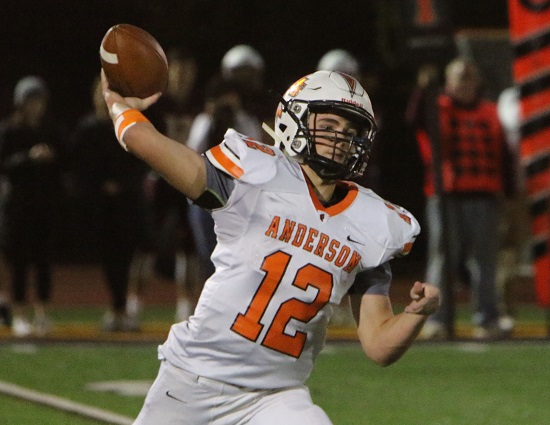 Mother Nature knocked out most of Friday night's playoff action scheduled for Southwest Ohio with the large majority of games. That should make for quite the Saturday of football action on the high school gridiron. There were a handful of playoff games that were able to get in.
NO. 19 ANDERSON 29, PIQUA 22
It went down to the wire, but Anderson held off Piqua to advance in the OHSAA Division II playoff bracket.
The Redskins jumped out to an early lead and led 20-7 at the half. Quarterback Jackson Kuhn rushed for two scores and connected with Joey Faulkner with a 16-yard TD pass with just eight seconds before intermission.
However, the Indians didn't go away quietly. Brady Ouhl and Garrett Schrubb connected on a 69-yard TD pass with 3:05 left in the third quarter. Piqua then came up with a big stop when Anderson turned it over on downs at the 1, but it led to a safety and two more points moments later for the Redskins.
The Indians tied things up with 2:27 to go in the contest when Ca'Ron Coleman scored on a 2-yard TD run and Ouhl hit Jerrell Lewis on a pass for a successful two-point conversion.
Anderson gambled on their ensuing possession, going for it on 4th and 4 from their own 31 and they came up short. Piqua would have a chance to win it with two minutes, but it didn't come to fruition as the Redskins came up with a key interception.
Moments later Kuhn scrambled out of the pocket and delivered a 48-yard TD pass to Jerrick McClanahan with just 0:28 left in regulation. That sealed the deal for Anderson, who advanced and will now face La Salle next week.
Anderson 29, Piqua 22 @AndersonRedskin @Piqua_Football pic.twitter.com/Flk8zhnvpb

— WLWT (@WLWT) October 24, 2020
NO. 3 LA SALLE 49, STEBBINS 0
The Lancers dominated Stebbins in every aspect of the game as they cruised on the OHSAA Playoffs with their most decisive win of the season.
Zach Branham completed 10-of-16 passes for 199 yards and four touchdowns to four different receivers, including a 70-yard strike to Cole Schneider. He led all receivers with 84 yards on two catches.
The Lancers outgained Stebbins 420 to 49 in total yards. The Indians managed just four first downs all night and were overmatched in the contest.
Stebbins 0, La Salle 49 @LaSallePride pic.twitter.com/nl3gb8CsIS

— WLWT (@WLWT) October 24, 2020
NO. 17 ROSS 48, NEW RICHMOND 12
The Rams picked up their seventh straight win in dominating fashion as they easily handled the Lions in the Ohio Division III, Region 12 matchup.
Ross played shutdown defense and came up with big plays on a regular basis on offense all night long. Brayden Fraasman rushed for two of his three touchdowns in the first half as the Rams opened up a 35-6 lead.
All 383 of the yards produced by Ross came on the ground. Fraasman led all rushers with 109 yards on nine carries. C.J. Boze also broke the century mark posting a 8/101/1 stat line. Jackson Giffford added 87 yards and a score while Jaye Warren scored twice and netted 81 yards on just six carries.
The Rams will take on the winner of Saturday's rescheduled contest between Bellbrook and St. Mary's Memorial next Friday.
Ross 48, New Richmond 12 @RossRams1 @NewRichmondHS pic.twitter.com/5YzkAtLVUQ

— WLWT (@WLWT) October 24, 2020
Here's a look at Saturday's slate, including both scheduled and rescheduled games:
DIVISION I
No. 7 Colerain at No. 1 Lakota West (rescheduled for Sat 10AM)
No. 5 Elder at No. 2 St. Xavier (rescheduled for Sat 10AM)
DIVISION II
Edgewood at No. 4 Winton Woods (rescheduled for Sat 5PM)
No. 13 Turpin at No. 12 Kings (rescheduled for Sat noon)
DIVISION III
Tippecanoe at No. 16 Badin (rescheduled for Sat noon)
DIVISION IV
Graham Local at No. 21 Wyoming (Sat 7PM)
Valley View at No. 22 Indian Hill (Sat 7PM)
Bethel-Tate at Clinton Massie (Sat 7PM)
McNicholas at Waverly (Sat 7PM)
DIVISION V
Greenon at No. 23 Roger Bacon (Sat 7PM)
CHCA at Versailles (Sat 7PM)
Shawnee at Blanchester (Sat 7PM)
Purcell Marian at Mariemont (Sat 7PM)
DIVISION VII
Marion Local 42, New Miami 0 – FINAL
Check out complete scores on The Underground Sports Shop Scoreboard.
*Stay updated on high school football updates by following @TSFootball on Twitter.