Dayton Round-Up: Alter runs past Trotwood-Madison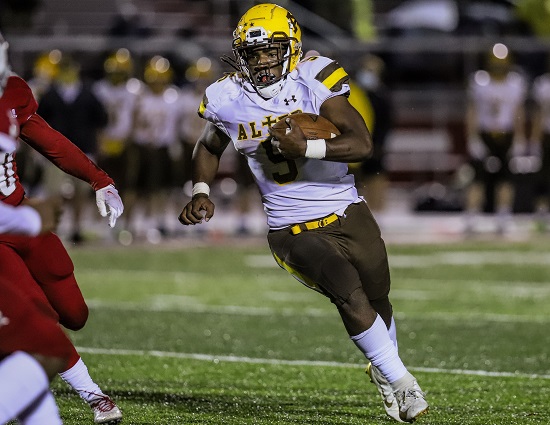 Alter RB Branden McDonald (photo by Shelby Frieszell/TriStateFootball.com)
It was a historic evening for Alter (6-2) and running back Branden McDonald. The Knights shutout reigning Division III state champion Trotwood-Madison (4-1), 42-0. McDonald led the way with 394 yards on 24 carries and scored all six of Alter's touchdowns. He has now run for 239 yards or more in three of his last five games. The eye-popping performance raised McDonald's season totals to 1,373 yards and 19 touchdowns rushing. The Knights will travel and face league rival Badin (8-0) in a Division III, Region 12 semi-finals affair on Friday night. The Rams beat Alter 14-12 in Week 2 of the season. It was the third straight win in the series for Badin.
Badin 35, Tippecanoe 14 (postseason) – Defense and special teams fueled Badin (8-0) to a quarter-finals playoff win over Tippecanoe (6-2). The Rams forced four turnovers and Lucas Moore had a 98-yard kickoff return for a touchdown for the victors.
Bellbrook 44, St. Mary's Memorial 14 (postseason) – Ashton Ault ran for 151 yards and two touchdowns as Bellbrook (8-0) pummeled St. Mary's Memorial (6-3). T was the 13th straight win for the Golden Eagles dating back to last season. Ault has run for 486 of his 524 yards and all seven of his touchdowns this fall in the last three games. Bellbrook has now scored 42 points or more in five consecutive contests. They will host Ross (7-1) in a Division III, Region 12 semi-finals contest on Friday night.
Valley View 22, Indian Hill 21 (postseason) – Valley View went on the road and handed Indian Hill (7-1) its first and only loss of the year. Ben Owens threw for 219 yards with a touchdown pass. Troy Coulter caught seven balls for 98 yards and was on the other end of Owens' scoring toss. The Spartans will take on Wyoming (8-0) in a Division IV, Region 16 semi-finals matchup next Saturday night. The Cowboys have won 36 of their last 37 games.
Anderson 29, Piqua 22 (postseason) – After a lengthy rain delay, Piqua (7-1) couldn't get its feet under itself as they fell for the first time this season. Anderson (7-2) racked up 577 yards of total offense behind quarterback Jackson Kuhn (469 pass, 106 rush). Kuhn also accounted for all four of the Redskins touchdowns (two pass, two rush). Receiver Joey Faulkner had 19 receptions for 175 yards and a score for the victors. The Indians gave up a season high 29 points. Piqua had allowed just 10 total points in their previous five games.

La Salle 49, Stebbins 0 (postseason) – A breakthrough season came to an end for Stebbins (5-3) as the reigning Division II state champion, La Salle (6-2) was just too much for the Indians to handle. Seven different Lancers found the end zone. Stebbins won its first ever playoff game a week earlier.
Springfield at Northmont (postseason) – This game was canceled because of a Northmont player having come down with Covid. The Thunderbolts beat Springfield (7-1) 38-35 during the regular season. The Wildcats will host Olentangy Liberty (8-1) in a quest for their second straight Division I, Region 2 regional title. Northmont (8-0) finishes its season unbeaten. The last time the program went 8-0 was 1980.
Here are scores from Dayton area teams in action this past weekend:
GWOC
Springboro 37, Miamisburg 7
Fairmont 24, Beavercreek 0

MVL
Sidney 14, Butler 8
Fairborn 7, Oakwood 3
SWBL
Eaton 28, Greenville 7
Milton-Union 32, Defiance 28
Brookville 42, Middletown Madison 0
Dixie 35, Mississinawa Valley 0
Troy Christian 20, Northridge 14
Franklin 22, Carlisle 8
DPL
Fairfield 46, Dunbar 24