Dayton Round-Up: Xenia Makes History, Goes 10-0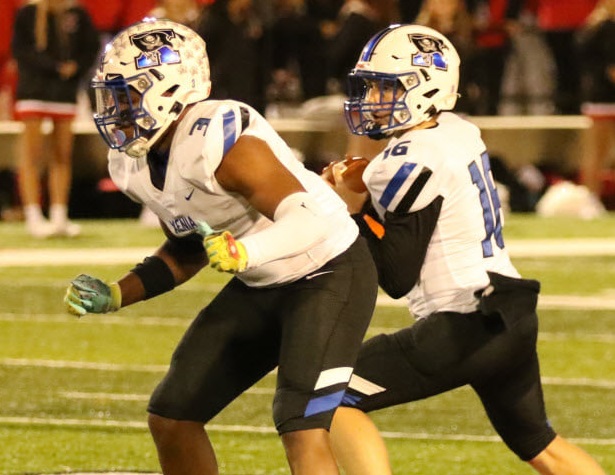 Trei'Shaun Sanders (3) and Gavin McManus 16), Xenia (photo courtesy of: ScoutingOhio.com)
It was a night that no one will soon forget in Xenia. The Buccaneers headed north and blanked Sidney to cap off the school's first ever unbeaten regular season. It was the third shutout of the year for the Buccaneers defense. The offense posted 404 yards, with 343 of those yards being on the ground.
Trei'Shaun Sanders continued his sensational season running for 250 yards and a pair of score. It was the third time in the last nine games that Sanders has topped the 200-yard mark rushing. The senior has 1,731 yards and 23 touchdowns on the ground this season. Junior Jace Jones had the first multiple touchdown game of his career with two short runs to the end zone.
Xenia has been dominant all season long, especially on offense. The Buccaneers are averaging 449.3 yards of total offense per game (301.4 rush, 147.9 pass) and 42.2 points per game.
Sanders isn't the only one posting impressive numbers on offense. Sophomore quarterback Gavin McManus has thrown for 1,479 yards with 19 of his 100 completions going for touchdowns. Senior Tremmell Wright was on the receiving end of 17 of those scoring strikes. Wright has 49 receptions and 1,005 yards receiving to go along with all those trips to the end zone. On defense, he leads the squad with four interceptions and has 12 picks in his career.
SCORING BY QUARTERS
Xenia 13-14-7-0-34
Sidney 0-0-0-0-0
SCORING PLAYS
X: Jace Jones 1 run (kick failed)
X: Trei'Shaun Sanders (Nate Fellie kick)
X: Jackson Tate 3 pass from Gavin McManus (Fellie kick)
X: Jones 5 run (Fellie kick)
X: Sanders 2 run (Mason Rubio kick)
RECORDS: Xenia (10-0, 9-0); Sidney (4-6, 4-5)
UP NEXT: Xenia hosts TBD; Sidney is at TBD
Here are other scores and news from Dayton area teams in action in Week 10:
GWOC
CENTERVILLE 38, WAYNE 35 – A first half defensive struggle, turned into an all-out offensive shootout after intermission that saw Centerville (8-2, 5-2) come out on top of a thrilling finish to beat Wayne (6-4, 4-3). Elks sophomore quarterback Braylon Newcomb hit Nic Bruder on an 8-yard pass for the game winner with one second left on the clock. Newcomb ended up with 129 yards passing, two touchdown passes and a rushing score. Bruder starred in all three phases of the game with a touchdown run and a touchdown catch on his only two offensive touches, eight tackles, a forced fumble and an interception on defense as well as a 50-yard kickoff return.
SPRINGFIELD 55, NORTHMONT 21
FAIRMONT 42, BEAVERCREEK 3
SPRINGBORO 34, MIAMISBURG 24
MVL
TIPPECANOE 63, GREENVILLE 14
TROY 27, BUTLER 20
FAIRBORN 28, WEST CARROLLTON 26
PIQUA 35, STEBBINS 14
GCL CO-ED
CHAMINADE JULIENNE 49, ALTER 28
FENWICK 39, CARROLL 6
BADIN 42, McNICHOLAS 7
SWBL
VALLEY VIEW 21, BELLBROOK 7 – One red hot team took out another one in a so very appropriate conference regular season finale versus the 2022 SWBL East and West champions. Valley View (9-0, 7-0) turned in another stellar defensive performance ending an eight-game winning streak by visiting Bellbrook (8-2, 6-1) the SWBL East champs. Valley View, the SWBL West champions is allowing just 7.5 points per game during their current winning streak. Jacob Clark ran for 157 yards and two touchdowns to pace the Spartans. It was the sixth time this season that the senior has run for at least 135 yards.
BROOKVILLE 49, FRANKLIN 14
EATON 13, MONROE 7, OT,
OAKWOOD 35, MADISON SENIOR 0
CARLISLE 28, WAYNESVILLE 21
DPS
DUNBAR 60, BELMONT 36
TROTWOOD-MADISON 48, THURGOOD MARSHALL 8
PONITZ 3, MEADOWDALE 0
2022 Dayton Round-Ups
Week 10: Bellbrook Ekes Out 8th Straight
WEEK 8: Firebirds Stay Hot, Burn Wayne
WEEK 7: Badin Bests Alter Again
WEEK 6: Fairmont Stuns Springfield
WEEK 5: Unbeaten Elks Knockout Northmont
WEEK 4: Wildcats Ward Off Wayne
WEEK 3: Piqua Perfect, Trounces Troy
WEEK 2: Bellbrook Belts the Burg
WEEK 1: Elks Roar on Road