2017 Snapshot: Blanchester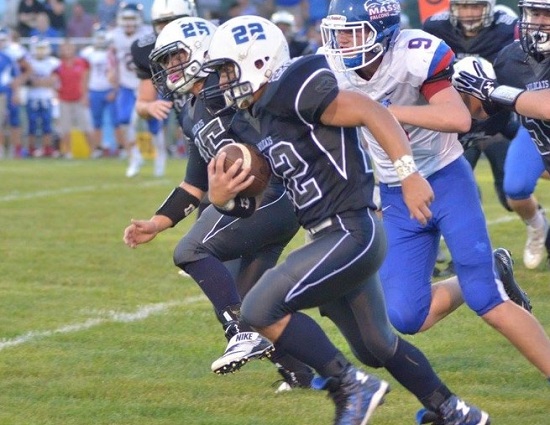 Blanchester RB/LB Brent Hopkins (photo from http://blanchesterathletics.weebly.com/2016-hs-football.html)
Half way through last season Blanchester sat at 2-3 under first year head coach Brandon Sammons. The Wildcats had given up at least 33 points in all of those affairs. Sammons rallied his troops as Blanchester won its final five contests and made the playoffs for the first time in a decade. It was a great way to usher in the new era but you can bet Sammons wants to raise the bar even higher moving forward.
"Excitement is back for football in Blanchester. We hope to build on what we started last year," Sammons says.
Sustaining last season's success will not be easy. The Wildcats have to replace 18 starters from the '16 squad. It is going to take a herculean effort from Sammons and his troops to get back to the playoffs.
"We are replacing all of the skill positions offensively and most on defense. We will be young. There are 5-10 kids coming back out for the team after not playing for a year or two prior to our arrival as a new staff," Sammons states.
Like a year ago this team will get better as the weeks go by. Winning a divisional title is not is not out of the question. One thing Blanchester has going for it is something you can't teach – size. The Wildcats will rely on toughness and their big guys in the trenches. That should play into their favor as the season wears on.
Division V, Region 20
2016 RECORD: 7-4, 3-0 Southern Buckeye Academic & Athletic Conference – National Division
COACH: Brandon Sammons (7-4 at Blanchester, one year; 7-4 overall)
HONOR ROLL
Tavor Mowry, Jr, DB/WR – Mowry came up with six (a team best) of the Wildcats 19 interceptions in '16. That performance earned him Second Team All-SBAAC National honors.
OTHER RETURNEES
Blanchester does have some depth and girth up front which is a blessing at a small school. Seniors OL Reighdyn Bare, OL Dylan Baker and OL/DL Justin Ballard will anchor and provide leadership along both sides of the line.
Also returning as a starter is junior OL Matthew Grogg.  His classmates OL/DL Cody McCollister, RB/LB Brent Hopkins and WR/LB Dustin Howard showed tremendous promise last fall. Hopkins is in line to take over as the Wildcats features back after starting at linebacker as a sophomore. Senior LB Josh Creekmore will join Howard in adding stability to the middle of the defense.
Sophomore RB/DL James Peters is a rising star. He started all 11 games on the defensive line as a freshman. Peters followed that performance up by finishing second in SBAAC wrestling in the 192-pound weight class.
NEWCOMERS
Senior QB Jordan Stroud and freshman QB Brayden Sipple will battle to fill big shoes under center. Don't be surprised if both of them to get meaningful snaps early on.

With so many other voids at skill positions, sophomores WR/DB Tanner Creager, LB Christian Stubbs, senior WR/DB Jacob Burden and junior DB Dale Sturgill couldn't ask for a better opportunity to showcase their talents.
2017 SCHEDULE
Fri – 08/25/17 – at Wash. Court House Washington – 7:00 PM
Fri – 09/01/17 – MARIEMONT – 7:00 PM
Fri – 09/08/17 – WAYNESVILLE – 7:00 PM
Fri – 09/15/17 – at Wilmington – 7:00 PM
Fri – 09/22/17 – at Goshen – 7:00 PM
Fri – 09/29/17 – BETHEL-TATE – 7:00 PM
Fri – 10/06/17 – at Williamsburg – 7:00 PM
Fri – 10/13/17 – CLERMONT NORTHEASTERN – 7:00 PM
Fri – 10/20/17 – at Fayetteville-Perry – 7:00 PM
Fri – 10/27/17 – EAST CLINTON – 7:00 PM
A TALE OF TWO SEASONS
In the first five games last season Blanchester averaged 30.6 per game but were outscored by 4.0 points per contests, going 2-3. The Wildcats turned it around after that. They gave up just 9.0 points over the final five weeks while going unbeaten. Blanchester had an average margin of victory of 34.2 points in that span.
BACK TO WINNING WAYS
Last year's 7-4 finish was the programs first winning season since '12. The seven victories were the most since '11.
WHICH WAY TO THE END ZONE
Brent Hopkins is the only player on the roster that scored a touchdown last fall.