Anderson Wins Offensive Explosion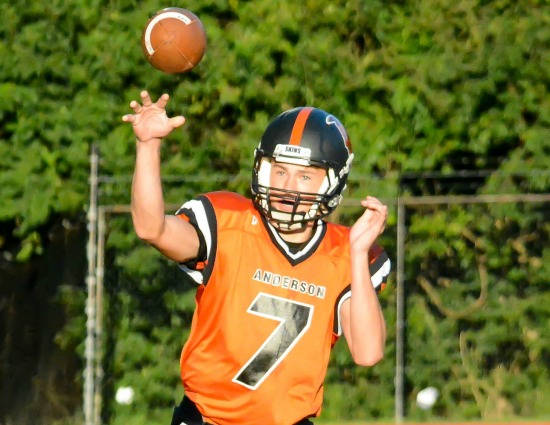 With 897 combined yards gained, Anderson outscored Kings, 42-28, to remain undefeated and continue this strong start to the season.
Anderson senior quarterback Jay Volpenhein contributed to 393 of the team's 470 total yards, and he had five touchdowns. Two of those touchdowns came in the first half when Volpenhein threw a 2-yard pass to senior Amadez Jones, and ran in a second touchdown on a 12-yard run in the second quarter.
The other three touchdowns all came in the third quarter. Anderson scored 21 points when Volpenhein found senior Kyle Blaha on an 8-yard touchdown pass and a 20-yard scoring pass just four minutes later. That was setup by a 55-yard connection Eric Curless on a 4th-and-5 on their own 25-yard line. Those two touchdowns extended the Redskins lead to 27-7. The Knights came roaring back when Nak'emon Williams scored his second touchdown on a 2-yard run to narrow the Anderson lead to 27-14.
Kings head coach Andy Olds rolled the dice and caught Anderson off-guard with an onside kick that Kings recovered. On the ensuing play Williams took the handoff 45-yards for his third touchdown and cut the deficit to under a touchdown. Williams averaged over seven yards per carry, and totaled 93 yards.
Unfortunately for Kings that was as close as they would get. Anderson answered when Volpenhein scored his fifth touchdown on an 11-yard run to put the Redskins back up two touchdowns. Kings quarterback Ashton Koller threw a 24-yard touchdown pass to Tommy Bauman, but with six minutes left Blaha scored his third touchdown..
The Anderson offense has continued to dominate defenses as they have scored at least 39 points in all four games. The success has come from the senior quarterback as Volpenhein already has 1302 passing yards and 20 total touchdown.
Kings lost its third straight game after defeating rival Lebanon in the opening week. They have allowed at least 30 points in every game this season. The defense is struggling, but Koller is leading this offense. The senior rushed for 128 yards to go with his 146 passing yards.
This is the first time Anderson defeated Kings since the 2007 playoffs. Kings has defeated Anderson in every meeting since the schools joined the conference in 2012.
Anderson will look to stay continue this unbeaten run against Withrow. Kings will try to get back in the win column against West Clermont.
RECORDS: Kings (1-3), Anderson (4-0)
UP NEXT: Kings hosts West Clermont (2-2); Anderson at Withrow (1-3)
Kings        7  0 14  7
Anderson 7 7 21 7
Kings: Williams 4-yd run
Anderson: Volpenhein 2-yd pass to Jones
Anderson: Volpenhein 12-yd run
Anderson: Volpenhein 8-yd pass to Blaha
Anderson: Volpenhein 20-yd pass to Blaha
Kings: Williams 2-yd run
Kings: Williams 45-yd run
Anderson: Volpenhein 11-yd run
Kings: Koller 24-yd pass to Bauman
Anderson: Blaha 6-yd run