Williams and Kings Run Over Anderson 35-14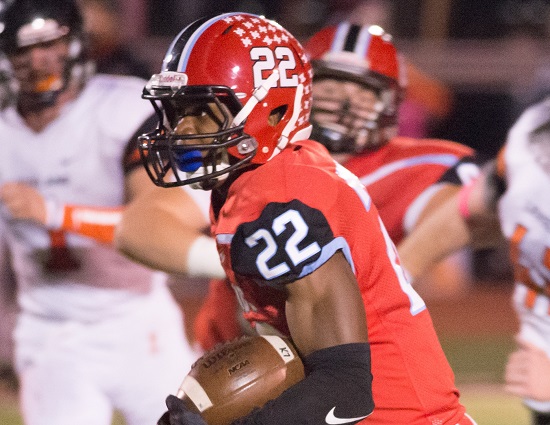 Kings RB Nak'emon Williams (ophoto by Mitchell Cooke/TriStateFootball.com)
KINGS MILLS, OH – The Kings Knights were victorious against the Anderson Redskins tonight, 35-14 in the ECC matchup, thanks to a big rushing attack put up by their QB-RB duo.
It was a quiet first quarter as no points were scored by either team in what looked like a possible defensive battle, but Kings was able to strike first in the second quarter on a Ty Stylski 2-yard TD run, and carried that momentum through the game.
It was 14-0 Kings at the half, and they looked poised to run away with it after making it 21-0 with 5:47 left in the third, but that's when Anderson decided to close the gap.
Anderson's QB David Thompson caught fire, throwing for two touchdowns within the last four minutes of the third quarter, one each to Senior Joey Newton and Junior Cooper Bushman.
Nak'emon Williams, the Knights' Senior two-way player and starting RB, went off in the 4th quarter for his team, all but ending the Redskins' comeback hopes, as he clinched the game with a 9-yard TD run with 6:10 left, and a monster 89-yard run soon after for another score. Williams finished with 3 rushing touchdowns on 28 attempts for 221 yards.
Fellow Kings Senior Ashton Koller and dual-threat QB also played well, throwing for 94 yards on 8/9 passing with a TD, while running for 122 yards on 18 attempts.
The Knight's defense also came alive tonight, accounting for 3 INTs and 2 fumble recoveries.
Thompson led the way for Anderson in the game, going 26/38 for 294 yards, with 2 TDs and 3 INTs. It was Eric Curless, the 6'2″ Senior who caught most of those, as he reeled in 14 receptions for 116 yards.
SCORING BY QUARTERS
Anderson: 0-0-14-0-14
Kings: 0-14-7-14-35
SCORING PLAYS
K: T. Stylski 2 run (Mitchell kick)
K: Williams 1 run (Mitchell kick)
K: T. Stylski 21 pass from Koller (Mitchell kick)
A: Newton 6 pass from Thompson (Archer kick)
A: Bushman 45 pass fromThompson (Archer kick)
K: Williams 9 run (Mitchell kick)
K: Williams 89 run (Mitchell kick)
RECORDS: Anderson (3-1, 0-1); Kings (3-1, 1-0)
UP NEXT; Anderson is at Withrow (0-4, 0-1); Kings travels to play at Turpin (3-1, 1-0).