NKY Round-Up: CovCath, Highlands rematch set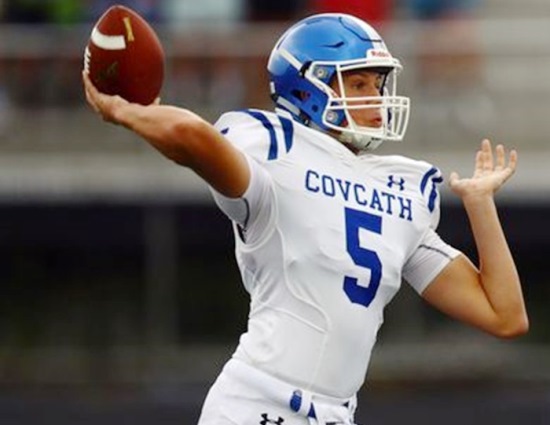 Week 12 of the high school football season in Northern Kentucky saw several teams in action. With spots in the regional championship games on the line, there was no margin for error.
The Covington Catholic Colonels moved past Montgomery County fairly easily, but the Highlands Bluebirds went down to the wire in their win over Anderson County. Now the two are set to meet next week for regional title.
Let's take a look at Friday's KHSAA playoff results:
COVINGTON CATHOLIC 43, MONTGOMERY COUNTY 15
It took CovCath less than 10 minutes to get three touchdowns on the board, including a pair by senior running back Casey McGinness as they raced out to a 23-0 first quarter lead.
McGinness touched the ball eight times in limited action and turned it into 84 yards and three scores. Caleb Jacob completed 8-of-9 passes for 213 yards and three touchdowns before being pulled. Two of those TD passes went to tight end Michael Mayer, who pulled in three catches for 101 yards on the night.
The Colonels' defense was spectacular early on before giving up a pair of second-half scores once the game was well in hand. Senior Jackson Blank provided a big spark with a pair of interceptions.
Up next, CovCath will welcome Highlands to Park Hills next Friday for the regional championship. The Colonels beat Highlands in Fort Thomas when the two teams met in Week 8, 21-14.
HIGLANDS 14, ANDERSON COUNTY 10
Highlands an Anderson County combined for 609 yards of total offense on Friday night in Fort Thomas, but the points didn't go up on the scoreboard easily. The Bluebirds played, bend but do not break defense most of the night and were in jeopardy of giving up the go-ahead score as Anderson County drove deep into the Bluebirds' territory in the final minute of the contest.
The Bearcats coughed up the ball with 22 seconds left and the Bluebirds made them pay. The D forced four turnovers on the night, including turning one into the go-ahead touchdown.
Highlands got on the scoreboard first when Grady Cramer connected with Ethan Houze on 30-yard TD passing play. Anderson County's Charles Collins knotted the game up with a 51-yard TD pass and after a short field goal in the second quarter, Highlands was down 10-7 at the half.
Senior Ben Sisson made the game-winning play when he scooped up a Bearcats' fumble and took 47 yards to the house to put the Bluebirds up for good, 14-10.
SIMON KENTON 25, HENRY CLAY 7
The Pioneers treated the fans that came out on a cold night to some good old fashioned football, using its power-running offense to advance past Henry Clay.
Dual-threat quarterback Caleb Farfsing rushed for 141 yards and threw for another 87 and accounted for Simon Kenton's first two touchdowns as they opened up a quick 15-0, first-quarter lead. Running Jon Sargent led all rushers with 143 yards on 17 carries, including a 51-yard TD run.
The Blue Devils added a score of their own to close out the opening frame, but couldn't get much going offensively after that.
Simon Kenton picked up their fifth consecutive win and will now host Scott County next week in the next round of the Class 6A KHSAA Commonwealth Gridiron Bowl.
OTHER SCORES
6A: Conner 20, Cooper 19 (RECAP)
4A: Johnson Central 50, Scott 7
2A: Walton-Verona 35, Monroe County 6
2A: DeSales 21, Newport Central Catholic 14 (OT)
2A: Christian-Academy Louisville 39, Lloyd 0
1A: Beechwood 50, Kentucky Country Day 6
1A: Frankfort 60, Ludlow 42
*Image from Hudl.com.