By The Numbers: Brady Evans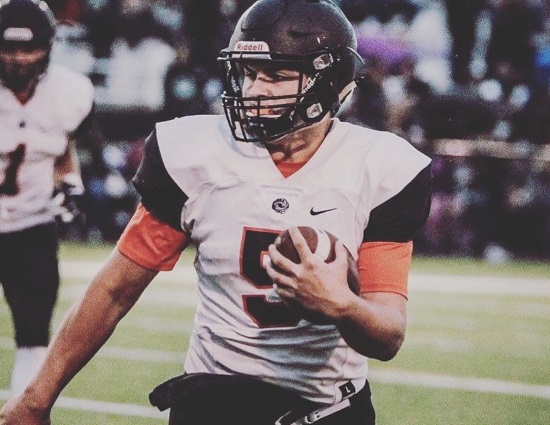 Wilmington QB Brady Evans (photo courtesy of Wilmington Hurricane football)
It is rare when a quarterback is good enough to start the very first game of his freshman year at the varsity. Brady Evans at Wilmington is one of those special talents who has done just that. Evans took the reins of the Hurricane offense three years ago and quickly began leaving his mark on it. As a freshman, he was named first team All-SCOL. This past fall Evan was named Division III Second Team All-Southwest District as a junior.
The honors have been a reward for his hard work and the numbers will continue to mount in 2019. One achievement that has eluded Evans is making the playoffs. Wilmington has only been to the postseason three times and its last appearance was 2009. Evans would love nothing more than to get to the playoffs and guide the Hurricane to their first ever postseason victory. It would be a crowning moment for Evans and the program. A senior season comparable to his junior one will put Wilmington in a position to reach new heights.
If Evans throws for 2,500 yards like he did ago, that will put him over 8,000 yards passing in his career. That is a feat that only 28 other quarterbacks in Ohio have ever accomplished according to the OHSAA record books. The same can be said about his touchdown passes. If he throws 25 more touchdowns like he did as a junior that will give him 80 for his career. That would place Evans about the same spot on the all-time list (as passing yards) in Ohio. The scary thing is that those number would have even been even more robust had he not missed the final four games of his sophomore season due to injuries.
Here is a look at Evans, By The Numbers.
1 – Game of 100 yards or more rushing in his career
1 – Rushing touchdown as a sophomore
1 – Receiving touchdown in his career
2 – Receptions in his career
4 – Rushing touchdown as a junior
4 – Most passing touchdowns in a game (three times)
6 – Rushing touchdowns as a freshman
9 – Passing touchdowns as a sophomore
9 – Games with three or more passing touchdowns in his career
11 – Rushing touchdowns in his career
21 – Passing touchdowns as a freshman
25 – Passing touchdowns as a junior
34 – Yards receiving in his career
55 – Passing touchdowns in his career
104 – Career high rushing yards in a game (vs Butler – 09/08/17)
181 – Yards rushing as a sophomore
230 – Yards rushing as a junior
356 – Career high passing yards in a game (vs New Richmond – 09/28/18)
400 – Career high yards of total offense in a game (vs McClain – 09/16/16)
435 – Yards rushing as a freshman
846 – Yards rushing in his career
999 – Yards passing as a sophomore
2,055 – Yards passing as a freshman
2,500 – Yards passing as a junior
5,554 – Yards passing in his career