Cincinnati Round-Up: St. Xaiver edges Colerain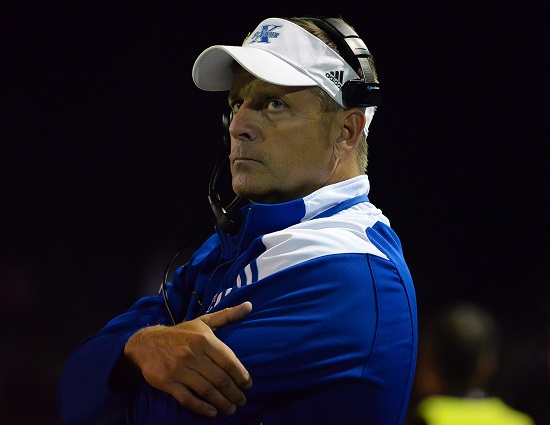 To nobody's surprise, another instant classic in this rivalry. The Bombers executed in all three facets to pull out the victory.
It all started on the opening kickoff when Junior Liam Clifford returned the ball deep into cardinal territory. The next play Mathhew Rueve connected with Marshall Lang for a 12-yard TD. This became a pattern as the game wore on. The Cards stormed right back, drove down the field, with MJ Flowers tying the game up early in the first.
In the second quarter the Bombers had another great special team's play, blocking a Colerain punt and taking it inside 5-yard line. The Bombers converted again with the Rueve-Lang connection for a TD.
Before halftime the St. Xavier added to their lead with Marshall Lang catching his third TD of the game.
Colerain couldn't find their groove offensively, as their second TD came from a Deshawn Pace incredible 82-yard punt return TD.
The Bombers' defense made multiple big stops at the end to seal the game. If history shows us anything, these rivals will meet again later in the season with all of the chips on the line.
#10 LA SALLE 31, #9 MASON 0
The Lancers make it back-to-back wins over the GMC. Lasalle's defense has only allowed seven points in two weeks, while connecting on big play TDs yet again.
LaSalle started off the game with back-to-back methodical, clock-milking drives. Star RB Cam Porter had a long 40-yard run TD, and Zack Branam had a breakout game, with 139 yards on 10 attempts and a TD.
The Lancers outrushed Mason 252-87, and were an incredible 6-9 on third down. Mason struggled again for the second straight week, only gaining 194 yards of total offense, and turning the ball over two times.
#15 HAMILTON 28, #16 ANDERSON 14
The Big Blue has looked like a completely different team in 2019. Quincy Simms- Marshall and Keyshawn Stevens were too much for Anderson to handle tonight.
Marshall was 9/12 for 171 yards and a TD. Stevens had 24 rushes for 115 yards and 3 TDs. Hamilton dominated time of possession holding the ball for 15 minutes more than their counterparts. The Big Blue stayed committed to the running game, rushing 48 times for 139 yards overall.
Hamilton went on to score a TD in every quarter of this game, while causing two turnovers on defense as well. Anderson faces another tough test next week against Harrison, while Hamilton looks to stay undefeated against Lakota West.
#1 ELDER 38, INDIANAPOLIS CATHEDRAL 31
An overtime classic between two excellent teams, the Panthers came out on top, and move to 2-0 on the season. The teams combined for over 600 total yards. As the score indicates, both teams were evenly matched the whole game.
Orin Edwards accounted for four total touchdowns, three through the air and one on the ground. While his counterpart Matthew Luebbe did the same, but did throw two interceptions. Cathedral played well enough to win this game, outrushing Elder 199-173, and dominating time of possession 35-24.
Both kickers made clutch field goals to tie the game at 31, but Elder made the big plays in OT, scoring first. The Fighting Irish couldn't answer back. Elder looks to continue their winning ways against Clearwater academy, while Cathedral will play at home next week, but make their third trip to Ohio in week four against St. Xavier.
Here are some other scores from Cincinnati teams ranked inside our Blitz 5 Top 25:
#4 Fairfield 16 at Springfield 12
#5 Winton Woods 49 at West Clermont 0
#6 Princeton at Withrow 0
Louisville Trinity 41 vs #9 Moller
#12 Lakota West 30
#18 Lakota East 14 vs Fairmont 6
#19 Milford 27 vs Dunbar 26
Franklin 20 at #21 Edgewood 10
#22 Middletown 14 vs Springboro 37
Coldwater 37 at #23 Mount Healthy 7
#24 Wyoming 28 vs Taft 0
*Stay updated on high school football updates by following @TSFootball on Twitter.