NKY Round-Up: CovCath wins in thriller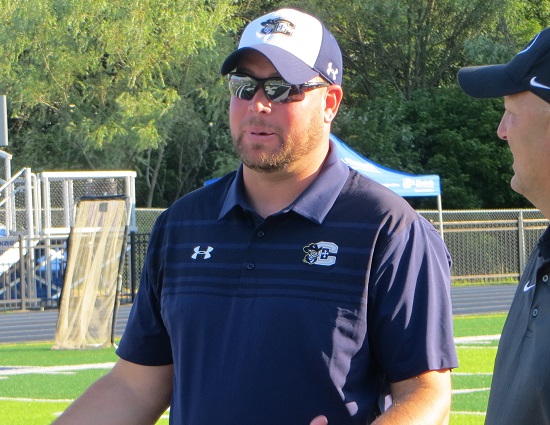 After outscoring their first two opponents by a 86-0 margin, Covington Catholic faced its first real challenge of the season in Week 2 versus Lexington Catholic and the Colonels passed the test.
Trailing by 14 points with less than seven minutes to play, CovCath scored 15 unanswered points to finish the contest and pulled out a 29-28 win in the process.
Daniel Felix pulled the Colonels within seven he scored on a 12-yard with 6:47 to go in the game. After the CovCath defense did their job, the Colonels' offense put together another scoring drive capped off a six-play, 74-yard drive with a 2-yard TD run by quarterback Caleb Jacob with 2:52 go.
Rather than playing for the tie, head coach Eddie Eviston opted to go for the two-point conversion and the lead and Felix once again delivered when he found the end zone on a 2-yard run.
Felix finished 86 yards on nine carries and caught a 29-yard pass and came up with two touchdowns in the victory.
The two teams combined for 918 yards of total offense in the contest. LexCath quarterback Beau Allen threw for 443 yards and five scores in the loss.
#14 HIGHLANDS 47, CAMPBELL COUNTY 0
After losing a heartbreaker last week on the road vs. Knoxville Catholic, the Bluebirds bounced back in a big way in their home opener with a 47-0 win over Campbell County to move to 2-1 on the year.
Collin Hollingsworth threw for four TD passes in the first half to lead Highlands to a 37-0 lead at the break. Jacob Welch caught two of those scoring passes and ran for an additional 20-yard TD in the win.
The Camels fall to 0-3 after facing a brutal slate to start the year and have now been outscored 125-13 through the first three contests.
#17 SIMON KENTON 13, OAK HILLS 10
The Pioneers favored much better this week against their Buckeye opponent as they went across the river and pulled out a 13-10 win at Oak Hills.
Defense was the story in this contest as the two teams mustered only two third-down conversions combined in the contest (2 of 29 overall). The Highlanders scored the first points of the game on defense with a safety in the first quarter.
Simon Kenton took the lead in the second quarter on a Quincy North 4-yard TD run, but the Pioneers could only muster 35 rushing yards on 40 attempts in the contest.
Oak Hills took the lead early in the fourth quarter when Will Young scored on a 5-yard run, but Austin Hammack provided the winning go ahead TD with a quarterback keeper to seal the deal for SImon Kenton as they pulled off a three-point win.
#25 RYLE 20, COOPER 16
The Raiders picked up a second straight win and handed the Jaguars their first loss of the season in a hard-fought 20-16 win Friday night.
Ryle opened up a 20-7 halftime lead behind three touchdown runs by Kyle England. He finished with a game-high 126 yards on 25 carries.
The Jaguars wouldn't go away and would score all nine of the total points scored after the break, but it wouldn't be enough. Jeremiah Lee rushed for two scores and 77 total yards in the loss.
CONNER 35, DIXIE HEIGHTS 0
Senior quarterback Jared Hicks threw for 277 yards and four touchdowns on 19-of-26 passing and rushed 47 yards and a TD on 10 carries as the Cougars rolled by the Colonels.
Conner amassed 400 total yards and held Dixie Heights to just 202 yards and allowed them to convert on just 2-of-10 on third-down conversions. The Cougars' defense also came up with a pair of key turnovers in the win, including an interception by Drew Siegmundt.
Here are some other scores from NKY teams in action on Friday night:
Roger Bacon 41, Newport Central Catholic 14
Somerset 46, Beechwood 14
Bishop Brossart 27, Bellevue 26
Lloyd Memorial 22, Boone County 14
Holmes 58, Owen County 6
Scott 42, Holy Cross 6
Ludlow 47, Gallatin County 0
Newport 42, Carroll County 0
Walton-Verona 22, North Laurel 21
*Stay updated on high school football updates by following @TSFootball on Twitter.