Roger Bacon rolls by NewCath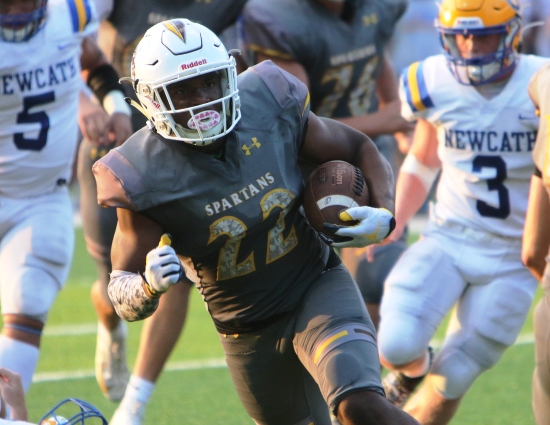 CINCINNATI, Ohio – It was a special night on Mitchell Avenue as Roger Bacon invited alums from all over to come out and see all the renovations to the rededication of Bron Bacevich Stadium and the facilities. The Spartans fans were also treated to some fantastic football by the boys in brown (and gray).
Two former Greater Catholic League squads rekindled an old rivalry only to see Roger Bacon steal the limelight against Newport Central Catholic. The home team Spartans built a 28-0 first-half lead in front of a robust crowd and cruised to a 41-14 victory. They outgained the Thoroughbreds 419 to 260 in total yardage, including just 49 yards rushing on 30 attempts.
Junior running back Corey Kiner ran for three first half scores, bruising opposing Thoroughbred defenders along the way. Kiner finished the contest with 164 yards on 21 carries and 275 all-purpose yards.
The performance lifted him into second place on the Roger Bacon rushing yard list, passing former great Walt Roeckers. Kiner is 705 yards from the school record; Jerrett Dean (Class of 1999) holds the top spot with 3,841 yards. Kiner also needs 10 more touchdowns to pass Dean for most rushing touchdowns in school history (54).
The Spartans' defense recorded four sacks and had an interception of Newport Central Catholic quarterback, Paul Kremer. Despite being on the run all night, Kremer still threw for 211 yards and a touchdown pass to Caleb Jefferson. Jefferson had a game high five receptions for 95 yards.
SCORING BY QUARTERS
Newport Central Catholic 0-0-7-7-14
Roger Bacon 14-14-6-7-41
SCORING PLAYS
R: Hallau 14-yard pass Bullock (kick failed)
R: Kiner 21-yard run (Kiner run)
R: Kiner 20-yard run (Hudepohl kick)
R: Kiner 7-yard run (Hudepohl kick)
N: Jefferson 25-yard pass from Kremer (Louis kick)
R: Bullock 6-yard run (Hudepohl kick)
R: Hudepohl 11-yard run (Hudepohl kick)
N: Doeker 2-yard run (Louis kick)
RECORDS: Newport Central Catholic (1-2); Roger Bacon (2-0)
UP NEXT: Newport Central Catholic at Walton-Verona (2-1); Roger Bacon at Woodward (1-1)
*Stay updated on high school football updates by following @TSFootball on Twitter.
+++
Check out these great photos from TSF Senior Photographer Dan Beineke: