Colerain stymies Princeton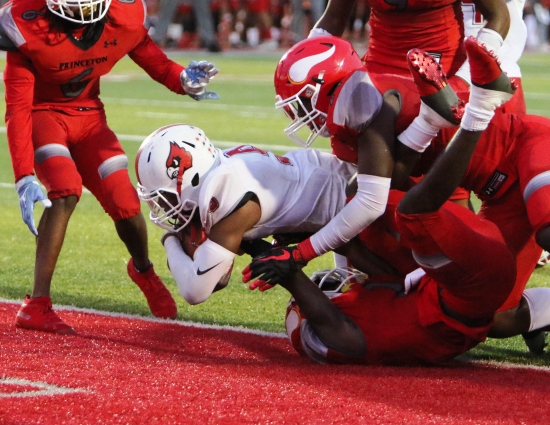 CINCINNATI, Ohio – Two second-quarter touchdown runs by Colerain sophomore MJ Flowers gave Colerain the breathing room it needed to get past rival, Princeton, 23-14.
The Cardinals fumbled on their first play from scrimmage and Princeton took immediate advantage of with a 53-yard touchdown pass from MJ Horton to Rodney Harris Jr. That would be the lone highlight for the home team Vikings until the fourth quarter.
A 55-yard flea flicker from Lawson Sandusky to Isaiah Myers got the Colerain offense jump started. Flowers followed that up with his two trips to the end zone. The Cardinals reeled off 28 unanswered points and never looked back.
Princeton fumbled the ball away twice in the first half and throw an interception after intermission. The Colerain defense also had three sacks from seniors Jaylen Thomas, LT Johnson and junior Dontay Corleone. The trio has now combined for seven sacks on the year.
The key to the Cardinals success this season has been their ability to stop the run. Princeton managed just 61 yards rushing on 25 carries. Colerain is allowing just 62.25 yards, 2.3 carries with just two touchdowns rushing through its first four games.
It was the best game in the young career of Flowers as he finished the night with 110 yards on 23 totes with the two scores on the ground. He came into the contest with just 148 yards on 33 attempts. The Cardinals finished the night with 230 yards on 52 carries. That led to a 14-plus minute advantage in time of possession.
MJ Horton paced Princeton with a season-high 130 yards passing, one scoring toss and 28 yards rushing.
SCORING BY QUARTERS
Colerain 7-13-3-0-23
Princeton 6-0-0-8-14
SCORING PLAYS
P: Rodney Harris Jr. 53-yard pass from MJ Horton (kick failed)
C: Isaiah Myers 55-yard pass from Lawson Sandusky (Cameron Ott kick)
C: MJ Flowers 8-yard run (Ott kick)
C: MJ Flowers 4-yard run (Ott kick)
C: Ott 26-yard field goal
P: Thomas Boyd 4-yard run (Harris Jr. pass from Horton)
RECORDS: Colerain (3-1, 2-0); Princeton (2-2, 0-2)
UP NEXT: Colerain at Middletown (1-3, 0-2); Princeton at Lakota East (3-1, 2-0)
*Stay updated on high school football updates by following @TSFootball on Twitter.
+++
Check out these great photos from TSF Senior Photographer Dan Beineke: