Dayton Best Bets: Week 1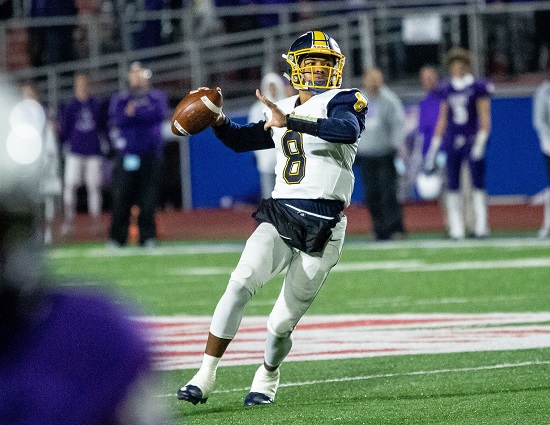 Springfield QB Te'Sean Smoot (photo by Shelby Frieszell/TriStateFootball.com)
The time has come to hit the field again. Week 1 of the 2020 season is filled with beautiful jewels around the Gem City. Here are the Best Bets to kickoff 2020.
Wayne at Springfield
Coming off the schools first Regional title, Springfield must find out if it has the talent to accomplish that feat again. The Wildcats allowed just 11.6 points per game and held seven foes to seven points or fewer in 2019. The defense is anchored by senior DL Jokell Brown and DB Delian Bradley, a Third Team All-Ohio honoree a year ago. Bradley, who had seven takeaways (four INTs, three FRs) last fall, is one of the Buckeye states top defensive backs in the Class of 2022. Except for junior QB Te'Sean Smoot Springfield is looking for a whole new cast of skills players to step up. Smoot threw for 2,140 yards and accounted for 27 touchdowns (21 pass, six rush) in his first year as a starter.
Wayne should bounce back big time after winning just three games last fall. It ended a streak of seven straight playoff appearances for the Warriors. Wayne was young in 2019 but now they are experience with some real horses in the stable. This team has speed and power. Juniors TE Elijah Brown and OT Aamil Wagner are racking up Power 5  offers. Also, back on offense is QB Cam Fancher, WR Austin Mullins, sophomore WR RJ Mukes and junior RB Tyler Dorsey who is primed for a breakout season. The Warriors return a solid nucleus on defense with seniors DB Jaden Hurd, LB JW Rucker and DE Jerrod Couch leading the way. Fancher and Hurd were Second Team All-Southwest District while Mullins was Honorable Mention All-Southwest District as juniors.
Northmont at Springboro
Until last season when Springboro knocked off Northmont by six points the previous five games in the series were decided by 12 points or more. Friday night should be another closely contested affair but it has all the elements to be a shootout. Springboro was the top scoring team in the GWOC last fall. The Panthers will challenge for that distinction again with QB Mikey Appel, RB Moise Armbruster and WR/DB Titan Case fueling the firepower. Armbruster ran for 913 yards and nine touchdowns as a junior. Case caught 55 balls for 738 yards and seven scores. Second Team All-Ohio K/P Matt DaPore averaged 7.1 points per game and 37.1 yards per punt. Case and OL Ryan Iiams were Second Team All-Southwest District selections.
Northmont catches lightning in a bottle in Greenon transfer QB Cade Rice. All Rice did as a junior was rack up 2,368 yards of total offense (2,409 pass, 859 rush), amass 1,039 all-purpose yards and account for 45 touchdowns (32 pass, 12 rush, one KR) on his way to Division V First Team All-Ohio honors. His primary target will be Michigan commit, WR Markus Allen. As a junior, Allen caught 51 balls for 1,087 yards (21.3/rec) and 15 touchdowns to earn Second Team All-Southwest District accolades. He was red-hot over the Thunderbolts last nine contests with five multiple touchdown games. Six times Allen had at least 120 yards receiving in that same span. Teammate DB Rod Moore will head to Michigan with Allen. Moore tallied 66 total tackles and came up with six takeaways (four INTs, two FRs) and was named Honorable Mention All-Ohio as a junior.
Alter at Clinton-Massie
The two programs in Southwest Ohio with the most consecutive playoff appearances duke it out in this heavyweight bout between small school football royalty. Alter has made 19 straight trips to the postseason and Clinton-Massie has gone 18 times in a row. Between them they have 12 Regional titles and four state championships in that span.
Alter is balanced in all three phases of the game. The defense has a chance to be very special behind junior Ohio State commit, DB CJ Hicks and his classmate DT Derrick Shepard whose offers include Cincinnati, Boston College, Georgia Tech, Nebraska and Michigan. The focal point of the Knights offense is senior RB Branden McDonald. He has run for more than 1,000 yards in each of the last two seasons.
Clinton-Massie returns seven starters on each side of the ball and many of them are juniors. The Falcons are set up for continued success for years to come. A big offensive line anchored by Second Team All-Southwest District senior OL Brody Mutterspaw will be a joy for RB Carson Vanhoose and QB Kody Zantene to run behind. An experienced defense is led by Second Team All-Southwest District LB Cayden Clutter. Clinton-Massie has posted eight shutouts in Clutter's two seasons as a starter.
Troy at Piqua
Isn't this odd. The oldest rivalry in Ohio opens the 2020 year. Usually these two schools square off in the regular season finale. Who is going to bring the heat on this night?
Troy has been to the playoffs the last for seasons. The Trojans were tops in the MVL in total offense in 2019. They are big up front, led by seniors OL Jacob Moorman, OL Dawson Hildebrand and OL Ethan Freed. Troy team was second in the MVL in total defense. With a cast that has played a ton of football together, this squad has a chance to do some damage in the postseason.
Piqua hasn't been to the playoffs since 2015. It was also the last time they beat Troy. The Indians are paced by seniors RB/LB Caron Coleman, DL Lance Reaves-Hicks and DL Jerrell Lewis. Coleman has run for 1,115 yards with 13 rushing touchdowns and has 80 total tackles in his career. Lewis was an absolute beast a year ago with nine-and-a-half sacks and two fumble recoveries on his way to Division II Third Team All-Ohio honors. Reaves-Hicks had five-and-a-half sacks as a junior.

Waynesville at Bellbrook
These two schools were a combined 17-4 in 2019. Waynesville is coming off its first playoff appearance since 2014. The Spartans return eight starters from a defense that held opponents to 18.4 points per contest and scored four touchdowns. The Waynesville offense must replace three All-SWBL linemen, its top receiver and two of its three top rushers. Back are junior P Ty Walters a Third Team All-Ohio selection, senior DB Seth Bloom was named Honorable Mention All-Ohio, his classmates QB Jake Amburgy and LB Luke Osborn earned Second Team All-Southwest District accolades. Amburgy, a dual threat, racked up 1,581 yards of total offense (975 pass, 605 rush) and accounted for 19 touchdowns (10 pass, nine rush) in his first year as a starter.
Bellbrook will be looking for revenge after a heartbreaking one-point loss to the Spartans a year ago. The Golden Eagles come into the season riding a five-game winning streak. Bellbrook is loaded with experience. They return seven starters from defense that gave up just 7.7 points per game. The heart and soul of the unit is LB/K Taylor Jordan, a Third Team All-Ohio selection as a junior. He also connected on 34/36 extra points and all six of his field goal attempts. Lining up next to him is classmate FB/LB Ethan Fryman, a two-time First Team All-SWBL honoree. The Golden Eagles bring back eight starters on their Wing-T offense. They are led by seniors QB Alex Westbrock, RB Jonah Atchison and junior Seth Borondy who ran for a team high 11 touchdowns in 2019.
Other top games for Dayton area teams:
Centerville at Fairmont
Beavercreek at Miamisburg
Harrison at Chaminade Julienne
Edgewood at Fenwick
Butler at Tippecanoe
Carroll at Talawanda