Cincinnati Round-Up: Elder rolls past Moeller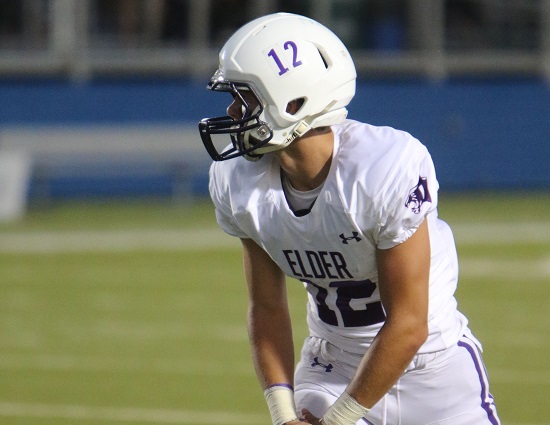 With only a couple weeks left of the regular season in Ohio many coaches are still trying to find their winning formula. Fall was definitely in the air on Friday as teams hit the gridiron with some bragging rights on the line and playoff positioning at stake.
NO. 4 ELDER 35, MOELLER 22
The Crusaders got out of the gate quickly and took a 13-point lead, but Elder responded with a 21-point second quarter and eventually pulled away to hand Moeller a third straight loss.
Junior Drew Ramsey made plays all over the field as he finished with 28 touches for 204 total yards and scored three times in the win. Quarterback Ben Hambleton posted a solid statline as he passed the ball 27 times, completing 23 passes for 282 yards and four touchdowns.
Senior TJ Rotello led all rushers with 106 yards on 16 carries to lead Moeller.
NO. 3 LAKOTA WEST 21, NO. 13 FAIRFIELD 7
Alex Afari's pick six sealed the deal as the Firebirds scored 21 unanswered points to remain unbeaten on the season. Lakota West is now 4-0 for the first time since 2012.
Senior Joshua Brogden broke a 7-7 tie with a 12-yard run with just 4:24 left in the game for the visiting Firebirds. Mitch Bolden and Adrian Davis connected on the team's other touchdown just three minutes earlier.
INDIANAPOLIS CATHEDRAL 25, NO. 1 ST. XAVIER 22
The top-ranked Bombers came up just short as they made a trip west to face the Fighting Irish. Some costly turnovers and a slew of penalties were too much to overcome for St. Xavier in this one.
Liam Clifford caught eight balls for 119 yards and two scores to lead the Bombers' offense. Micahel Whitehouse paced the defense with seven tackles and two forced fumbles.
Quarterback Brogan McCaughey started the game for St. Xavier, but did not finish it. It will be a situation to monitor heading into next week.
NO. 18 KINGS 41, LEBANON 20
The Kings Knights are clicking on all cylinders as they march towards the playoffs in a couple weeks and that put on display on Friday night as they took down the Lebanon Warriors , 41-20.
Senior running back Ty Styliski has emerged as one of the Tri-state area's best playmakers and following his six rushing touchdowns in the contest, has now scored 16 times in three games.
His first two touchdown runs versus rival Lebanon came in the game's first nine minutes. He finished the night with 217 yards on 29 carries.
Here are some other scores from other Cincinnati teams ranked inside our Blitz 5 Top 25:
No. 2 La Salle 17, Louisville DuPont Manual 7
No. 5 Winton Woods at Milford (Saturday)
No. 19 Lakota East 28, No. 6 Princeton 19
No. 8 Mason 21, No. 11 Sycamore 13
No. 9 Colerain 42, No. 25 Middletown 6
No. 17 Badin 42, Fenwick 6
No. 20 Anderson 42, West Clermont 0
No. 23 Wyoming 35, Deer Park 7
Edgewood 34, No. 24 Talawanda 14
*Stay updated on high school football updates by following @TSFootball on Twitter.