NKY Round-Up: CovCath squeaks by Beechwood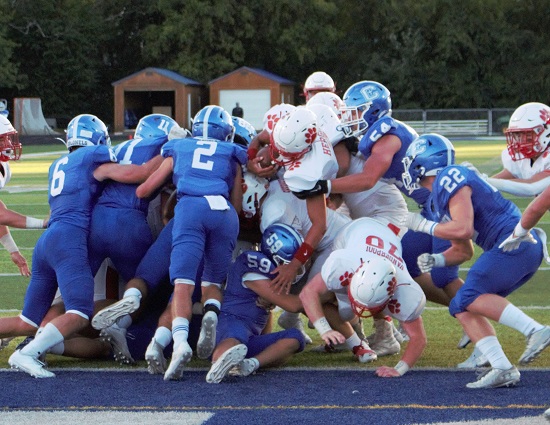 It was the second week of high school football action in the Bluegrass State and for some Northern Kentucky teams Friday night was their first game of the season. There was some sloppy play for sure, but that didn't mean there weren't some exciting finishes.
NO. 7 COVINGTON CATHOLIC 19, BEECHWOOD 17
For the second straight week Covington Catholic was pushed to the wire, but just like they did in their opener, the Colonels found a way to win the game.
Beechwood got on the scoreboard first and looked good early. Cam Hergott punched in a 1-yard run in the opening quarter.
The Colonels quickly answered. First they came up with a safety and then followed it up with a TD of their own as Caleb Jacob connected with William Shields on a 22-yard strike.
The Tigers added a field goal and another Hergott TD run, this time from nine yards out, to take a 17-9 halftime lead.
Things would tighten up quickly once the second half opened as Sam France capped off a 13-play drive with a 3-yard TD run.
Colonels' place kicker Trey Gronotte finally gave CovCath the league when his 33-yard field goal went just inside the left upright. The defense did their job to close out the game with a second-half shutout.
Jacob completed 8-of-19 passes for 108 yards and a touchdown and added 56 yards on the ground. Hergott threw for 194 yards along with the two rushing scores. Brady Moore netted 104 yards on five catches in the loss.
CovCath has now rolled off 17 straight victories and won 32 consecutive regular-season games dating back to 2016.
NO. 21 HIGHLANDS 23, RYLE 14
The Bluebirds fell behind 11-0 early, but went on to score 23 of the game's final 26 points in a convincing win over the Raiders.
Turnovers by the offense put pressure on the defense early on, but once things settled down it was Highlands in this one. They dominated the game up front.
"I give Ryle credit they came out and threw some things at us on defense early, but our young guys responded well with making adjustments," head coach Brian Weinrich said during his interview on High School Football Tonight on ESPN 1530.
After a tough loss to Simon Kenton a week ago, it was a nice bounce-back effort for Highlands.
CONNER 29, CAMPBELL COUNTY 6
Quarterback Alex Castrucci's first-quarter TD run gave Conner an early lead and it looked as if Campbell County would answer. However, Cody Crawford came up with a 102-yard pick-six after he pulled in a tipped ball in the end zone and returned the length of the field.
An interception later in the game by Alijah Thompson led to another Cougar touchdown as Conner rolled to victory.
It's almost game time here in Campbell County and the Cougars are looking good in their new Uniforms! Good Luck Cougars! pic.twitter.com/RZOQy6Ia8V

— Conner Cougar Football (@ConnerCougars) September 18, 2020
Here are some other scores from Northern Kentucky teams in action:
No. 15 Simon Kenton 36, Walton-Verona 6
Corbin 26, Dixie Heights 22
Boone County 28, Scott 22
DeSales 42, Cooper 14
Holmes 12, Newport 6
Ludlow 54, Brossart 33
Newport Central Catholic 32, Holy Cross 6
Gallatin County 27, Bellevue 7
*Stay updated on high school football updates by following @TSFootball on Twitter.