Katy claims Media Top 25 Title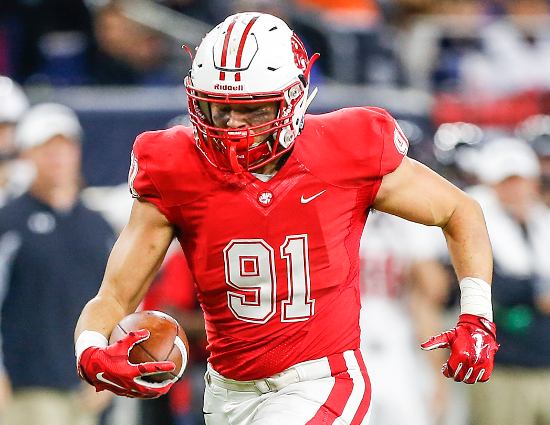 The old adage of 'the only poll that matters is the last one' holds especially true this year as Katy (TX) takes the Media Compilation Top 25 crown by moving to the top spot for the first time this season; in the final update of the year.
Katy opened the season at No. 11 and fell as low as No. 20 at the midpoint of the year but stormed back to claim the crown with an impressive run through the playoffs.
It was headlined by a defense that allowed just 62 total points in 16 games and had 10 shutouts on the year.
Head coach Gary Joseph said that the accolades extend beyond the last decade of polling but his entire coaching career.
"They're the best group I have had in my 34 years here at Katy," he said.
"It is just awesome for our kids to win this. There were 10 of them on varsity as sophomores and they had to taste the sting of losing two years in a row. For them to win this one is very special to us."
Past Media Compilations:
The Tigers moved from No. 4 to No. 1 in the last tally as previous-pole sitter Corona Centennial lost and fell to No. 5. Katy — and No. 2 finisher De La Salle (Concord, CA) — both leapt over Colquitt County (Moultrie, GA) and Bishop Gorman (Las Vegas, NV), which tied for No. 3 in the last poll.
The Media Compilation takes into account the four most respected human polls, the top computer model, and an emerging hybrid human-algorithm to make for the best rankings in the country.
Those under consideration are the NationalHSFootball.com HSFB100; USAToday Super 25; MaxPreps Xcellent25; PrepNation Top 25; Jeff Fisher's Top 25 and the Freeman Computer Top 25 — which is also known as the MaxPreps Computer Poll.
For a mathematically sound compilation each team is given points from 40 to 16 for being inside the Top 25 of each of those six polls with no points awarded for any additional rankings due to the differing size of each poll.
Points are assigned in decreasing value starting with 40 being awarded for No. 1 and on down to 16 for No. 25 which will result in a more accurate representation of the polls. Assigning points starting at 1 point would skew the tally in the instance that a team received a single, high placement versus a team with lower placements in multiple polls, raising the baseline eliminates the outlier impact in the compilation.
Each of those polls had some unique outliers in their final polls.
The HSFB100 was the lone poll to rank Grayson (Loganville, GA) in its Top 25, coming in at No. 14. The Rams were semifinal losers to Roswell (GA) on a last minute lead change in an ultracompetitive game. Grayson was in the Top 15 of the Compilation but the No. 3 team in Georgia was dropped by every other poll as the final games were played. It was also the only poll not to have Center Grove (Greenwood, IN) in the Top 20 — or Top 40 for that matter — showing little regard for a relatively impressive strength of schedule.
USAToday spread its votes out more than most any other poll and it handed them out to lesser states. It ranked Imhotep (Philadephia, PA) at No. 10 when no other poll had it in the Top 25; it ranked Aquinas Institute (Rochester, NY) at No. 14 and ahead of powers like Allen (TX) and Miami Central (FL). It also was the lone poll to have Xaverian Brothers (Westwood, MA) and Westfield (Chantilly, VA) in its Top 25. Interestingly it also kept Allen ranked but dropped Westlake (Austin, TX) although Westlake dominated Allen and eliminated it from the playoffs.
The MaxPreps human poll was the most Texas-friendly this year — though betting on a power state like Texas is hardly a knock — as it put three-loss North Shore (Houston, TX) in at No. 10 from being unranked after winning the Class 6A-DI title. It had Lake Travis (Austin, TX), North Shore, Westlake, and Allen at Nos. 9-12, respectively and had Katy atop its poll. The only other interesting placement was Mission Viejo (CA) being in at No. 20. The other human polls did not jump on the Diablos as it had asked out of the Pac5 and then enjoyed its success at a lower level.
PrepNation was the first poll to move Katy to the top spot when it made the move a week before the rest of the group but it had a few teams that it was a lone-ranker on as well. The most curious was an inclusion of Blue Springs South (MO) at No. 23 and Kahuku (HI) at No. 25. Having those teams ranked ahead of teams that finished No. 3 in Florida or No. 3 in Ohio just appear a little off.
Jeff Fisher and his algorithm was the highest on several teams, which leads to beleive his proprietary formula weights state titles higher than other evaluators. It was highest on Center Grove; the lone poll to ranked Mississippi champ, Starkville (MS); Pennsylvania state champ, Central Catholic (Pittsburgh, PA), and interestingly Euless Trinity (TX) at No. 25 — which lost in the first round of its playoffs but took down California champions, De La Salle.
The Freeman Computer — which is also CalPreps.com and the MaxPreps Computer rankings — went with three California teams in the Top 4 spots of the poll and four in the Top 10; also naming a California team No. 1 for the fifth time in six years. It was also the most gracious to Ohio with having four teams in the Top 12. It was the hardest on the South — per its norm — as the top team from the region was Colquitt County at No. 13 — though the Packers were no lower than No. 2 in any other poll. It only had three other southern teams in its Top 25 with Miami Central at No. 14, St. Thomas Aquinas at No. 21, and Flanagan at No. 23.
Here is the complete Media Compilation Top 25:
Join the HSFB100 discussion: Get a free user name | Post on The Varsity Board
No.

PTS

TEAM (ST)

HSFB

USAT

MAX

PN

JFAM

CPU

1

232

Katy (TX)

1

5

1

1

3

3

National Champions, Texas 6A-DII Champions: Katy rode one of the best defenses in the country to a national title. It produced 10 shutouts and had talent at each level of the unit. Offensively it was the typcial ground-and-pound style behind four-star Kyle Porter. It ended with four wins over HSFB100 squads, including three in a row to close the year.

2

229

De La Salle (CA)

4

3

3

4

2

1

CIF Open Bowl Champions: The Spartans won the highest honor in California — again. This group was as good as any in the country and closed with a solid win over Corona Centennial to end in the Top 5 for what seems to be an annual placement. An opening weekend loss to Euless Trinity kept it from its first national title since 2003.

3t

224

Colquitt County (GA)

2

2

2

2

2

13

Class AAAAAA Champions: Colquitt downed three HSFB100-ranked programs in the last six games of the season — including Media Poll No. 25 Roswell (GA) — and won its second consecutive Georgia large-class title. The Packers may have something pretty special going in South Georgia as the team replaced 16 players that went on to college football with an equally impressive group that won the title again.

3t

224

Bishop Gorman (NV)

3

1

4

3

4

7

Nevada Class 4A Champions: Bishop Gorman finished out the season with a 62-21 win over Liberty in the state finals. It bettered a Don Bosco program that is receiving votes as well as HSFB100-ranked Chandler and Bingham. It also beat Long Beach Poly, Servite, and Bellevue. It returns a lot of talent and figures to be in discussion for preseason No. 1.

5

217

Centennial (CA)

5

7

5

5

5

2

Centennial had fought to tie De La Salle three times in the CIF Open Bowl but eventually fell to the Spartans. Had it closed the season with a win it would have been National Champions and had five wins over HSFB100 foes as well as three other quality wins. This was one of the better Centennial teams and that says a lot as the Huskies have been the best program in SoCal this millenium.

6

205

St. John Bosco (CA)

6

11

6

6

8

4

The Braves won the Trinity League title and had 12 of its 13 games played with a running clock. It started slowly in the Pac5 finals against now-No.1 Corona Centennial and then lost its starting quarterback to close the game. The talent and results support a Top 10 finish even as it didn't play for a state title.

7

204

St. Edward (OH)

9

6

8

7

6

6

Division I Champions: The Eagles were up early then tied late before closing out a state title against No. 22t Wayne, 45-35. St. Edward played one of the toughest regular season schedules in the country and got to rest during one of the easier playoff paths before playing in the state finals. This result is one of the bigger surprises in the country as the team opened the year No. 3 in Cleveland and went on to win the state.

8

203

IMG Academy (FL)

8

4

7

8

7

9

IMG had a solid season with quality wins over DeSoto (TX), Cocoa (FL), and a trio of New Jersey squads — Bergen Catholic (Oradell, NJ), St. Joseph (Montvale, NJ), and Paramus Catholic (NJ).

9

175

DeMatha (MD)

11

12

16

14

13

5

WCAC Champions: Lorenzo Harrison rushed for 243 yards and three scores to seal the WCAC title for the third year in a row. DeMatha had pushed into the Top 5 with wins over No. 16 Miami Central (FL) and American Heritage (Plantation, FL) to open the season but it fell to rival Gonzaga (Washington, DC) to end its dream of a National Title. A Top 10 finish to the season is still a success for the Stags.

10

162

Male (KY)

25

8

13

9

11

18

Class 6A Champions: Male opened the year in one of the final slots of the HSFB100 and used a dominant performance over Trinity to move into the Top 25 where it played out the rest of the season ranked in all other polls as well. It edged Trinity in the playoffs as well to cement its spot among the elite in the country. The Bulldogs have won 8-of-9 against Trinity and St. Xavier in Louisville.

11

155

St. Thomas Aquinas (FL)

15

9

15

19

12

21

Class 7A Champions: Aquinas overcome a load of injuries to finish out the season in the Top 25 — though it would have taken a spectacular stumble for the team not to have won the Class 7A title. While the Raiders did not have an out-of-state foe this year it did better the Class 4A Champions — Miami Booker T. Washington — and the Class 8A Champions — Flanagan — in the regular season.

12

148

Allen (TX)

24

20

12

17

9

16

Allen nearly completed an unprecidented four-peat in Texas but was bettered in the state semifinals by No. 19 Westlake. The team had quality wins over Denton Guyer (TX), DeSoto (TX), Arlington Martin (TX), and Denton Ryan (TX) but fell to Westlake to close its year.

13

145

Gilman (MD)

12

13

17

24

16

19

MIAA Conference A Champion: The Greyhounds went unbeaten through conference play and added wins over Good Counsel (MD) as well as Paramus Catholic (NJ). It opened the year with a tough loss to No. 7 St. Edward — which it probably should have won. This was one of the better Gilman teams in recent years, maybe ever.

14

131

Lake Travis (TX)

10

25

9

15

—

15

Lake Travis will look to build off of a state finals appearance with a strong team returning next year. It bettered HSFB100-ranked Mansfield and Westfield as well as Class 6A-DI finalist No. 19 Westlake on the season. It had too many mistakes to overcome in the finals against National Champion, Katy.

15

129

Center Grove (IN)

—

16

19

11

10

20

Class 6A Champions: Center Grove ran its way to a state title in Indiana, bettering Warren Central twice, Carmel, Avon, Ben Davis and Penn. It was a solid year for the program. Titus McCoy was as steady as it gets for a high school running back as he was the focal point of the attack all year but was hardly slowed let alone stopped.

16

123

Miami Central (FL)

21

21

25

20

22

14

Class 6A Champions: Had Miami Central been able to play all season the way it did through the playoffs it could have matched the preseason Top 10 projections and contended for a national title. It closed with impressive wins over Carol City, Mainland, and Armwood. It also beat Booker T. Washington but lost to No. 9 DeMatha to open the year.

17

107

Trinity Christian (FL)

7

24

14

12

—

—

Class 3A Champions: Trinity Christian had eight running clock wins this season and blasted American Heritage (Delray Beach, FL) in the state finals, 30-3. It crushed HSFB100-ranked West Orange as well. The team has been one of the best in the state the last few seasons but it could have had its most talented team this year.

18

100

Loyola (IL)

—

15

18

10

21

—

Class 8A Champions: Loyola won the state championship with a running clock contest against Marist, 41-0. Dara Laja extended his school record for rushing yards with another 152 in the contest. It took it to the Chicago Catholic Leauge this year, bettering Brother Rice, Providence, St. Rita and Mt. Carmel. In the playoffs it beat Stevenson and Homewood-Flossmoor to bolster its strength of schedule.

19

89

Westlake (TX)

23

—

11

16

—

25

Junior quarterback Sam Ehlinger was impressive again — and is one of the few really good passers in Texas this year — to help the team knock off now-No. 12 Allen, 23-17. The final score was closer than the game was played as Allen was not a threat to win and looked lost for much of the contest. Westlake made major moves in most every poll and gained entry in three to get a unanimous placement. The HSFB100 was highest on the Chaparrals entering the contest.

20t

82

Spanish Fort (AL)

19

18

23

22

—

—

Class 6A Champions: Spanish Fort downed Clay-Chalkville in an entertaining state finals, 31-28. The Toros quarterback Tyler Johnston finished his career with an unblemished record and if he hadn't been hurt for the playoffs last year it would be a third state title.

20t

82

Eastside Catholic (WA)

—

17

21

21

23

—

Class 3A Champions: Eastside Catholic won a second straight state title by bettering Bellevue with a furious comeback in the second half. It opened the year by crushing Oceanside in The Honor Bowl and closed it with a state title victory. In between it was as expected from the talented team.

22t

81

Jenks (OK)

16

19

24

—

—

24

Class 6A Champions: Jenks brought back 18 starters this year and won another state championship. It beat Union twice and avenged its lone loss to Broken Arrow in a big way during the state finals, 35-14.

22t

81

Wayne (OH)

17

—

—

—

17

8

The Warriors fell to No. 7 St. Ed for the second straight season in the state finals. This year it was a 45-35 setback after the team fought back to tie late in the game. Its best win was against Colerain and then it nearly knocked off St. Ed.

24

79

Mission Viejo (CA)

—

—

20

—

14

10

1-AA Division Bowl Champions: The Diablos enjoyed the second season outside of the Pac5 with another championship — this time dominating Bellarmine, 24-0. It had a solid season with wins over Helix, Vista Murrieta, La Harbra, among others. It will be put back into the Pac5 next year with the Southern Section revising its selection process.

25

78

North Shore (TX)

22

—

10

13

—

—

Class 6A-DI Champions: North Shore opened with losses to HSFB100-ranked Manvel, Westfield, and Euless Trinity by a combined 16 points but rebounded to win a state title. It's path was a little more clear than others as it downed Dickinson, Judson, Westlake to complete its run, ending the year with just one HSFB100 victory.
Dropped From the Media Compilation Top 25:

No. 24 Colerain (Cincinnati, OH) and No. 25 Roswell (GA)

Others Receiving Votes:

Colerain (75); Don Bosco (63); Cincinnati La Salle (56); Roswell (47); Flangan (39); Imhotep (31); Aquinas Institute (27); Grayson (27); Mater Dei (24); Starkville (22); Xaverian Brothers (19); Blue Springs South (18); Westfield (18); Pittsburgh Central Catholic (17); Euless Trinity (16), and Kahuku (16).
JOIN THE HSFB100 DISCUSSION: Create a user name | Post on The Varsity Board