Playoff Preview: La Salle vs. Massillon Perry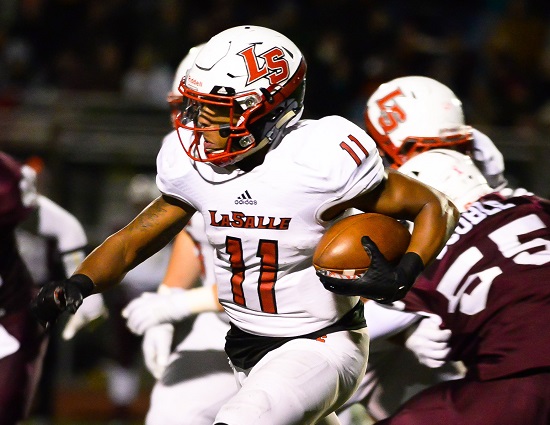 It will be a rematch of last year's Division II state championship. One team wants to make history while the other looks not to repeat it. La Salle is on a quest to become the first team in Ohio to win three consecutive Division II titles. The Lancers beat Massillon Perry 42-0 in the title tilt a year ago. The Panthers are looking for respect and out to avenge that defeat by capturing the school's first crown in football.
LA SALLE LANCERS (12-2) vs. MASSILLON PERRY PANTHERS (12-2)
Kickoff: Thursday, December 1st, 7:30 p.m. at Ohio Stadium (Ohio State University)
Follow on Twitter @TSFootball
PLAYERS TO WATCH:
Nick Myers and junior quarterback Max Baker are part of a ground-and-pound rushing attack that eats up lot of clock for Massillon Perry. The only first team First Team All-Northeast District member on this side of the ball is 6-foot-4, 295 pound lineman, Matt Carrick. The Panthers' defense saw linebacker Jarrett Mercier, defensive back Tevion Cleveland and junior lineman Zach Blackiston be named First Team All-District.
A trio of La Salle seniors have combined for 37 touchdowns – Christian Turner (13), Tre'Sean Smith (12) and Jarell White (12). All four of classmate Da'Meak Brandon's scores have come via returns (two punts, two interceptions). Sophomore linebackers Brody Ingle and Garrett Bledsoe are a big reason the Lancers' defense has only given up more than 14 points just once during the teams current 10-game winning streak.
TEAM TRENDS: La Salle has won 14 consecutive playoff games against 14 different opponents. Perry will be the first team that the Lancers have faced twice during their run. It has been all about domination for La Salle during the postseason with 13 of those 14 victories being by 20 points or more, including the last three by 31 points or more.
La Salle is in the tournament for the seventh time. The Lancers are 14-4 in the postseason. This is the eighth trip to the playoffs for Massillon Perry. The Panthers are 14-7 overall in the postseason.
Massillon Perry has won 10 games in a row since starting the year 2-2. During their current winning streak the Panthers have held six foes to seven points or less. They have played in nine games decided by 11 points or fewer going 7-2 in those tilts.
LA SALLE'S KEYS TO VICTORY: Put lots of pressure on Baker. Force him be the one that has to make decisions for the Panthers. Don't let Myers be the one who dictates the pace of the game by running the ball behind that huge line.
MASSILLON PERRY'S KEYS TO VICTORY: The Panthers know what kind of monumental effort it is going to take to beat La Salle. Everything is going to have to be perfect. The fewer mistakes, penalties and turnovers, the longer Massillon Perry hangs around. They have to cut this game down to just a couple of meaningful fourth quarter possessions. La Salle has deflated foes with big plays on special teams all postseason long the Panthers can't let that happen.
Prediction: La Salle 34, Massillon Perry 14