Best Bets: Week 7 – NKY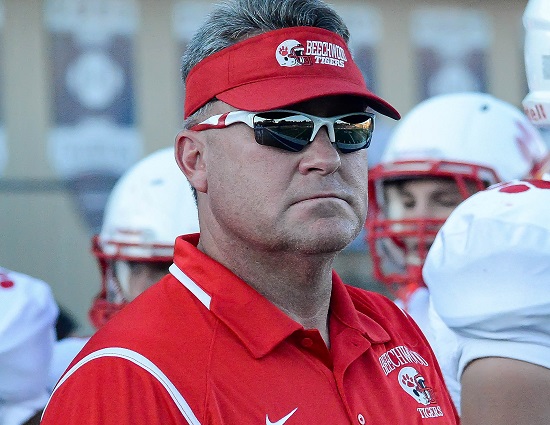 About a quarter of this week's KHSAA contests will be played on Thursday, including several involving local opponents.
That list includes area rivals Beechwood and Bellevue and outlying teams Brossart at Bracken County as well as Carroll County at Owen County.
District races also heat up, with Dixie-Highlands and the battle of Class A Tigers among others.
Here are the Best Bets for Northern Kentucky in Week 7:
Beechwood (4-2) at Bellevue (4-2), Thursday, 7 p.m. – These teams' records may be identical but their strength of opponents are not. Beechwood has lost to CovCath and Simon Kenton – big schools that are a combined 13-0 – and Bellevue has lost nailbiters to Nicholas County (4-3 in Class A) and Gallatin County (a 2A opponent that is 3-4). James Davis was able to run for 102 yards for the Tigers last week vs. Class 6A Simon Kenton, which earns the Beechwood running game tons of respect. Bellevue has seen four of its games decided by nine points or fewer, including an overtime win. QB Eric Atkins has thrown for 1,246 yards and 18 touchdowns for Bellevue, which would clinch home-field advantage for the first round of the playoffs with a win. Beechwood coach Noel Rash is 14-0 vs. Bellevue – the last time Beechwood lost to Bellevue was in 2005.
Brossart (4-2) at Bracken County (5-2), Thursday, 7 p.m. – Both teams are playing in their second district game, and Brossart is 1-0 in Class A while Bracken County is 0-1. The Mustangs held their first five opponents to a total of 49 points (9.8 per game) but surrendered 54 last week in a loss to Ludlow. Bracken County is also coming off a season worst defensively, as Paris scored 34 points vs. the Polar Bears after they had allowed an average of fewer than eight points previously.
Carroll County (3-3) at Owen County (4-2), Thursday, 7:30 p.m. – Carroll County has blown threw its first two district games, winning 34-12 over Gallatin County and 40-0 vs. Trimble County. A win for the Panthers would lock up home field for the first round of the Class 2A playoffs. Owen County has been up and down – the Rebels are 1-1 in their district and have been shut out twice and blanked two opponents. Owen County won 14-12 when these teams met last year.
Campbell County (4-2) at Conner (4-2), 7 p.m. – Campbell County has only lost two games, with one coming in overtime to Highlands and the other by just seven points at Ryle. Alex Dowds is one of the area's rushing leaders with 892 ground yards and 13 touchdowns, and Jack Comer has caught 28 passes for 448 yards and three TDs as the Camels have excellent balance.
Ryle (4-2) at Cooper (0-6), 7:30 p.m. – It just continues to amaze that the logic-challenged KHSAA has dropped the six area Class 6A teams into two districts of three. So this is the district opener for both teams. Ryle finished 12-1 last season but has already lost twice this year, including 23-17 to Indianapolis Chatard last week. Cooper is looking for its first win and is allowing 43.3 points per game.
Indianapolis Chatard (3-4) at CovCath (6-0), 7 p.m. – Chatard has not played CovCath in the past few decades but host a local team last week, losing 28-27 to Winton Woods. The Trojans are allowing just 19.7 points per game. The elite team in Northern Kentucky this year, CovCath has outscored its opponents, 253-49. The Colonels have scored at least 35 points in each game this season and has not allowed more than 17 in any contest.
Dixie Heights (3-4) at Highlands (2-4), 7 p.m. – Dixie Heights started the season 0-4 but has won its last three, beating Conner, Boone County and Cooper. The Colonels have thrown for 318 yards all season and have thrived with their running game, with Brandon Barker, C.J. Bensman and Paul Guenther all gaining over 300 yards on the ground. Highlands is on the opposite trajectory, having lost four straight after winning its first two. The Bluebirds' last two losses have been especially brutal, coming by three and five points. Highlands passes for two-thirds of its yards, with QB Carl Schoellman throwing for 1,318 yards and completing 65.0 percent of his passes.
Walton-Verona (4-2) at Trimble County (1-5), 7:30 p.m. – Walton-Verona has outscored its opponents, 234-89, and has scored at least 40 points in all of its wins. The Bearcats have also posted three shutouts. The Raiders have been blanked four times and held to six once. This is a pivotal district matchup, with Walton-Verona at 1-0 and Trimble County at 0-1, and the Bearcats are definitely favorites.