Bittner leads Elder to 35-34 OT win over Winton Woods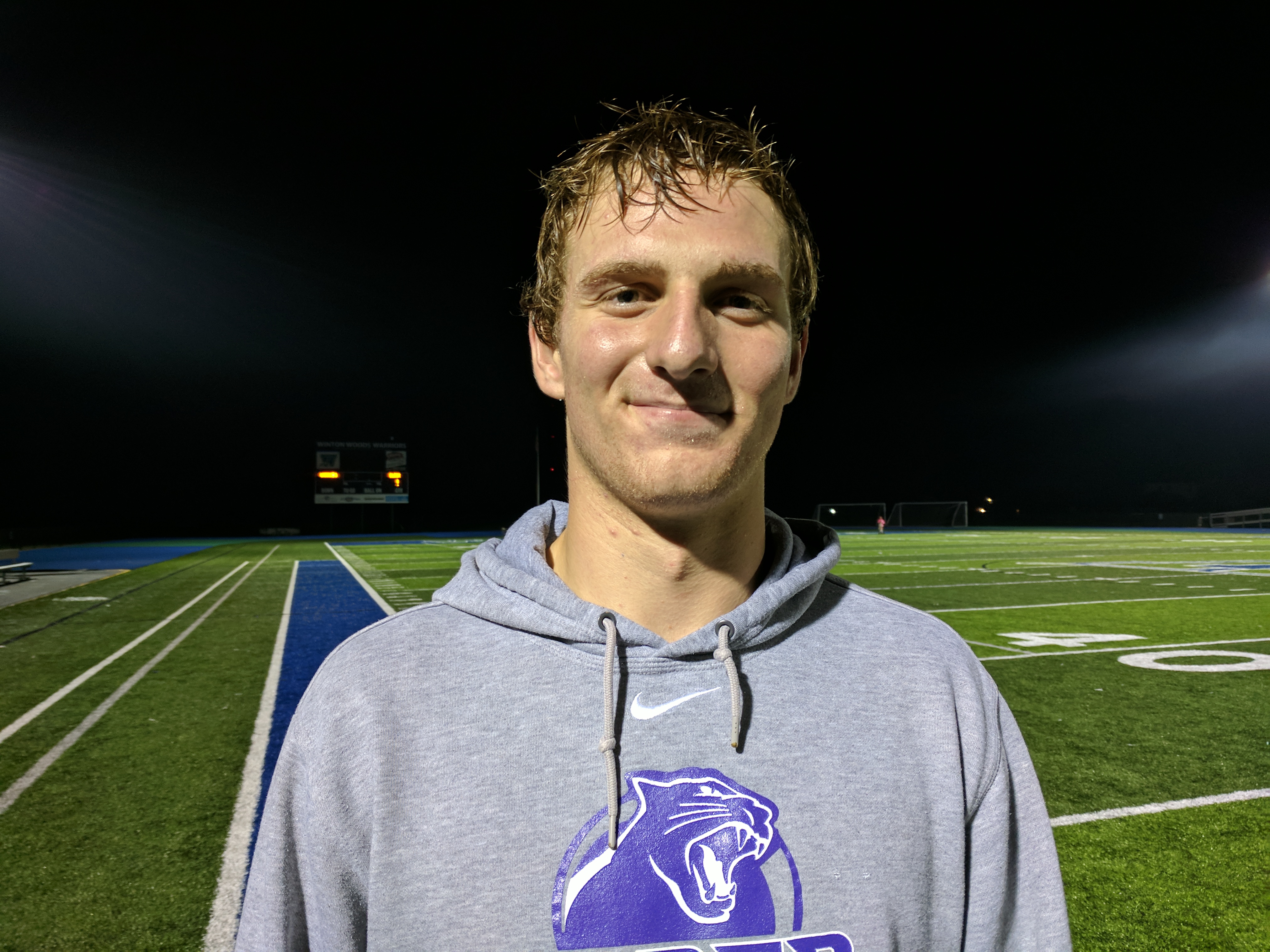 FOREST PARK, Ohio – The matchup was hyped as a heavyweight showdown and both team's did not disappoint the fans at Fredrick Stadium. It came down to the game's final play when previously undefeated Winton Woods missed an extra point, falling to the Elder Panthers 35-34 in overtime.
Elder took possession of the ball first in overtime scoring when quarterback Michael Bittner crossed the goal line from one-yard out. The touchdown was Bittner's third rushing touchdown of the game and fifth total on the night.
Winton Woods, looking for its third straight win over Elder, answered in the extra period when Kenny Mayberry scored on a quarterback sneak. All the Warriors needed was an extra point to force a second overtime.
Yeri Velasquez had made four extra points during the game and was ready for a chance at a fifth. Elder called timeout just before the snap in an attempt to freeze Velasquez. The strategy must have worked because the left-footed kicker pushed the ball to the outside of the left upright.
The loss was Winton Woods first of the season but Elder head coach Doug Ramsey sees a bright future for the Warriors.
"On both sides of the ball, they (Winton Woods) are as good as any team that we played," said Ramsey. "If that team stays together they can win the Division-II state championship."
After a sluggish start by each team, the Winton Woods offense was sparked by a special teams play. Warriors linebacker Chris Oats got a hand on an Elder punt to partially block it and setup Winton Woods with good field position.
Mayberry connected on a 41-yard pass play with wide receiver Raequan Price, putting the Warriors on the five-yard line. Running back Miyan Williams finished the deal on the next play with a great second effort to cross the goal line for a touchdown.
Early in the second quarter, Cornell Beachem setup another Winton Woods touchdown with 28-yard run. One play later Mayberry connected with Price for a 26-yard touchdown pass.
The Warriors 14-0 lead was not safe once Elder backup quarterback Michael Bittner came off the bench, jump starting the Panther offense. Bittner scored one touchdown on the ground and passed for another to Danny Faillace late in the half, tying the score 14-14 going into the halftime break.
Faillace gave the Panthers its first lead, 21-14 in the third quarter, with a 19-yard touchdown catch from Bittner.
Prince, who had a game high 146 yards receiving, scored again on a 41-yard catch-and-run play with Mayberry tying the score 21-21.
Winton Woods got the ball right back and were looking to re-take the lead in the fourth quarter. Mayberry threw a pass that was intercepted by Elder's Brett Marsh who returned it to the nine-yard line. Bittner scored on the next play giving Elder 28-21 advantage.
The Warriors showed great composure and marched down the field on the ensuing possession. Mayberry topped off the nine-play drive with a one-yard touchdown run tying the game again at 28-28.
The Winton Woods defense played well despite being without Oats who was out with any injury during the second half. The Warriors stopped Elder on its final drive of regulation forcing overtime.
Bittner coming off the bench and accounting for all five touchdowns was the difference in the game for the Panthers after his injured teammate Danny Nieman was ineffective early in the game.
"Me and Nieman knew that we both could play tonight," Bittner said referring to Elder's two-quarterback system this season. "When Coach Ramsey told me that I was playing Danny was right by my side, supporting me, helping me out with reads as I came off to the sideline. It was just a great team win."
After improving to 5-3 on the season, Ramsey knows this win was big but they still have work ahead to finish the season strong.
"We are starting to get on a roll. I was fully confident that we would play well tonight," Ramsey said. "This is a special group of guys that's fought through three tough losses and we got a big win tonight."
On a side note, Winton Woods defensive back Quinn Smith was crowned at halftime as the Winton High School Homecoming King.
SCORE BY QUARTERS
Elder 0-14-7-7-7 – 35
Winton Woods 7-7-0-14-6 – 34
SCORING PLAYS
WW – Williams 5-yard TD run (Velasquez kick).
WW – Prince 26-yard TD catch from Mayberry (Velasquez kick).
E – Bittner 2-yard TD run (Harmeyer kick)
E – Fallice 7-yard TD catch from Bittner (Harmeyer kick).
E – Fallice 19-yard TD catch from Bittner (Harmeyer kick).
WW – Prince 41-yard TD catch from Mayberry (Velasquez kick).
E – Bittner 9-yard TD run (Harmeyer kick)
WW – Mayberry 1-yard TD run (Velasquez kick).
E – Bittner 1-yard TD run (Harmeyer kick)
WW – Mayberry 1-yard TD run (kick failed).
RECORDS: Elder (5-3, 1-1); Winton Woods (7-1)
UP NEXT: Elder vs. Int'l School of Broward (2-4); Winton Woods @ St. Francis de Sales (5-3)