2019 Snapshot: Simon Kenton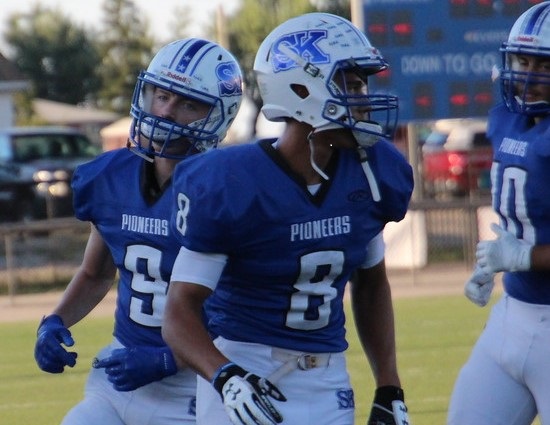 Simon Kenton WR Erik Brown (Photo by Dion Daniels/TriStateFootball.com)
The success that Simon Kenton has built and maintained for over a decade now is very impressive. Only one losing season in the past 11 years for the Pioneers. The other 10 campaigns saw Simon Kenton win 10 games or more. As good as those teams were, the 2019 version of the Pioneers looks to do what those before them could not……win a state title.
Accomplishing feat will not be easy. "Our schedule will be tough. Our opponents in weeks 1-6 were a combined 53-23 (.697 winning %) in 2018 with a state finalist in Johnson Central and a state semi-finalist in Taylor County. Highlands was 10-3, throw in Anderson and Oak Hills from Cincinnati and it is a gauntlet of a schedule. We should be challenged prior to the start of district play in October," head coach Jeff Marksberry states.
One of the main reasons Simon Kenton has been so good is the players dedicating themselves in the weight room all year long. Huge lines on both sides of the ball have become a trademark of the program. "Our offensive line should be a strength. We feel like we will be athletic at our skill positions on the offensive side of the ball. We should have great competition for the quarterback position with three guys vying for the job," says Markesberry. He is worried about the inexperience under center, especially early on, where some players confidences could get rattled.
"Our defensive line could be very good as well. We will be led by three-year starter, Vuk Sajlovic who is an FCS prospect. Vuk plays with a great motor and is very physical," Marksberry says enthusiastically.
If they want to get to "elite" status, Simon Kenton must play more consistently, defensively. Over the final six games last season the Pioneers allowed just seven point on four occasions. In two of their three playoff games they gave up 34 points to Bryan Station and 56 in the state quarter-finals loss to Scott County.
Class 6A, District 6
2018 RECORD: 10-3, 2-0 Class 6A, District 6
COACH:  Jeff Marksberry (145-82 at Simon Kenton, 19 years; 145-82 overall)
TOP RETURNEES
Vuk Sajlovic, Sr, DL – One of the top defensive linemen in Northern Kentucky. Sajlovic tallied 81 total tackles and had 12.0 sacks as a junior.
Austin Hammack, Sr, RB – A healthy Hammack will handle a large portion of the workload out of the backfield. Hammack led the Pioneers with 806 yards rushing as a sophomore. He has 1,473 yards rushing, 12 receptions for 115 yards and 16 touchdowns (14 rush, two rec) at the varsity level.
Erik Brown, Sr, WR – An explosive playmaker, Brown racked up 535 yards from scrimmage (134 rush, 401 rec) on 49 touches (22 rec) with five trips to the end zone (four rec, one rush) last fall. Don't be surprised if Brown gets some playing time at quarterback.
Evan Mulberry, Sr, WR/DB – Will team with Brown to make a very formidable receiving tandem. Mulberry caught 25 balls for 318 yard and two touchdowns a year ago.
Lucas Kreidenweis, Sr, OL – The second-year starter will be one of the anchors on the offensive line.

Cory Ceveland, Sr, OL – The Pioneers will look for leadership up front from Cleveland, who is back for his second season as a starter.
Aric Hoffman, Sr, LB – Should have a big senior campaign after registering 44 total tackles with a sack and a fumble recovery as a junior.
Jack Milton, Sr, DL – In his first season as a starter the 6-foot-3, 230-pound Milton recorded 42 total tackles, seven sacks, had a fumble recovery and an interception as junior.
NEWCOMER
Reed Carmony, Jr, QB – Will get the opportunity to win the starting quarterback job. Carmony threw for 166 yards and ran for 104 in five games as a sophomore.
2019 SCHEDULE
Fri – 08/23/19 – vs Henry Clay – 7:30 PM
Fri – 08/30/19 – ANDERSON – 7:30 PM
Fri – 09/06/19 – at Oak Hills (OH) – 7:30 PM
Fri – 09/13/19 – HIGHLANDS – 7:00 PM
Fri – 09/20/19 – TAYLOR COUNTY – 7:30 PM
Fri – 09/27/19 – at Johnson Central – 7:30 PM
Fri – 10/04/19 – BYE
Fri – 10/11/19 – DIXIE HEIGHTS – 7:00 PM
Fri – 10/18/19 – CAMPBELL COUNTY – 7:00 PM
Fri – 10/25/19 – at Ryle – 7:30 PM
Fri – 11/01/19 – at Little Miami (OH) – 7:00 PM
LIGHTING UP THE SCOREBOARD
Simon Kenton has averaged 523 points a season over the six  years (39.9 points per game, 79 games). They have scored 50 points or more 21 times in their last 73 contests. On 21 more occasions, during that same period the Pioneers have scored 40 or more points.
2 FOR 1,000
Last season, seniors Jon Sergent (1,288) and quarterback Caleb Farfsing (1,220) became the first pair of Pioneers to run for more than 1,000 in nine years. In 2009, senior running back Miles Simpson (2,227) and junior quarterback Chad Lawrence (1,165) accomplished that feat for an 11-2 Simon Kenton squad. Before Sergent and Farfsing, the last Pioneer to rush for more than 1,000 yards in a season was Dillon Powell (1,780) in 2015.