2019 Crosstown Showdown schedule released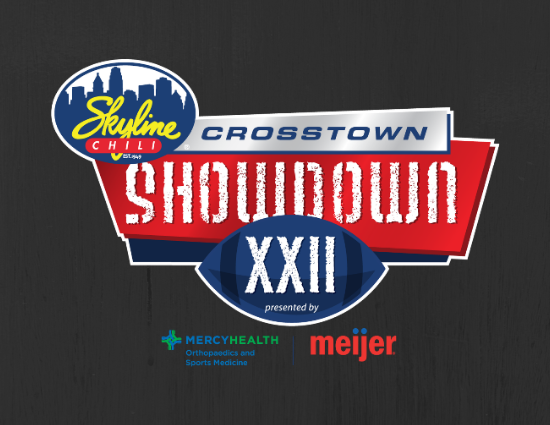 The Crosstown Showdown continues to evolve as it enters it's 22nd season.
It has gone from the kickoff event to the season for many teams, to a scaled-back, 11-week slate stretching from Week 0 to Week 10.
It's eleven consecutive weeks of Friday night matchups featuring 25 teams that qualified for their state football playoffs last season.
Below is the schedule for the 2019 Crosstown Showdown:
Friday, Aug. 23
East Central vs. Lawrenceburg at 7 p.m. at Lawrenceburg High School
Wednesday, Aug. 28
Northwest vs. Taft at 7 p.m. at Stargel Stadium, Taft High School
Friday, Aug. 30
Mt. Healthy vs. Tippecanoe at 7 p.m. at Mt. Healthy High School
Purcell Marian vs. Reading at 7 p.m. at Veterans Memorial Stadium, Reading
Friday, Sept. 6
Colerain vs. St. Xavier at 7 p.m. at Colerain High School
Friday, Sept. 13
Loveland vs. Milford at 7 p.m. at Milford High School
Highlands vs. Simon Kenton at 7 p.m. at Simon Kenton High School
Friday, Sept. 20
Anderson vs. Kings at 7 p.m. at Anderson High School
Turpin vs. West Clermont at 7 p.m. at Turpin High School
Friday, Sept. 27
Edgewood vs. Harrison at 7 p.m. at Kumler Field, Edgewood Middle School
Mason vs. Sycamore at 7 p.m. at Sycamore Stadium, Sycamore Junior High School
Friday, Oct. 4
Beechwood vs. Dixie Heights at 7 p.m. at Dixie Heights High School
Friday, Oct. 11
Elder vs. Moeller at 7 p.m. at Elder High School
Fairfield vs. Princeton at 7 p.m. at Princeton High School
Friday, Oct. 18
Lakota East vs. Lakota West at 7 p.m. at Lakota West High School
Friday, Oct. 25
Conner vs. Covington Catholic at 7 p.m. at Conner High School
La Salle vs. Winton Woods at 7 p.m. at La Salle High School
Friday, Nov. 1
Indian Hill vs. Wyoming at 7 p.m. at Wyoming High School