VOTE: Week 6 Player of the Week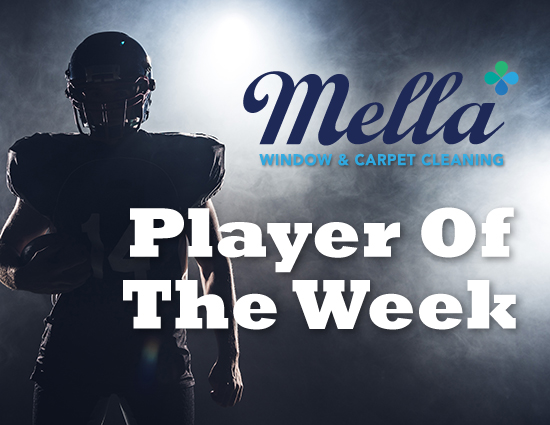 TriStateFootball.com is proud to present the Mella Window & Carpet Cleaning Player of the Week for the 2019 regular season. Players will be nominated from the Cincinnati, Northern Kentucky and Eastern Indiana areas.
Each week a group of nominees will be selected from a large list of some of the area's top performances and will be included in an online voting poll to determine a winner. The poll will launch weekly on Sundays. Voters can vote once per hour, per IP address through Wednesday at 12:00 PM Eastern weekly.
Once a player has won, they were ineligible to be nominated a second time. Players can only be nominated three times during the course of the season.
All of the season winners will be recognized and receive a plaque at the TriStateFootball.com Year in Review Show in February (more details announced during postseason).
+++
Take advantage of this internet special at Mella Window & Carpet Cleaning:

Whole house window cleaning $179 – COMPLETE DETAILS
+++
Here are this week's nominations…
Ryan Bond, East Central, Jr, QB – Went 10-of-12 for 148 yards with four first-half touchdown passes as the Trojans knocked off Connersville to win the EIAC Class 4A title.
Travis Brauer, Walton-Verona, Sr, QB/DB – Found the end zone three times in the second half as the Bearcats defeated Carroll County, 33-14.
Robert Brazziel, Taft, Jr, QB – Threw for 269 yards and five touchdowns as Taft improved to 5-1 after beating Shroder.
Gage Bullock, West Clermont, Jr, RB/LB – Carried the ball six times for 136 yards with three touchdowns and had a sack as the Wolves got past Loveland.
Kaleal Davis, Newport, Sr, QB/DB – Amassed 240 yards of total offense (160 pass, 80 rush) on 7-of-9 passing and six carries; accounted for five touchdowns (three pass, two rush) and had four solo tackles as Newport bounced Bellevue, 51-21.
Davonne Dunlap, Mount Healthy, Sr, DL – Tallied five solo tackles, had two sacks and recovered a fumble as the Owls held Campbell County to just 50 yards of total offense in a road win.
Darrion Henry, Princeton, Sr, OL/DL – Recorded two sacks and had five solo tackles as the Vikings got past Middletown, 43-21.
Loghan Kelley, Williamsburg, Sr, QB/DB – Had 226 yards rushing, 78 yards passing, intercepted two passes and accounted for five touchdowns (three rush, one pass, one pick six) in the Wildcats' 37-19 win over Fayetteville-Perry.
Matthew Luebbe, Elder, Sr, QB – Carried the ball 21 times for 236 yards and three touchdowns as the Panthers roared at St. Xavier, 31-28, in the 100th game in the series.
Michael Mayer, Covington Catholic, Sr, TE/DE – Caught 4 balls for 71 yards and three scores and had three tackles, including one for a loss in limited action in 45-0 blowout win over Boone County.
Camden O'Gara, Wyoming, Sr, LB – Had two interceptions, including a pick six, as Wyoming shutout Madeira, 54-0.
Zach Switzer, Badin, Sr, QB – Threw for 226 yards with three touchdown passes and had a 12-yard touchdown catch as Badin broke a 22-game losing streak to Alter.
Kameron Williams, North College Hill, Jr, QB – Aired it out for 210 yards, ran for 230 yards and accounted for five touchdowns (three rushing, two passing) as the Trojans trounced Cincinnati Country Day, 51-8.
CJ Young, Harrison, Sr, WR – Caught four balls for 119 yards, including touchdowns of 40 and 22-yards as Harrison beat Talawanda, 42-7.
*Nominate players weekly by emailing us at staff@tristatefootball.com by 9AM Sunday mornings.