VOTE: Player of the Week – Week 4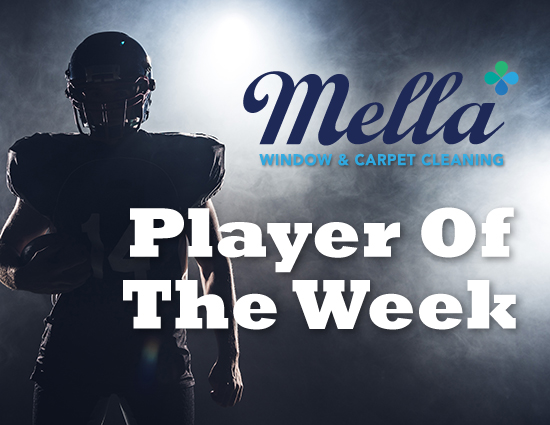 TriStateFootball.com is proud to present the Mella Window & Carpet Cleaning Player of the Week for the 2020 regular season. Players will be nominated from the Cincinnati, Northern Kentucky and Eastern Indiana areas throughout the season.
Each week a group of nominees will be selected from a large list of some of the area's top performances and will be included in an online voting poll to determine a winner. The poll will launch weekly on Sundays. Voters can vote once per hour, per IP address (we track it on back end so cheating will result in votes being voided) through Wednesday at 12:00 PM Eastern weekly.
Once a player has won, they were ineligible to be nominated a second time. Players can only be nominated three times during the course of the season.
All of the season winners will be recognized and receive a plaque at the TriStateFootball.com Year in Review Show in February of 2021 (more details announced once season concludes).
+++
Take advantage of this internet special at Mella Window & Carpet Cleaning:

Whole house window cleaning $179 – COMPLETE DETAILS
+++
Here are this week's nominations…
Cody Crawford, Conner, DB, Jr – Had two receptions for 71 yards, nine yards rushing, four solo tackles and 103-yard pick six as the Cougars won their opener, 29-6 over Campbell County.
Jackson Gifford, Ross, Sr, RB – Found the end zone five times on 19 carries for 210 yards rushing as the Rams bucked Harrison, 49-35.
Tyler Gregory, Gallatin County, Sr, RB/DB – Registered 11 tackles, a forced fumble and an inception on defense to go along with 75 total yards on 16 touches on offense in the Wildcats' win versus Bellevue.
Malaki Herndon, Newport Central Catholic, Sr, QB/DB – Threw for 98 yards, ran for 70 yards and accounted for three touchdowns (two pass, one rec) as the Thoroughbreds knocked off Holy Cross, 32-6.
C.J. Hester, Wyoming, So, RB – Carried the ball 22 times for 200 yards and three touchdowns as the Cowboys won for the 32nd time in their last 33 games after beating Deer Park, 35-7.
Aidan Jones, Little Miami, Jr, QB – Aired it out for 328 yards with five touchdown passes and 31 yards rushing as the Panthers clubbed Loveland, 55-20.
Luke Lytle, New Richmond, Sr, QB – Amassed 355 yards of total offense (218 passing, 137 rushing, accounted for all five of the Lions' touchdowns and connected on all five of his extra-point attempts as New Richmond improved to 4-0.
Charlie Noon, Highlands, So, QB – Had 166 yards on 27 totes with two trips to the end zone as the Bluebirds got pat Ryle, 23-14.
Drew Ramsey, Elder, Jr, WR/RB – Racked up 228 yards from scrimmage, including 84 rushing yards, 144 receiving yards on 14 receptions and four scores (three rec, one rush) in the Panthers' 35-22 victory over rival Moeller.
Anthony Scott, Edgewood, Sr, RB – Did it in all phases of the game. Scott had 106 yards and two touchdowns rushing, averaged 38.8 yards on four punts and recorded six solo tackles in the Cougars' 34-14 victory over Talawanda.
Tyrek Spikes, Winton Woods, Jr, RB – Ran for 165 yards on seven carries, had three rushing touchdowns and returned a kickoff 92 yards for another score as the Warriors improved to 4-0 after beating Milford, 49-14.
Keyshawn Stephens, Hamilton, Sr, RB – Churned out 194 yards and found the end zone twice as the Big Blue bruised Oak Hills, 41-13.
Ty Stylski, Kings, Sr, RB – Had 217 yards and six touchdowns rushing, all were nine yards or longer as the Knights pulled away from Lebanon in the second half, 41-20.
Charlie Sumerel, Indian Hill, Sr, RB/LB – Touched the ball nine times on offense for 177 yards (145 rushing, 32 receiving), had three touchdowns and recorded a sack in the Braves' 53-0 shutout of Reading.
Jadyn Thomas, Lockland, Jr, RB – Ran for 184 yards and scored twice as the Panthers roared past Cincinnati Country Day, 47-20.
*Nominate players weekly by emailing us at staff@tristatefootball.com by 9AM Sunday mornings.