Kennedy stabilizes Franklin County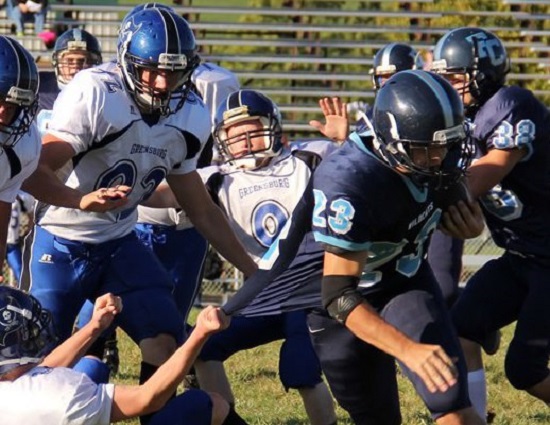 The Kirk Kennedy era at Franklin County got off on the right foot in 2014 as the head coach was able to guide the Wildcats to a .500 record. That may not seem like a large accomplishment but this program was in need of stability as Kennedy became its third head coach in four seasons.
There are plenty of on and off field battles for the boys from Brookville. "As we build the program, numbers will still be low, but the roster will be made up of quality young men" Kennedy states. "We were able to establish the run pretty consistently last season, but we must tackle better and get off the field defensively to show improvement in 2015."
The Wildcats will return plenty of experience while effective leadership should produce more wins during the 2015 season Kennedy believes. A favorable schedule should aid in Franklin county's quest to produce a winning campaign. It looks like the school is well on its way to turning the corner.
Class 4A, Sectional 15
2014 RECORD: 5-5, 1-2 EIAC 4A Division
COACH: Kirk Kennedy (5-5 @ Franklin County, one year, 173-109 overall, 25 years)
HONOR ROLL
Cole McCreary, Sr, RB – An outstanding junior campaign saw McCreary run for more than 1,700 yards and 17 touchdowns. His efforts earned him IFCA Junior All-State.
Jake Arnold, Sr, OT/DT – A terror on defense Arnold was named to the IFCA Junior All-State team last fall.
TOP RETURNEES
Andrew Lee, Jr, OG – A solid sophomore season will lead to Lee being more of an on-field leader this fall.
Blake Ripperger, Jr, QB – Ripperger will slide into the starting quarterback. He started two games as a backup as a sophomore.
Kannon Sams, Sr, OT/DE – The sky is the limit for Sams who is primed for a big senior campaign.
Tyler Selm, Jr, OL/DT – The 6-foot-3, 285 pound Selm has the potential to follow in Arnold's and McCreary's footsteps and be a IFCA Junior All-State member.
Matt Wewe, Sr, OL/DT – A returning starter Wewe provides senior leadership on both sides of the ball.
NEWCOMERS
Braydon Beal, Jr, LB – Coach Kennedy is looking for a breakout year from Beal.
Stone Laughlin, Jr, WR/DB – What the 5-foot-8 Laughlin lacks in size he makes up for with heart. Look for Laughlin to be productive no matter what side of the ball he plays on.
Mitchell Orschell, So, WR/DB – The newest member of the Orschell clan to suit up for Franklin County, Mitchell is expected to be a factor for the Wildcats as a sophomore.
Abe Pepper, Sr, WR – Pepper will have his moments as a receiver but they may be more as a blocker than a pass catcher.
PLAYOFF HISTORY
(38-26 overall)
Sectional Champions (5) – 1998, 1997, 1995, 1991, 1990
Regional Champions (3) – 1998, 1997, 1995
State Runner Up (1) – 1995
2015 SCHEDULE
There is no reason for Franklin County not to get out of the gate with a quick start. The Wildcats first three games are against teams that were a combined 9-22 in 2014. There are only three teams on the schedule that had winning records a year ago.
HUNGRY FOR A WIN
Franklin County has lost 19 straight games to league rival East Central. The Wildcats last beat the Trojans in 1999.