Defense will fuel Fenwick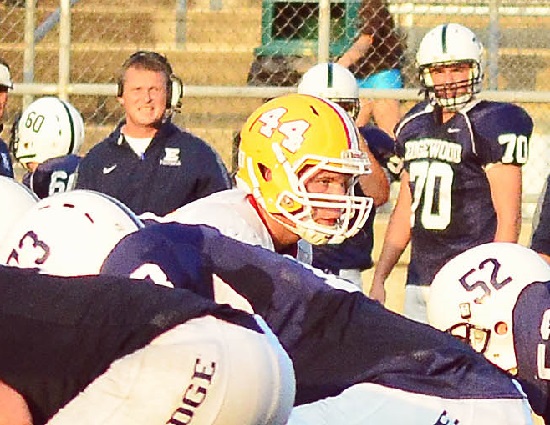 Bishop Fenwick ended last season as hot as anyone but fell just short of the playoffs. The Falcons won five of their final six contests and head into 2015 on a four game winning streak. There is a motivated, experienced and hungry senior class ready to write their page in the storied program's history book.
This team has a plenty going on in its favor with veterans, momentum and confidence all in the Falcons nest. Fenwick has all the pieces to damage deep into the playoffs if they can get there.
Division IV, Region 14
2014 RECORD: 6-4, 5-2 GCL Co-eds
COACH: Joe Snively (12-8 @ Bishop Fenwick, two years, 22-18 overall, four years)
HONOR ROLL
Sean Sherman, Sr, OL/DL/LS – One of the GCL Co-eds top offensive linemen the 6-foot-3, 255 pound Sherman was a First Team All-GCL North selection as a junior.
John Stomps, Sr, OL – The 6-foot-6, 250 pound Stomps has all the physical tools to play at the next level. First Team All-GCL North selection in '14.
Matt Davenport, Sr, OL/DL – Look for Davenport to see time on both sides of the line as a senior. He was a Second Team All-GCL North member a year ago.
Vince Durham, Sr, RB/LB – Back for his third year as a starter Durham was a Second Team All-GCL North honoree as a junior.
Jimmy Gephart, Sr, QB,/WR/DB – Gephart did a nice job of managing the game in his first year under center last fall. He threw for 514 yards, ran for 124 yards and accounted for nine touchdowns (six passing, three rushing) and earned Second Team All-GCL North accolades as a junior.
Nate Jeffers, RB/DB – A dual threat out of the Falcons backfield Jeffers ran for 530 yards, averaged 8.4 per carry, had nine receptions for 146 yards and scored 12 touchdowns (nine rushing, three receiving) a year ago. He was named Second Team All-GCL North for his efforts.
Andy Riazzi, Sr, RB – One of the workhorses in the Falcons backfield, Riazzi ran for 430 yards and found the endzone three times as junior. He was named Second Team All-GCL North for his work.
Brett Schnieder, Sr, TE/DL – A Second Team All-GCL North pick as a junior Schneider has proven he can get to the quarterback. He registered six sacks and 30 total tackles in '14.
OTHER RETURNEES
Fenwick will do itself big favors if it can jump out early and make opponents play catch up in the second half. That will lead to opportunities for an experience group of defensive backs will get to make plays versus the pass. Seniors Logan Gearhart, James Serrintino, Nick Wysong and Jeffers are all back for their second year as starters. Outside linebacker Anthony Frohlich returns and should put up big numbers as a senior.
The Falcons offensive line will see Kyle Bess and Corey Sullivan are veterans who started as juniors. As a team Fenwick ran for 2,484 yards and 29 touchdowns in '14.
Matt Hirko will handle kicking duties on special teams. He scored 30 points as a junior.
NEWCOMERS
The skill positions will have plenty of competition seniors Michael Sheridan, Joe Sora along with juniors Alan Nix and Jared Kauffman will battle for carries. Nix could also see time at quarterback and Kaufman will push Hirko on special teams.
Adding depth in the trenches will be senior Zac Ducco and junior Josh Berning. Durham and Frohlich will get help at linebacker from Ben Hinton, Jake Denning and Sammy Dibiasi. In the secondary junior Alec Himmelgarn, Sora, Nix and Kaufman should all see snaps.
PLAYOFF HISTORY
(15 appearances, 12-13) – 2012, 2004, 2003, 1991, 1988, 1987 (Regional Champions), 1985, 1984 (State Runner-up), 1983 (Regional Champions), 1982, 1978 (Regional Champions), 1975 (Regional Champions), 1974 (State Champions), 1973 (State Champions), 1972 (Regional Champions)
2015 SCHEDULE
The Falcons will play six road games including four of the first five away from Krusling Field. Fenwick will start the year with road tests at Division II Anderson and Mount Helathy. Fenwick was the last team to beat Mount Healthy during the regular season. Since that loss the Owls have reeled off 18 wins in a row during the regular season.
FEELING, HOT, HOT, HOT
The Fenwick offense heads into '15 in high gear. The Falcons scored 40 points or more four times in their finals six contests. Their average margin of victory was 26.2 points per game over their last six contests. Fenwick's only loss in that span was to McNicholas by one point.
A DYNAMIC DEFENSE
Fenwick will head into this season having held their last six opponents to 14 points or fewer. Their success came by stopping the run. The Falcons allowed just 41.9 yards rushing over the final six weeks of '14.