Rockets will be fueled by defense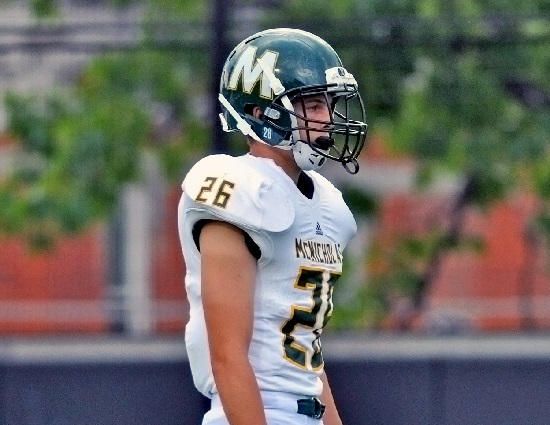 Defense wins championships and McNicholas has the pieces in place to get that accomplished. The Rockets return nine starters on defense including several three-year starters. "They provide for a good foundation and will serve as the nucleus of our team. We have great team chemistry and a group of selfless individuals willing to sacrifice for one another," head coach Mike Orlando says.
The biggest challenge for Orlando and McNick will be on the offensive side of the ball. The Rockets lost about 80% of their productivity and players on this side of the ball. "There are some questions to be answered. We will be inexperienced but we think that we have guys that will be able to fill the void," Orlando states.
Orlando has kept his troops grounded. "We understand what it takes to compete in this league and in this region. However, we also understand that we have many miles to travel before we can say that we have arrived." With 19 wins over the last two campaigns the Rockets have remained focus on the task at hand and show no signs of straying from what got the program to this point.
Division IV, Region 14
2014 RECORD: 10-2, 6-1 GCL C0-eds
COACH: Mike Orlando (28-17 @ McNicholas, four years, 28-17 overall)
HONOR ROLL
Sam Browning, Sr, DB – A pickpocket in the Rockets secondary Browning has nine career interceptions. He is also threat as a return man racking up 585 total return yards over the past two years. Browning was a First Team All-GCL Central pick as a junior.
Ryan Byrne, Sr, DL – The anchor of the defensive line Byrne is coming off a First Team All-GCL Central performance as a junior.
Adam Hisch, Sr, RB – Once he got healthy last season Hisch made a huge impact for the Rockets. He ran for 313 yards in McNick's final three last fall and hauled in 35 receptions in seven contests. He earned Second Team All-GCL Central honors for his work.
Nick Staderman, Sr, LB – A Second Team All-GCL Central selection as junior Staderman has been rock solid at linebacker. He heads into his senior year with 111 total tackles and eight takeaways (four fumble recoveries, four interceptions) at the varsity level.
OTHER RETURNEES
Jacob Cheek, Sr, OL – Cheek will be the leader and provide stability for a young offensive line.
Cole Carmosino, Jr, K – One of the premier kickers in the Cincinnati area Carmosino has 15 field goals and 127 points at the varsity level. Look for the junior to also be a factor as a receiver.
Will Kamphaus, Sr, LB – Coach Orlando calls Kamphaus a "smart, tough football player that keeps it all together." Kamphaus had four sacks and two interceptions as a junior.
Ben Roberts, Sr, WR/DB – An unsung hero a year ago Roberts made his presence felt on both sides of the ball coming up with 11 receptions on offense and recording 55 total tackles with two takeaways on defense.
Cameron Voelker, Jr, DB – Voelker's varsity debut saw him get in on 33 total tackles and intercept two passes.
NEWCOMERS
Juniors Cam Haynes and Evan Jenkins will battle for the starting quarterback position. Classmate Logan Farwick and sophomore Cole Burdick will add depth at receiver and in the secondary. Senior Alex Nalepka is healthy and expected to be a vital cog on the Rockets offensive line.
PLAYOFF HISTORY
(10 appearances, 9-10) – 2014, 2013, 2012, 2010 (Regional Champion), 2003, 2001, 2000, 1999, 1997, 1985, 1984 (State Runner-up)
2015 SCHEDULE
The non-conference schedule remains the same with the Rockets facing Division II east side rivals Anderson and Turpin to start the season. McNicholas will then face Wyoming for a third time in its last 11 games.
JUST WIN, BABY
The Rockets 26 victories over the last three years is the third highest total amongst all 12 GCL teams during that span.
FOILED BY THE FALCONS
McNicholas has been knocked out of the playoffs in each of the last two years by Clinton-Massie.