Edgewood needs to execute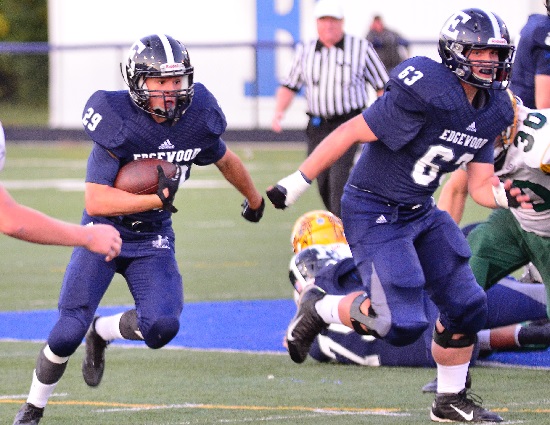 Sometimes young teams just have to take their lumps and that is just what happened to Edgewood a year ago. The Cougars hope their growing pains are over as they return eight starters on offense, seven on defense and all of their special team performers.
"We have a strong team chemistry and leadership. Our biggest strength will be the offensive line. We have three starters back and two others that started or played in a least five games this past season," head coach Scott Clemmons says. "We will still be a little young. We expect to have four to five sophomores starting this coming season.
With all those returning lettermen and a schedule conducive to racking up some early season wins expect Edgewood to come out and execute like a veteran team. They are going to be a thorn in the side of their league rivals.
Division II Region 6
2014 RECORD: 2-8, 1-5 SWOC
COACH: Scott Clemmons (11-20 at Edgewood, three years, 11-20 overall)
HONOR ROLL
Zach Smith, Sr, WR/P – Despite playing in the Wing-T offense Smith has made the most of his chances. He led Edgewood with 15 receptions for 309 yards and one touchdown as a junior. Smith is a two-time Second Team All-SWOC selection as a punter and a receiver.
OTHER RETURNEES
Hunter Boggs, Jr, OL/DL – Despite being just a junior Boggs is the leader of the Cougars in the trenches.
Greg Dingledine, Jr, OL/DL – Coach Clemmons calls Dingledine the "power of the offensive and defensive lines."
Drew Reckart, Jr, ATH –A legitimate playmaking threat Reckart played several different positions as a sophomore. Don't be surprised if he ends up as the team's starting quarterback.
Devon Garrett, Jr, RB – Garrett ran for 217 yards a year ago and could very well be the teams featured back this fall. He had a career high 101 yards on the ground against Little Miami as a sophomore.
Alec Heflin, Sr, OLB – One of the Cougars top tacklers as a junior Heflin finished the year with 49 solo tackles.
Dylan Crouch, Jr, SS – Back for his second year as a starter Crouch is the leader of the secondary.
AJ Alexander, Sr, WR/DB – A two-year starter at cornerback Alexander was in on 35 total tackles in 2014.
Julian Pletz, So, K – Pressure didn't bother Pletz as a freshman as nailed 11-12 extra points and both of his field goal attempts.
NEWCOMERS
Eddie Driskell, Jr, WR/DB – Driskell adds depth at receiver and in the secondary for Edgewood.
Garrett Gabbard, So, LB/RB – Expect a breakout season from Gabbard as he is expected to pay dividends on defense almost immediately.
PLAYOFF HISTORY
(11 appearances, 12-11 overall) – 2012, 2008, 2007, 2006, 2003 (2nd), 2002, 2001, 2000, 1999 (Regional Champions), 1998, 1997
2015 SCHEDULE
Four games versus smaller schools to start the season could mean a good beginning for the Cougars. It is not out of the question that Edgewood could finish the year with a winning record.
A LITTLE HELP WOULD BE NICE
Last fall Edgewood only created nine takeaways. The lack of threats was a contributing factor in the Cougars giving up 31.9 points per game.
COACHES QUOTE
Clemmons has high praise for the conference saying, "I don't think people realize how tough of a league the SWOC is. It has great athletes and great coaches across the board."