From power to speed at Ross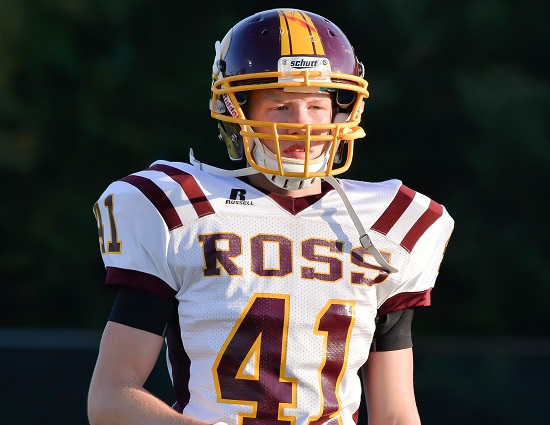 What a difference a year can be in the makeup of a team. Ross used its strength up front to get the job done in 2014. The Rams will turn to speed to beat teams this fall.
"This will be one of the quickest teams we've had for some time. Dustin Foley and Cole Hannon are very explosive and have made great gains in the weight room. Our skill guys on offense are back and we should be quicker at all positions. We will not be as big up front on both sides of the ball," head coach Brian Butts says.
All signs point to an entertaining season at Robinson Field in 2014. In a league loaded with skill players the Ross Rams should blend into the mix quite nicely.
Division III, Region 10
2014 RECORD: 5-5, 2-4 SWOC
COACH: Brian Butts (52-40 at Ross, nine years, 52-40 overall)
HONOR ROLL
Paul Young, Jr, K – An absolute asset for Ross Young was perfect on all 33 of his extra point attempts and went 5-8 on field goal tries as a sophomore. He was named Second Team All-Southwest District for his work.
Dustin Foley, Sr, QB/CB – A Second Team All-SWOC performer last season Foley is dangerous on both sides of the ball. On offense he racked up 1,258 yards of total offense (755 passing, 503 rushing) and accounted for 12 touchdowns (seven passing, five rushing) as a junior. On defense Foley busted out on a 105-yard interception return for a touchdown.
OTHER RETURNEES
Cole Hannon, Sr, RB/CB – How Hannon did not make the all-league team is a bit puzzling after amassing 1,134 all-purpose yards as a junior. He scored four different ways – three rushing, two receiving, two kickoff returns and one interception return for touchdowns in '14.
Austin McKee, Sr, LB – The top returning tackler for Ross McKee tallied 84 total takedowns as a junior.
Jeff Horton, Sr, FS – Solid and steady is what Horton's game is all about. He was in on 62 tackles with two interceptions as a junior.
Reily Ryder, Sr, WR – Ryder is a huge asset in the run game because he is a very good blocker. He had nine receptions for 71 yards last season.
Zack Arno, Jr, WR – Look for a healthy Arno to play a major role in the Rams passing game this fall.
NEWCOMERS
Collin Gross, So, OT – The 6-foot-3, 320 pound Gross will be a welcome addition to the offensive line.
Jeremy Rosenblum, Sr, OT – The senior will be called upon to be a leader on the o-line this fall.
Karsen Chasteen, Jr, C, NG – The offense starts with Chasteen who is tough to move at 5-foot-9 and 240 pounds.
Blake Niefield, Jr, SS – Niefield could emerge as one of the Rams most pleasant surprises in '15.
Taylor Sharp, Sr, OG/DL – Sharp will add depth to both sides of the line.
Tyler Young, Sr, OLB – Coach Butts is looking for Young to step up and have a big senior campaign.
PLAYOFF HISTORY
(six appearances, 0-6) – 2011, 2009, 2001, 1997, 1995, 1993
2015 SCHEDULE
Ross should start out strong and finish strong. What the Rams do with the middle portion of their schedule will be the difference between them making or missing the post-season.
SINK OR SWIM
Ross scored at least 35 points in all of their wins last season and averaged 43.0 in its victories. The Rams averaged just 13.4 points per contest in their five losses.