Fairmont to bank on trust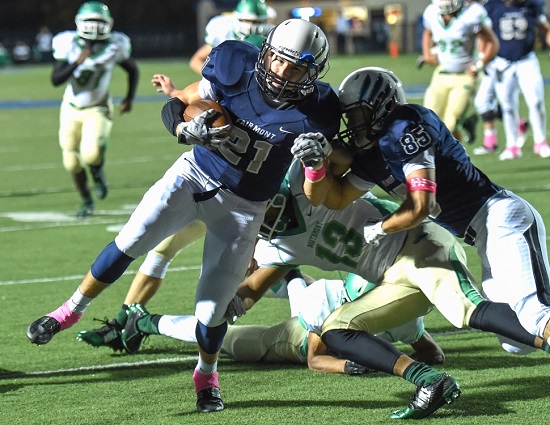 It had been five seasons since Fairmont finished above .500. The Firebirds accomplished that feat in '14 by winning six of their final eight games. Head coach Andy Aracri and his squad go into this season loaded with confidence after that strong finish.
Fairmont had toiled to find on-field success since that '08 playoff appearance. This season the team is going to let "trust" be its guide as the 94th version of the Firebirds look to earn back-to-back winning season for the first time since 1996 (7-3) and 1997 (9-1). To put it in perspective these players weren't even born when that happened.
"For this team to build on the success from 2014, the seniors of this group must take the reins of the program and be great leaders – off the field, on the field, and in the locker room each and every day," Aracri states.
What a subtly stated yet driven motto that "trust" is for Fairmont. The word trust has three meanings as a noun – faith/conviction, charge/responsibility/protection and organized group/team. As a verb trust means – believe, hope, entrust/confide. By pushing and pulling for each other those five letters, T-R-U-S-T could do the Firebirds proud by the end of the season.
Division I, Region 2
2014 RECORD: 6-4, 3-2 GWOC Central
COACH: Andy Aracri (14-36 at Fairmont, five years, 14-36 overall)
HONOR ROLL
Corde Kyles, Sr, ATH/QB – Kyles is a physical athlete who can play just about anywhere on the field. Kyles started games last year at QB, RB, & WR on his way to earning Second Team All-GWOC Central honors. He had 173 yards passing, 325 yards rushing 13 receptions for 152 yards with two passing touchdowns, one rushing and one receiving touchdown also.
Eric Brown, Sr, OL – Brown will lead the way for the offensive line group. He was a second Team All-GWOC Central performer as a junior.
Conner VanOsss, Sr, DE – An Honorable Mention All-GWOC Central selection as a junior VanOss is a smart, crafty veteran player who will be a leader on Friday nights. He had 23 tackles (18 solo) and two and a half sacks in '14.
OTHER RETURNEES
Wes Ewing, Sr, WR/DE – Ewing is a tall physical receiver and athlete who can go up can get any ball in the air. He had eight receptions for 110 yards and a touchdown in seven games a year ago.
Drew Gudgell, Sr, LB – Back for his third year as a starter Gudgell very smart and will make plays all over field. He was in on 57 tackles (39 solo) with a sack and a fumble recovery as a junior.
Marc Donovan, Sr, DL – Donovan is a strong physical player who coach Aracri feels "will be a force at the line of scrimmage."
Trevor Cukovecki, Jr, DB – The leader of the secondary Cukovecki started eight games last year at safety. He was in on 26 tackles with an interception.
Nick Moreland, Jr, RB – A solid varsity debut saw Moreland run for 335 yards and three scores in '14. He is a strong physical runner who will break tackles and has ability to make a big play. Moreland get more productive the more he carries the ball.
Alex Decker, Sr, WR – All signs point to a breakout campaign for Decker who looks to make a big impact on Friday nights.
NEWCOMERS
The defensive line looks to seniors Landon Turner, Chris Hack, junior Austin Tackett and sophomore Ty Smith to add depth to the rotations. Senior Luke West will be a plus at linebacker. Classmate Max Britt and junior Cam Crayton will fight for snaps in the secondary.
On offense junior Graham Bochenek will help the offensive line. Sophomore Jake Perkins too good to keep off the field so expect him to line up at running back and receiver this fall.
PLAYOFF HISTORY
(one appearance, 0-1) – 2008
2015 SCHEDULE
In the first seven weeks Fairmont will face four teams that went to the playoffs in '14. The Firebirds were 0-4 and scored just a combined 39 points versus that group a year ago. All the opponents are the same as last season just at opposite venues.
FIREBIRD FIREPOWER
Fairmont scored 40 points or more three times in the last seven outings in '14. Before the Firebirds had gone 21 games in a row having scored fewer than 40 dating all the way back to August 31st, 2012 when they beat Miamisburg, 41-21.