Rebels are now men of Steele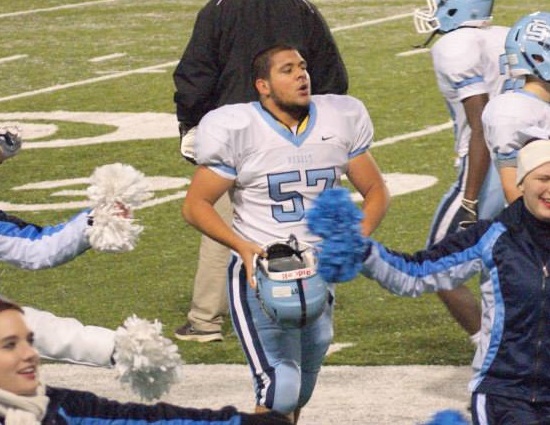 To call the last three Boone County Rebel football seasons a struggle would be an understatement.
After a 9-5 season in 2011, which ended up with a surprising run to the Kentucky Class 6A state semifinals, the tradition-rich Boone County program has only won twice in their last 34 outings, including a 1-10 mark in 2014.
Longtime assistant and Boone County alum (class of 1983) Marty Steele takes over for the departed Jeff Griffith. Despite the recent struggles, Steele has some things to build on from last season. The Rebels broke a 17-game losing streak by knocking off county rival Conner 49-26 in their second game. They were also competitive in two late season district road games, a 27-21 loss to then-unbeaten Simon Kenton, and then a tough 28-14 loss at Ryle.
Boone County graduated several productive players from last season, including quarterback Jamar Lamb and leading rusher Jerry Marshall, along with leading tackler Jacob Schlarman on the defensive side of the ball.
There is production returning with the two top receivers from '14 returning with WR/TE Dylan Bishop and WR Rondell Douglas. In addition, junior QB Peter Westhoff did get playing time as a freshman. Leading the defense is a cast of Wethoff's classmates led by LB Jared Deason.
Steele likes what he sees so far from his team. "Players work hard each day, with a strong desire to be the group to turn the program around," he said about the off-season. "We feel confident at most positions but depth at each position is an issue," Steele added.
Class 6A, District 6
2014 Record: 1-10 overall, 0-4 district (lost to Scott County in 6A first round)
Coach: Marty Steele (first year at school and overall as head coach)
TOP RETURNEES
Joey Sanz, Jr, OL – Will be expected to anchor an offensive line that will try to run, run and run some more.
Ahmad Hamedian, Sr OL – A returning starter who will be asked to control the line of scrimmage in the Rebels rushing attack.
Chandler Feinhauer, Jr LB – Was in on 36 tackles in just six games played last season.
Rondell Douglas, Jr, WR – Big play receiver, caught 22 balls for 447 yards and three touchdowns last season. Douglas also ran for 183 yards and a touchdown.
Dylan Bishop Sr, WR/TE – Had 24 receptions for 350 yards and three touchdowns a year ago.
Jared Deason, Sr LB – Rebels' leading returning tackler. He recorded 38 tackles last season.
Ryan Vickers, Sr W R – Reeled in seven catches for 61 yards with a touchdown as a junior.
Devin Ruberg, Jr, DB – Tallied 36 total tackles in '14.
Bradon Morgan, Jr, LB/RB – Had a touchdown and 51 yards rushing in limited time as a sophomore.
Corstin Cahill, Jr, RB – Rebels leading rusher, with 184 yards and two touchdowns a year ago.
Colin Eichhoff, Jr, OL – Part of a young core of what could become a very good o-line.
Logan Eichhoff, Jr, OL – Played in 10 games in 2014.
Peter Westhoff, Jr QB- Threw for 181 yards in a playoff loss to McCracken County in 2013 as a freshman.
SCHEDULE
Despite the won-loss record in the last three years, the Rebels continue to play a brutal schedule. Lexington Catholic, South Oldham and Lafayette are on the schedule from outside the northern Kentucky area, while Conner, Cooper, Ryle, Dixie Heights and Highlands round out the non-district slate. In the new three-team 6A district alignment, Simon Kenton comes to Florence, while the Rebels will travel to Campbell County.
PUTTING POINTS ON THE BOARD
Boone County scored 13 points or more in each of their final five games of last season. In the 18 games prior to that the Rebels scored seven points or fewer 11 times.