GCL South Gets Offensive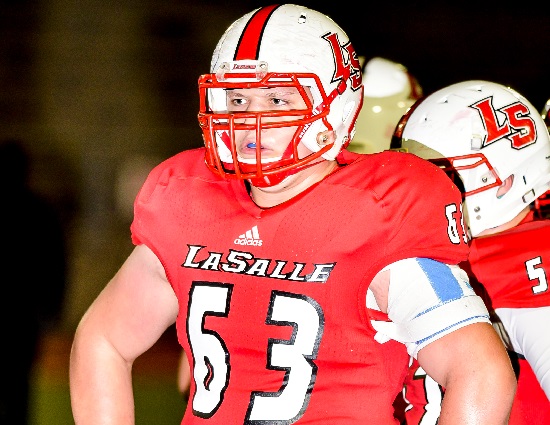 The GCL is so popular that most football fans outside of the Cincinnati have heard of St. Xavier, Moeller, Elder and La Salle. And the reason is the rich tradition of developing players for the next level. The 2016 class has continued that tradition.
La Salle has four seniors on the 2015 All-Tri-State Football team and expected to play Division I football next season. Running back Jeremy Larkin is ranked seventh in the nation at his position, according to Yahoo Rivals.com, and verbally committed to stay home and play for the University of Cincinnati. The 5-feet-9 running back rushed for 2,584 yards and 38 touchdowns. On his way to the state championship, Larkin rushed for 125 yards against Glen Este, 304 yards versus Harrison, 265 against Mount Healthy, 239 yards against Olentangy, and 104 yards in the championship game versus Nordonia. He had an amazing 15 touchdowns in the playoffs.
La Salle's 6-feet-3, 310 pound offensive lineman Luke Doerger has verbally committed to Toledo. He is part of the core line that helped Larkin rush for over 2,500 yards. Doerger decided on Toledo over Akron, Ohio, Buffalo, Marshall, Miami (OH), and University of Pennsylvania. He made his decision just two weeks ago.
Back in May, La Salle punter Drue Chrisman chose to head to Columbus to play for the defending champion Ohio State Buckeyes. Chrisman had offers from BYU, Florida State, Indiana, Kentucky and UCLA. According to Yahoo Rivals.com, Chrisman is ranked as a 3-star.
Lancers quarterback Nick Watson is still in the process of deciding on a school. His choices are Miami (OH) and Ohio. Watson is a pro-style quarterback, but last season the Lancers were more a run-first offense as oppose to having Watson air it out. The most attempts he had in a game were 16 and that came in three different occasions. Look for Watson to step up this season, and get schools to start noticing the 6-feet-0 quarterback.
Moeller has five preseason All-Tri-State Football selections that have committed to Division I schools. Quarterback Thomas MacVittie has verbally committed to Pittsburgh. He ranked as the 48th best player in the state, according to Rivals.com. He picked Pittsburgh over Cincinnati and Miami (OH). MacVittie backed up Matt Crable a year ago, and only played quarterback in two games. The Moeller offense is now his to run, and despite limited action, MacVittie is still a preseason All- Tri-State Football selection.
The other four include tight end Jake Hausmann, who picked Ohio State, defensive lineman Ryan Smith, who is expected to attend Indiana, Toledo bound linebacker John Griga, and kicker Matt Coghlin, who is going to be a Michigan State Spartan.
Offensive lineman Tommy Kraemer highlights the 2016 Elder class. Kraemer is ranked the best in the state and third best in the nation among offensive lineman, according to Rivals.com. He is part of a Notre Dame recruiting class that ranks 33rd in the nation. Other Panthers' recruits include quarterback Peyton Ramsey, who will attend Indiana University, wide receiver Nick Hall, who will attend Indiana State, and defensive lineman Joe Schroer, who has narrowed his list to Air Force, Army, Ball State and Toledo.
This season St. Xavier only has three players on the preseason All-Tri-State Football list, but one is tight end Noah Davis, who has verbally committed to Michigan State. The 6-feet-5 tight end is ranked as the 38th best player in the state and a three-star, according to Rivals.com. The Spartans class is ranked as the ninth best class in the nation.
The Bombers also have receiver/linebacker Andrew Homer, who is attending Miami (OH), and ATH Brody Ketron, who is heading to Indiana to attend Valparaiso University. Last month quarterback Sean Clifford decided to end the recruiting process early and announce his intentions to attend Penn State in 2017.
The GCL South might only have four teams, but these four rosters are full of talent that is prepared to play at the highest college levels. This 2016 class is keeping the tradition alive in the GCL South.