Fairfield defense looking tough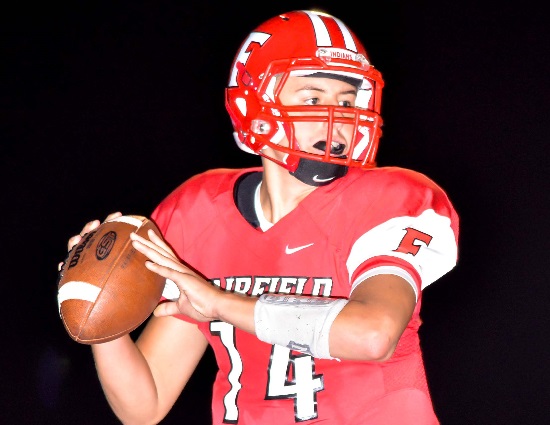 Fairfield allowed just 130 points last season and only 84 in league games, easily the lowest total of any team in the GMC.
And with eight returning starters on offense and seven on defense, this could be a memorable year for the Indians.
Fairfield sat near the bottom of the league standings for three straight years in 2010-12, but the Indians went 9-2 in 2013, including a playoff berth, and followed that up with a 6-4 campaign in 2014.
Plus Fairfield is returning two-year starter quarterback Hunter Krause under center, who enters his senior year with over 2,500 career passing yards.
"(This was) the most significant off-seasons since I've been here," Jason Krause said. "We are athletic and tough and strong in all three phases of the game."
Division I, Region 2
2013 RECORD: 6-4.
COACH: Jason Krause (18-23 in four seasons at Fairfield, 103-91 overall in 18 seasons).
HONOR ROLL
Hunter Krause, QB, Sr. – Krause, the son of the head coach and a third-year starter, threw for 1,509 yards and 19 touchdowns vs. just four interceptions last season.
T.C. Wells, WR/RB, Sr. – Wells caught 34 passes for 633 yards and eight TDs in 2014. This will be his fourth year playing at the varsity level, and he has 1,240 career receiving yards.
David Keeling, RB, Sr. – Played seven games last season and had 38 carries for 175 yards and three scores last year. He also recorded an interception on defense.
James Mitchell, ATH, Jr. – He finished last year with 19 catches for 247 yards and six touchdowns, including a pair of TDs opening night, and he also ran the ball 31 times for 104 yards.
Will Cornwall, WR, So. – As a freshman, he ran the ball twice for 15 yards and had one reception for nine more. His workload will increase significantly this season.
Adam Neel, OL, Sr. – The 220-pounder will anchor an offense line that returns the majority of its starters from 2014.
Jerred McGuire, P/K, Jr. – Was 28 of 29 on extra points last season and connected on field goals from 28, 32 and 34 yards out.
Todd Ross, DL, Sr. – Ross keys a defensive line that held GMC opponents to 12 points per game last season.
Mitch Larsen, DB, Sr. – The third-year defender has intercepted four passes the past two seasons. He also returned a pair of kickoffs at the end of 2014.
Josiah Scott, CB, Jr. – He led the GMC in interceptions with five as a sophomore, with four coming in the first three weeks.
Micah Vann, DL, Sr. – A 6-feet, 205 pounder who will be another formidable member of a 3-4 defensive unit.
Josh Weaver, OLB, Sr. – Forced a pair of fumbles and recovered one in 2014. He will be one of the leaders of the defense this year.
OTHERS
Malik Vann, LB, So. – The younger brother of Micah Vann joins an experienced defensive corps.
Nick Adams, NT, Sr. – The 195-pounder is expected to step up in the middle of the defensive line.
SCHEDULE
Fairfield is playing an all-north out-of-conference schedule this season, opening at home against Centerville, traveling to Dayton Northmont and returning home to face Dublin Coffman. Northmont is the only team of the three the Indians played last season, and they lost, 31-24. Middletown and Lakota West are on Fairfield's GMC schedule, replacing Sycamore and Mason.
PLAYOFF HISTORY
1985, 1986 (state champions), 1999, 2000, 2005, 2013.
TOPS ON D IN CONFERENCE PLAY
Fairfield allowed a GMC-low 228.7 yards per game in conference play. Opponents managed an average of just 66.3 passing yards vs. the Indians.
PLAYOFFS?!?!
Fairfield snapped an eight-yard postseason hiatus by qualifying in 2013. The Indians have made the playoffs six times in their history, including a state title in 1986.